Letícia Mori
From BBC News Brazil in Sao Paulo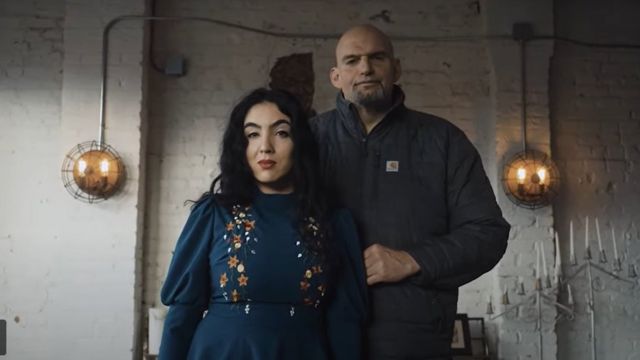 When Democratic politician John Fetterman was elected lieutenant governor of Pennsylvania, USA, in 2018, his wife, Gisele Barreto Fetterman, pinned a post on her Twitter profile: "Pennsylvania, your deputy first lady is a former immigrant. illegal. Thank you."
Brazilian born in Tijuca, Rio de Janeiro, Gisele never hid that she lived for 15 years as an illegal immigrant in the US until she obtained her green card (residence visa) in 2005 and her citizenship in 2009.
But in 2018, the claim was remarkable because she had been called "illegal" by a rival of her husband.
Gisele's response, however, showed that she is not ashamed of her story and that she would not let it be used as an offense.
The episode, however, was not the last time she suffered attacks for being an immigrant. Last year, a video of a woman cursing the Brazilian in the supermarket went viral on the networks, causing public outrage.
Politically active and very present on social media, Gisele was central to her husband's campaign for the US Senate this year – Fetterman, was elected senator from Pennsylvania with 50.5% of the votes.
He beat celebrity physician Dr. Oz, a wealthy Republican who had the support of former President Donald Trump and was famous for giving health advice on the show of presenter Oprah Winfrey.
Fetterman's election is a key victory for Democrats in the Senate race in an election where the imbalance between Democrats and Republicans in the House could define the future of President Joe Biden's administration.
It was also a historic victory: no Democrat had held the seat of senator from Pennsylvania since 1962.
For Fetterman personally, the campaign itself had already been a challenge: he suffered a stroke before the primaries and his speech was still impaired in August, when he appeared publicly for the first time since the medical incident.
Rivals and journalists cast doubt on his health, but The New York Times claimed that in the latest debate he "was fluent enough to present his Democratic vision for a state that can determine Senate control."
poor in the pool
With the victory, Fetterman, Gisele and their three children – Grace, Karl and August – must move from Pennsylvania to Washington DC.
The family dog ​​- which has already won the CW's 'Dogs of the Year' award – is also expected to go. Representing a Brazilian tradition, Gisele adopted a caramel mutt, named Levi.
Even though he is lieutenant governor of the state, Fetterman and his family still live in his home in the small town of Braddock, where they met and where he was mayor.
The couple never got to occupy the official residence in the state capital. Instead, the house's huge swimming pool was used to teach swimming to children and teenagers who normally do not have access to this activity.
Staying in the family home and making use of the swimming pool at the official residence, the couple told the American press, were Gisele's initiatives. But Fetterman has the same laid-back stance.
At 2 meters tall, with a deep voice and several tattoos, he's known to walk around in shorts and a t-shirt and says he only has one suit (worn for official events) – not exactly the first image that comes to mind when thinking of someone who is. lieutenant governor and holds a master's degree from the prestigious Harvard University.
Debauched on social media, he often provokes Trump supporters with jokes and bluntly.
Assistance work has always been the focus of Gisele, who came to live in a one-room apartment in New York with her mother and brother when the family still did not have immigration documents.
After getting a visa and majoring in nutrition, she became an activist against hunger and for food equality.
It was even through a letter from her to Fetterman asking about her plans to revitalize the city that the couple met.
Among other initiatives, the Brazilian is co-founder of the company 412 Food Rescue, which sends volunteers to collect food near its expiration date in supermarkets and deliver it to NGOs that serve people in vulnerable situations.
It also created the Free Store, a place for free distribution of food, blankets, baby care items and bicycles for low-income people – all donated by volunteers from various parts of the country.
'Proud of my wife'
Fetterman has already said that his wife's actions and opinions have influenced many of his political stances, such as his position on immigration, for example – he opposes the numerous anti-immigration measures created and proposed by Republicans.
In an open campaign video with an image of the Democrat standing next to Gisele, Fetterman says "I'm proud of my wife's story and the sacrifices her mother made in trying to make a better life in the US, because if it wasn't for that I wouldn't have my partner and my amazing family."
Gisele's mother, Ester Barreto, moved to the United States without having a visa, abandoning a middle-class life in Brazil to be a cleaner in New York after her sister suffered seven robberies in the same year in Rio de Janeiro.
In the video, Fetterman recalls the poem that is written on the Statue of Liberty: "Send me your weary, poor masses who ardently desire to breathe free."
"As long as we are true to that original sentiment, America will continue to grow and prosper. Because immigration makes America, America."
Fetterman is a self-declared progressive. He is against the criminalization of abortion, against American interference in other countries, in favor of public funding for health, the decriminalization of marijuana and a reform of the US criminal justice system – which today has a high rate of incarceration.
As mayor of Braddock, Fettermann took to celebrating gay marriages when conservative notary officials refused to do so.
He also supported the Black Lives Matter movement, but says the idea of ​​cutting the police budget "is absurd". He is in favor of policing, but says police officers need to be more engaged with the community.