Richarlison managed to overcome the curse of the number 9 shirt that affected the Brazilian team in the last World Cups and, to boot, he still left the game with the man of the field award today in the victory against Serbia by 2 to 0 for the World Cup.
Today (24), by scoring both in the debut of the 2022 World Cup, he did what Gabriel Jesus could not achieve in the entire competition in Russia in 2018, when he left zero. Fasting marked the career of the Arsenal striker for a long time and even bothered the athlete when he wore the Amarelinha.
Pombo also surpassed Fred, who had scored just one goal in six games at the 2014 World Cup, held in Brazil, when the team was eliminated by Germany in the eternal 7-1 and still lost the dispute for 3rd and 4th to the Netherlands.
In 2010, Luís Fabiano owned the number 9 shirt and managed to score three times in the entire competition. Same number as Ronaldo throughout the 2006 tournament. In 2002, the Phenomenon's tally was much higher, with eight goals, two of them in the 2-0 final against Germany.
The curious thing is that at Tottenham he has only two goals scored in 15 matches played and, recently, he even worried the coaching staff due to a muscle injury on the eve of the call-up. He recovered normally and was able to join the team after the scan showed that it was nothing serious.
In today's game, Richarlison had a rather dull first half, hardly touching the ball and heavily marked by the Serbian defense. Every time he attempted a takeover, he was surrounded by at least two defenders.
In the second, the scenario was similar, until he managed to take advantage of a rebound from Vinicius Júnior's kick and, almost with a shin, he managed to put the ball inside, opening the way for Brazil's victory.
From then on, Serbia had to open up and things got much easier for the team. The second goal came again in a ball that left Vini's feet. This time, Richarlison took advantage of the ball going up and gave a beautiful volley to lift the nearly 90,000 present at Estádio Lusail for the debut of the selection.
As Tite likes to summarize: "Richarlison is a goal".
What was the most beautiful goal of the first round of the World Cup in Qatar?
95.70%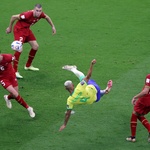 1.51%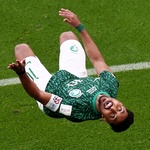 1.08%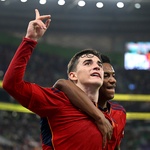 1.08%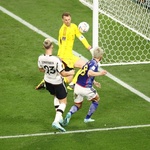 0.65%