Casemiro's ability to solve problems is obvious and even gives rise to unusual nicknames given by those who have worked with him in football. If coach Carlo Ancelotti called him a firefighter at Real Madrid, left-back Filipe Luís said that the midfielder works like a vacuum cleaner. The line of reasoning of the two is similar and the midfielder has justified unusual comparisons in this World Cup.
Regarding Filipe Luís, the reading was made in a comment on SporTV after Brazil's victory over Serbia, in the debut of the World Cup in Qatar. For the Flamengo winger, Casemiro "is always cleaning the field" and "whenever there is a problem, he is there". At the same time, Casemiro himself has not forgotten what Ancelotti said about him. In practice, the number 5 incorporated and unites both concepts.
"Filipe is a great friend, it's a great pleasure to hear him talking about me. He's a guy who sees football in a different way, now as a coach even playing. He's already more there than here (laughs). pleasure to hear his words. Ancelotti also joked that I was a Real Madrid fireman, putting out the fire. Everyone has their own phrase with me. I'm happy, because I've been doing my job and that's what he is, giving balance, helping the defense, helping my teammates. teammates, the team always wins", said Casemiro, in a press conference today (26th) after training for the Brazilian team at the Grand Hamad stadium, in Doha.
On his debut against Serbia, Casemiro was the best in the national team in tackles. Ten ball possessions were recovered, four more than Paquetá. That is his main function, as the first defensive midfielder chosen by Tite – although the selection applies the concept of high marking, using the attackers, called by the technical commission of Rec 5.
Casemiro's mobility, another characteristic of a "vacuum cleaner", is reflected in the total distance covered against Serbia: 11.3 km, once again as leader of the statistic in Brazil. In addition, Casemiro gives game option.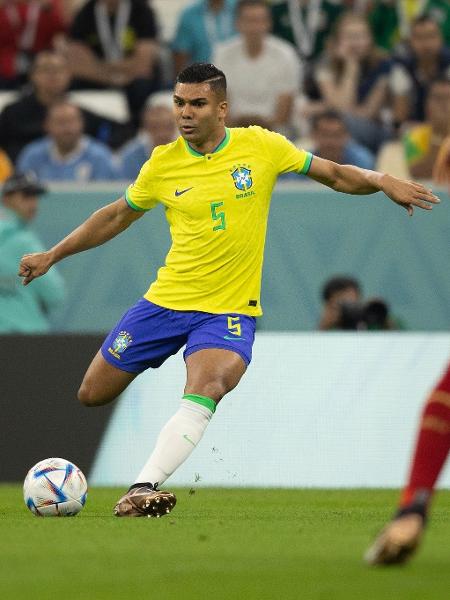 FIFA has a statistic that counts the number of times a player has appeared to receive the ball. Casemiro did this move 88 times. Again, Brazil's leader in this regard.
It is not new that Casemiro also removes any stereotype of a "brucutu" midfielder, although he is firm in disputes. He knows how to work with the ball at his feet, not just a dull pass to the side and back. In Brazil's debut, he attempted 22 passes between Serbia's lines, which position the team in a more advanced position. He got 19 right. That is: 86%. Overall, Brazil's number 5 closed the game with a 91% pass accuracy.
Casemiro also grew in relevance due to the lineup that Tite chose to start the Cup. In midfield, he is the only one with a natural marking characteristic, as Paquetá is a partner with a more offensive bias.
"Each player has a characteristic. Fred is more dynamic, I played a lot with him. Then, with the arrival of Paquetá, you open up Vinícius and get lighter and lighter up front. It depends on what the coach wants for each game. More important what that means is that the players do their jobs properly. Defense starts there at Richarlison. My way of playing has not changed, because all the players do their jobs. Paquetá is different from Fred, but my job is always to help the teammates," he added.
The midfielder has formed the backbone of Tite's team since the coach's arrival in 2016. In the cycle leading up to the Qatar Cup, he played in 37 of the 50 games. Brazil's next game in the World Cup is against Switzerland, on Monday (28), at 1 pm (Brasília time).