FIFA opened a disciplinary case against the Football Association of Serbia (FSS) due to a flag that placed Kosovo as belonging to Serbia that was displayed in the dressing room of the country's selection in the defeat to Brazil by 2-0 in the opening of the World Cup in Qatar.
The organization does not mention any specific infraction included in its disciplinary code, but is based on the general obligation to "fair play and non-violence" imposed on the 32 teams participating in the World Cup.
The range of punishments that can be applied to federations ranges from a game behind closed doors to a defeat, without FIFA having indicated the seriousness of the Serbs' action.
Taken in the Serbia locker room before the match against Brazil, the photograph in question shows a printed map of Kosovo on a white cloth hanging on two hangers. The Serbian flag and the inscription "There will be no surrender" are superimposed on the map of Kosovo.
The disclosure of the image on Friday provoked an official protest from Kosovo, through its Minister of Sports, Hajrullah Ceku, who denounced "shameful images" that convey "hateful, xenophobic and genocidal messages".
🇧🇷We expect concrete actions from FIFAof which Kosovo is a member for all intents and purposes," continued Sports Minister
In turn, the Kosovar Football Association (FFK) announced that it had lodged a complaint with FIFA over "aggressive action by Serbia" in its first match of the 2022 World Cup.
"There is no place for such a chauvinistic act at sporting events, much less within the venues where the biggest football event in the world takes place", denounced the FFK.
Do you already have a table to follow the Cup? print your
See too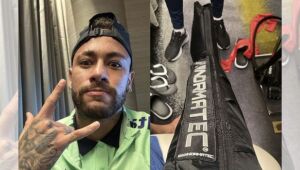 World Cup 2022
Neymar posts photo of treatment and swollen ankle; see the image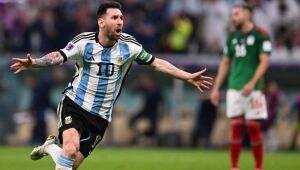 World Cup 2022
With Messi's goal and goal of promise, Argentina beats Mexico and breathes in the Cup