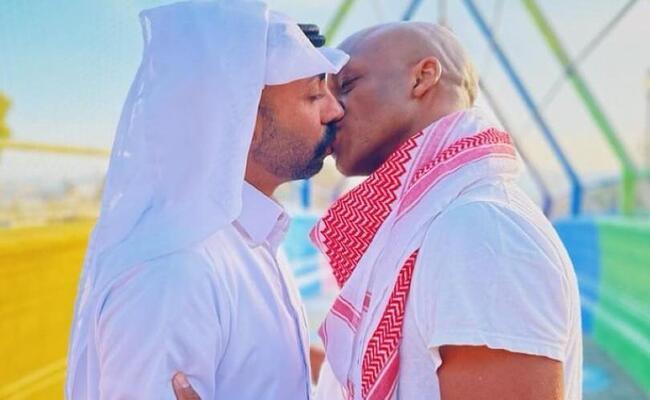 Fatma* left the house smiling. She walked into the hotel room she'd booked with friends and walked over to the mirror. She put on makeup, wore the clothes she wanted and went out to have fun like any other night.
Trans woman, she was born in Qatar. She grew up terrified in a country that criminalizes the LGBTQIAP+ population and found solace in small, secret community groups.
At the World Cup venue, being who you are can mean a lifetime of fear. In the shadows, discriminated against people find ways to relieve tension and bond romantically.
Apps like Tinder and Grindr are blocked on the local network, but some say they can be accessed using a VPN.
Encounters with "matches" represent danger and usually take place in private environments. In groups, the bravest also go to bars and clubs, spaces that can eventually be liberal. But without public demonstration of affection.
"This issue of dating is the most difficult one, many simply don't go out, they stay at home, they even hide," says Nasser Mohamed, 35, the first Qatari to publicly come out as gay, when super sports🇧🇷
"It's a question of you living as you really are and even going to jail, when they don't torture you and do other things. It's a very difficult situation, people can't be who they really are in public", he continues.
Nasser Mohamed is a physician and has sought asylum in the United States. He cannot return to the country where he was born for fear of persecution. In Qatar, being LGBTQIAP can result in three years in prison, not counting threats and mistreatment.
He is the main source of this report, which, to be safe, did not hear directly from anyone currently living in the country. Mohamed has been sharing stories from people in the community as a way to show the world his outrage over Qatari laws.
The risk of expressing affection
For women, seeking love is even more dangerous. Nawal* is bisexual and reports having been confronted after the Department of Preventive Security in Qatar found her cell phone exchanging loving messages with men and women.
"I was mentally and physically abused for leaving my father's house and for them finding the messages. I was forced to sign a term that says I was not treated badly in order to be released", she says.
Walking down the street with your partner can be dangerous not only because of what the police can do based on the law, but also because of the population.
"I got a message from a trans woman who was walking with a partner and she was insulted, saying that she couldn't be there like that in Qatar. She argued that the country was welcoming the whole world, but the person just ignored it. Something. terrible," says Mohamed.
Meanwhile, in the daily lives of those who live in Qatar, the only way out is to seek support from trusted groups.
But stories don't always have happy endings. That night of fun with friends, Fatma preferred death to having to face the police officers who stopped her in her hotel room.
*Fictitious names
---