Yogita Limaye
From BBC News in Herat (Afghanistan)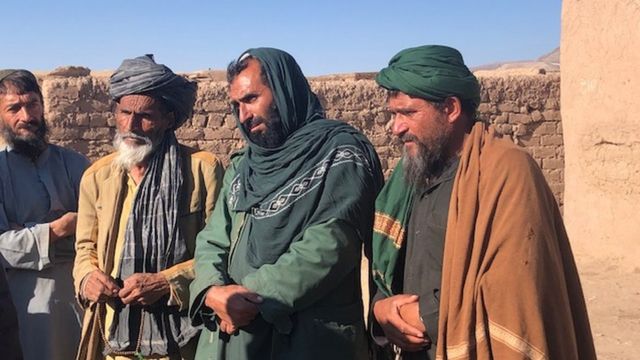 Afghan families are giving their starving children medicine to sedate them. Others are selling daughters and organs to survive. In the second winter since the Taliban regained power — which led to a freeze on foreign aid funds — millions of people are on the verge of starvation.
"Our children are still crying and not sleeping. We have no food," said Abdul Wahab.
"Then we go to the pharmacy, buy pills and give them to our children to sedate them."
He lives on the outskirts of Herat, the country's third-largest city, in a settlement of thousands of small mud houses that has grown over decades, filled with people displaced and affected by war and natural disasters.
Abdul is among a group of more than ten men who have gathered around us. We asked: how many were giving medication to their children to sedate them?
"Many of us, all of us," they replied.
Ghulam Hazrat felt in the pocket of his tunic and took out a pack of pills. They were alprazolam—tranquilizers commonly prescribed to treat anxiety disorders.
Ghulam has six children. The youngest is one year old. "I give it to him too," he says.
Others showed us packs of escitalopram and sertraline pills given to their children. They are usually prescribed to treat depression and anxiety.
Doctors say that when given to young children without proper nutrition, drugs like these can cause liver damage, as well as a host of other problems, such as chronic fatigue, sleep disturbances and behavioral disorders.
At a local pharmacy, we found it possible to buy five pills of these drugs used by families for the equivalent of 10 cents on the dollar — or the price of a loaf of bread.
Most of the families we met shared a few pieces of bread among themselves each day. One woman told us that they ate dry bread in the morning and at night soaked it in water to make it moist.
The UN has said a humanitarian "catastrophe" is underway in Afghanistan.
Most of the men in this area on the outskirts of Herat work day jobs. They've had a rough life for years.
When the Taliban took power last August, without gaining recognition from the international community, foreign funds destined for Afghanistan were frozen, triggering an economic collapse that left men out of work most days.
On the rare days they do find work, they earn around 100 Afghanis, or just over US$1.
Everywhere we went, we found people being forced to take extreme measures to save their families from starvation.
Ammar (not her real name), who is in her 20s, said she had surgery to remove her kidney three months ago and showed us a scar with stitch marks running across her abdomen to her back.
"There was no way out. I heard you could sell a kidney at a local hospital. I went there and told them I was willing. A few weeks later I got a call asking me to come to the hospital," he said.
"They did some tests, then they injected me with something that knocked me unconscious. I was scared, but I had no choice."
Ammar claims to have received the equivalent of US$ 3,100 (about R$ 17,000) for the kidney. Most of the money was used to pay off the debt incurred to buy food for his family.
"If we eat one night, we don't eat the next. After selling my kidney, I feel like I'm half a person. I feel hopeless. If life goes on like this, I feel like I might die," he said.
The sale of organs in need is not unheard of in Afghanistan. It used to happen even before the Taliban regained power.
But even after making such a difficult decision, people are still struggling to find the means to survive.
In an empty, cold house, we met a young mother who said she had sold her kidney seven months ago. The family also had to settle debts—money used to buy a flock of sheep. The animals died in a flood a few years ago and they lost their livelihood.
The amount she obtained for the kidney, equivalent to US$ 2,700 (R$ 14,600), is not enough for the family to survive.
"Now we are being forced to sell our two-year-old daughter. The people we borrow money from are on top of us every day saying, give us your daughter if you can't pay us back," she said.
"I feel so ashamed of our situation. Sometimes I feel like it's better to die than to live like this," said her husband.
We hear again and again about people selling their daughters.
"I sold my five-year-old daughter for 100,000 Afghans [cerca de US$ 1.150]", said Nizamuddin, a person from the community. This is less than half the value of a kidney, according to what he has heard from people who do business. He bites his lip and his eyes fill with tears.
The dignity with which people led their lives was broken by famine.
"We understand that it is against Islamic law and that we are putting our children's lives in danger, but there is no other way," said Abdul Ghafar, one of the community leaders.
In one house, we met four-year-old Nazia, a happy little girl who made faces while playing with her 18-month-old brother Shamshullah.
"We don't have money to buy food, so I announced in the local mosque that I want to sell my daughter," said her father, Hazratullah.
Nazia was sold to marry a boy from a family in the southern province of Kandahar. At the age of 14, she will leave her family. So far, Hazratullah has received two payments for her.
"I used most of it to buy food and some for medicine for my youngest son. Look at him, he's malnourished," said Hazratullah, pulling up Shamshullah's shirt to show us his swollen belly.
The skyrocketing rate of malnutrition is evidence of the impact hunger has on children under five in Afghanistan.
Médecins Sans Frontières (MSF) saw the rate of hospitalizations increase by up to 47% year-on-year at its facilities across the country.
The organization's feeding center in Herat is the only well-equipped malnutrition facility serving not only the region but also the neighboring provinces of Ghor and Badghis, where malnutrition rates rose by 55% last year.
Since last year, the number of beds had to be increased due to the high number of hospitalizations of children. But even so, the place is almost always packed. And the diseases go beyond malnutrition.
Omid is malnourished and has hernia and sepsis. At 14 months, he weighs only 4 kg. Doctors told us that a normal baby at this age would weigh at least 6.6 kg. His mother, Aamna, had to borrow money to make the trip to the hospital when he started vomiting profusely.
We asked Hameedullah Motawakil, spokesperson for the Taliban provincial government in Herat, what measures were taken to combat hunger.
"The situation is a result of international sanctions on Afghanistan and the freezing of Afghan assets. Our government is trying to identify how many people are in this situation. Many are lying about their conditions to get help," he said.
He also said the Taliban are trying to create jobs. "We are looking to open iron ore mines and a pipeline project." But there is no sign of that happening any time soon.
People told us that they felt abandoned by the government and the international community.
Hunger does not always have immediately visible effects.
Away from the world's attention, the scale of the crisis in Afghanistan may never come to light.
With reporting by Imogen Anderson and Malik Mudassir