The company specializing in global research YouGov placed Samsung at the top of its ranking of "the best companies in the world" for the first time in 2022. The South Korean company managed to take the place that previously belonged to Google, now in second place on the list.
The platform uses different criteria based on people's impressions, quality, customer satisfaction, recommendations and company value. These characteristics are transformed into a points system, and Samsung achieved 127 points in the world ranking, against 106 points for Google.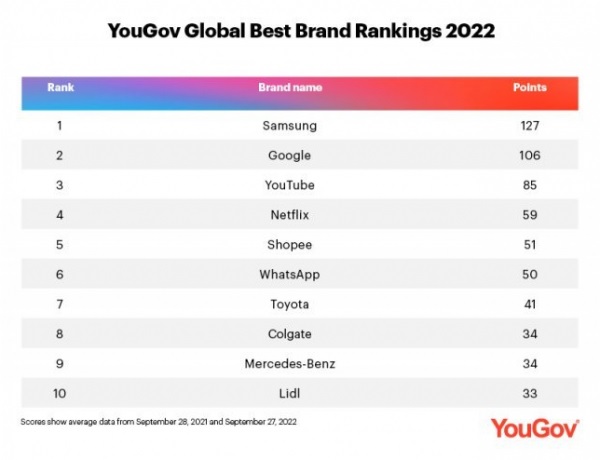 Top 10 global companies, according to YouGov.Source: Business Korea
The search giant, however, has an important highlight of its own in the most recent ranking by YouGov. That's because YouTube took the third position, with 85 points. This means that two companies from the same matrix occupy the Top 3, even if the company has lost the first position.
Samsung's position in Brazil
The information referring to the world ranking is not repeated in exactly the same way from country to country. Samsung managed to maintain its leadership in four markets: South Korea, Netherlands, Vietnam and Ireland. But the company drops to second place in the UK and France, for example. Here in Brazil its drop is more expressive, and the company was in seventh position.
It is also interesting to note the rise of Shopee, which entered the ranking at No. 8 in 2020, rose to No. 6 last year, and has now managed to clinch fifth place. The giant Amazon, meanwhile, did the opposite. The company started at number five in 2020 and now, on the 2022 list, it failed to even make the Top 10.