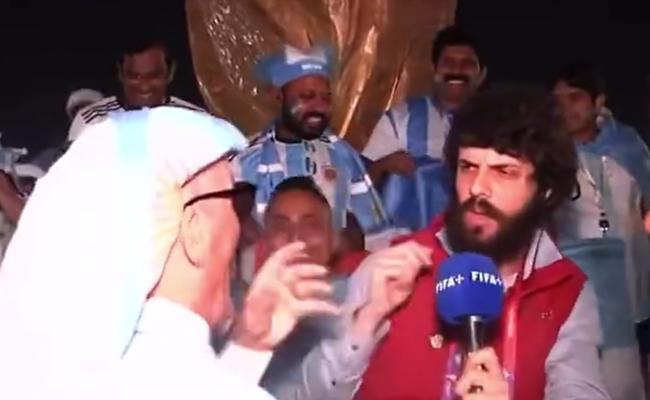 A phenomenon on social networks, comedian Diogo Defante is the official reporter for streamer Casimiro in the World Cup broadcasts in Qatar. This Wednesday (11/30), the Brazilian trolled Argentines before the start of the game against Poland, in Lusail.
LIGHT PROBLEM LIGHT PROBLEM
MEUUUU DEEUSSSS DO CU
hahahahahahahahahaha
Diogo Defante with Argentine on Caze's Live
%uD83D%uDE02%uD83D%uDE02%uD83D%uDE02%uD83D%uDE02%uD83D%uDE02%uD83D%uDE02%uD83D%uDE02%uD83D%uDE02%uD83D%uDE02%uD83D%uDE02 pic.twitter.com/dFuS1cWlqB

%u2014 Fillipe Conegundes (@Fconegundes) November 30, 2022
Defante was simulating a news report when he asked an Albiceleste supporter to say something live. Every time the "brother" said "some people believe in God, the Argentines believe in Messi", the lights were turned off, and the comedian asked him to start over.
Casimiro watched and reacted to the transmission with the narrator Luis Felipe Freitas and the former player and commentator Juninho Pernambucano.
Diogo Defante also starred in another curious episode during the pre-game in the surroundings of Estádio de Lusail. The reporter provoked some Argentines and ended up being pushed by a man, who shouted "let's go, Argentina" and mentioned Brazil's defeat in the 2021 Copa América final, at Maracanã.
Despite the crowd against Defante and other Brazilians, the Argentine team beat Poland by 2-0 and qualified for the round of 16 of the World Cup in first place in Group C. It will face Australia in the next phase.
---