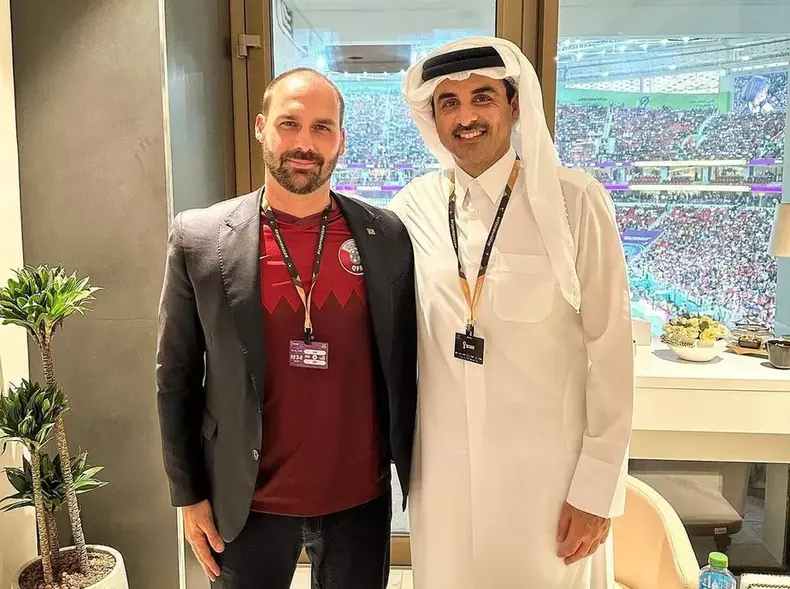 "Center parliamentarians are disseminating information that deputy Eduardo Bolsonaro, the O3 son of president Jair Bolsonaro, would have traveled to Qatar on a jet belonging to a business friend to watch World Cup games." The information from Blog do Vicente, from Brazilian Mail🇧🇷
"Bolsonaro's son 03 asked the Chamber for permission for private reasons from November 23 to December 5. So far, however, he has not presented his airline tickets – he took his wife, Helosa – nor said how he traveled, feeding the suspicions that he accepted someone's favor", says journalist Vicente Nunes.
"The deputy was a great critic of a recent trip by the president-elect, Luiz Inácio Lula da Silva, to Egypt and Portugal on a ride on a jet belonging to businessman José Seripieri Filho, former owner of Qualicorp and whistleblower at Lava-Jato", reveals the blog.
And he adds: "For members of the Center, Eduardo not only demoralized the coup movement in front of the barracks, but he is instilling a wave of distrust around who is funding all his expenses and those of his wife in Qatar. of a businessman that he would have supported in a business in the area of ​​energy".
Sought by the Blog, the deputy was not found.