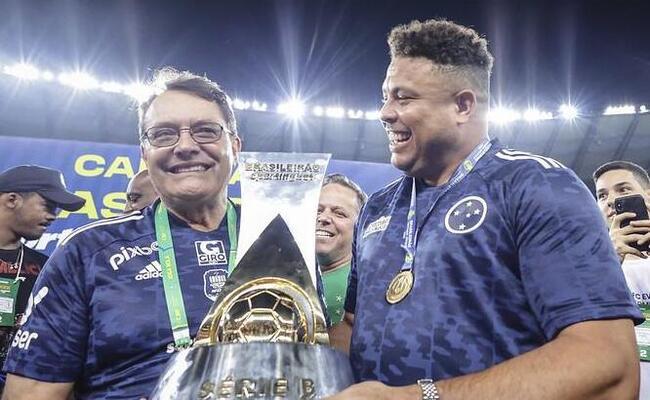 Cruzeiro's main commercial partner in recent years, Pedro Loureno, owner of the Supermercados BH chain, made himself available to help financially in assembling the squad for the next season. He kept his promise to the Celeste crowd about hiring a number 10 shirt in case Ronaldo Fenmeno, the club's SAF majority partner, needs it.
In Qatar to watch the World Cup games, Pedrinho took the time to talk about Cruzeiro. The businessman gave an interview to journalist Jaeci Carvalho, from Estado de Minas and Superesportes, this Wednesday (30).
"I had already promised a number 10 shirt for Ronaldo and it ended up not being necessary. But if he needs it, I'll bring it. I talk to Gabriel (Lima) and Ronaldo, that number 10 shirt the fans have to pick up at the airport. If not, then not with me (laughs)", he began.
Although he has applied to help directly with the hiring of the "airport player", Pedrinho said that he does not have a name in mind. The evaluation and choice of the athlete would be made by Cruzeiro's football department.
"I don't have a name, that's with the very competent committee. It (shirt number 10) has to fit in the DNA of coach Paulo Pezzolano and Ronaldo. They are the ones who have to direct it, because sometimes I think of a name and Pezzolano I don't like it," he concluded.
The promise of Pedro Loureno fans of Cruzeiro old. It was made on April 4, when Cruzeiro's Deliberative Council approved Ronaldo's demands for the conclusion of the sale of SAF.
Hiring for 2023
After the end of Serie B of the Brazilian Championship, Pedrinho had also revealed that Raposa plans to hire 15 to 16 players to bolster the squad for the Serie A dispute. -field and attack.
′′ We need 15 players. and attackers", he expressed.
Behind the scenes, Cruzeiro also has advanced negotiations with goalkeeper Anderson, from Athletico-PR, and with striker Rafael Bil, who played in the last edition of Series B for Cricima.
---