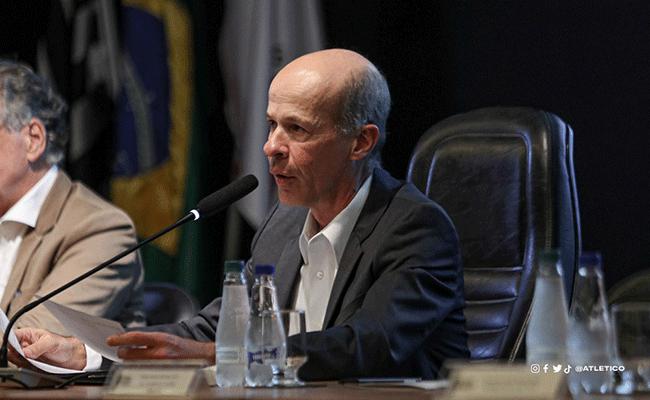 The Deliberative Council of Atltico approved this Wednesday night (11/30) the budget for 2023 unanimously. The meeting, which took place at the club's headquarters, in Lourdes, was led by the group's president, Ricardo Guimares, and was attended by 13 other directors.
The budget proposal for the next season was presented by the athletic CEO, Bruno Muzzi, and the financial director of Galo, Paulo Braz. It is worth mentioning that the year 2023 will be marked by the inauguration of the MRV Arena, the new home of Atltico.
Approved unanimously, the 2023 budget has the value of BRL 462 million as a total revenue target. By way of comparison, the Triplete Alvinegro champion team (Campeonato Mineiro, Copa do Brasil and Campeonato Brasileiro), in 2021, earned BRL 475 million.
Projected operating costs with professional football exceed revenue generation: BRL 496 million. Atltico intends to invest BRL 251.4 million in "image rights, awards and personnel". What will be spent on the item "football activities" R$ 224.9 million.
In general, Atltico expects an operating deficit of BRL 212 million in 2023, even with the expectation of a contribution of BRL 103 million with the sale of shares in Sociedade Anima do Futebol (SAF).
soccer recipes
The highest projected income from football comes from broadcasting and prizes: BRL 188 million. Subsequently, there are gains from sponsorship and marketing (R$96 million), transfer of athletes (R$80 million), box office (R$71 million) and Galo na Veia (R$26 million).
In the last approved balance sheet, referring to the 2021 accounts, when the club won the Triplete Alvinegro, Atltico profited R$ 279 million from broadcasting rights and prizes, R$ 77 million from sponsorship and marketing, R$ 38 million from player transfers , R$43 million with ticket sales and R$21 million with Galo na Veia.
Revenues and Costs
PROFESSIONAL FOOTBALL – Total income: BRL 462,110,000
TRANSMISSION AND IMAGE/AWARD REVENUES – BRL 188,397,000
SPONSORSHIP/MARKETING INCOME – BRL 96,195,000
INCOME FROM ATHLETE TRANSFERS – BRL 80,000,000
TICKET OFFICE REVENUES – BRL 71,013,000
RECIPES WITH ROOSTER IN THE VEIN – BRL 26,505,000
PROJECT REVENUE THROUGH THE SPORT INCENTIVE LAW – BRL 1,486,000
GROSS REVENUE – BRL 463,596,000
(-) TRANSFERS – SAF: BRL 103,302,000
( – ) TAXES AND CONTRIBUTIONS: BRL 19,180.00
(-) ARENA RIGHT: BRL 9,420,000
NET REVENUE – BRL 331,694,000
( – ) OPERATIONAL COSTS – BRL 496,668,000
PROFESSIONAL FOOTBALL – BRL 496,668,000
PERSONNEL COSTS/IMAGE RIGHTS/AWARDS – BRL 251,445,000
COSTS WITH FOOTBALL ACTIVITIES – BRL 224,952,000
OVERALL COSTS – BRL 20,271,000
RAW SCORE – BRL 164,974,000
OPERATING INCOME / (EXPENSES) – BRL 47,661,000
ADMINISTRATIVE COSTS – BRL 28,237,000
PERSONNEL EXPENSES – BRL 19,424,000
RESULT BEFORE FINANCIAL RESULT – BRL 212,635,000
DEFICIT OF THE EXERCISE – BRL 212,635,000
---