The Serbia national team, Brazil's opponent in the opening of the Qatar Cup, is in the "eye of the hurricane" of an alleged sexual scandal, revealed by British journalist Richard Wilson, and with repercussions in the European media, including the Spanish newspaper La Razón .
"After the first games, many fans wondered why one of the great stars of the Balkan team, Vlahovic, of Juventus, was not in the starting line-up in the first two games. A British journalist pulled the thread of information and discovered a mess of betrayals and infidelity with several players involved", highlights La Razón.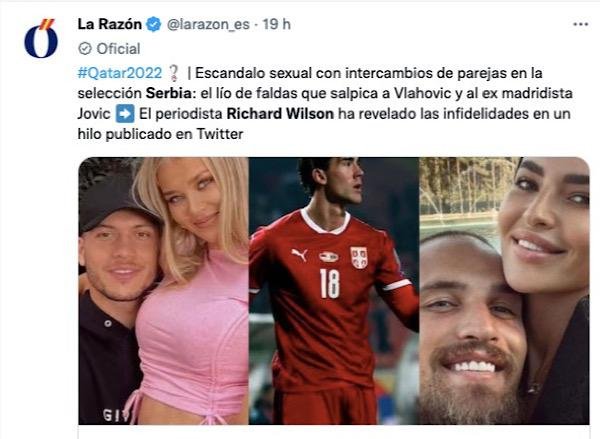 According to Richard Wilson, four players would have been involved in a fight in the locker room after learning of a story of betrayal by teammates.
The journalist reports that Dusan Vlahovic would have slept with the wife of Mallorca goalkeeper Predrag Rajkovic. And that Nemanja Gudelj, from Sevilla, would have had a relationship with the partner of Luka Jovic, a former Real Madrid player.
"The focus of anger within the core of the national team is now on Vlahovic in particular, as he is seen as most at fault. But also on Jovic, as one feels he has overreacted. The team is now basically divided, with Vlahovic completely isolated", says the British journalist.
For La Razón, "there is no doubt that, in the absence of confirmation from those involved, something strange is happening in the Serbian national team so that some of its big stars are not present in the lineups. Undoubtedly, one of the most remarkable and curious stories of the World Cup".
Minutes after the publication of the information, both Gudelj and Jovic published a photo together simulating a fight on their Instagram accounts. Apparently, there is a good atmosphere between the two, but confirming that the story of betrayals has already reached the Serbian locker room.
The Serbia national team returns to the field this Friday (2/11), at 4 pm, for a decisive game against Switzerland, in Group G of the World Cup.
To keep up with column updates, follow "Football Etc" on twitter🇧🇷 and also in Instagram🇧🇷
Do you want to stay on top of everything that happens in the world of sports and receive the news straight to your cell phone? Enter the Metropoles channel on the telegram and don't forget to follow us on Instagram🇧🇷