It's been a little over two months now, I've been using the second generation AirPods Pro almost daily. It was almost three years of waiting since the first model, and my feeling with this updated version it's quite… weird.
On the one hand, the new AirPods Pro came with very cool and long-awaited improvements. On the other hand, it is perhaps fair to say that we were expecting at least a little more for 2019.
Let's hypothesize that this is the line's pace of updates, and that the next AirPods Pro won't land for another three years. Wouldn't it be strange to imagine that only in 2025 could the product actually receive its first significant upgrade?
Anyway, digress. Let's dive into the current generation.
Video of unboxing 🇧🇷 hands-on
For those who missed it, here it is:
Earbuds (more in-ear attachment) and case design
Anyone who has followed me for a long time will remember that the original AirPods Pro just didn't stay in my left ear.
Well, as in this new model the design of the headphones has practically not changed, my experience has not evolved much either. But, curiously, she doesn't look exactly the same.
The news is that, in the box of the new AirPods Pro, Apple is including a fourth and new size XS (extra-small) of the silicone tips — which, yes, helped a lot in fixing them in my left ear. However, this size wasn't right for the right ear, so I kept the average pattern for it (for those who don't know, the human body is far from symmetrical).
Still, after trying and using the Beats Fit Pro for months as my main headphones, my experience with the AirPods Pro leaves a lot to be desired in this regard. Even more fixed, they are headphones that do not give me any security and I find myself "pushing" them into the ear canal all the time. This is very annoying, sometimes even annoying.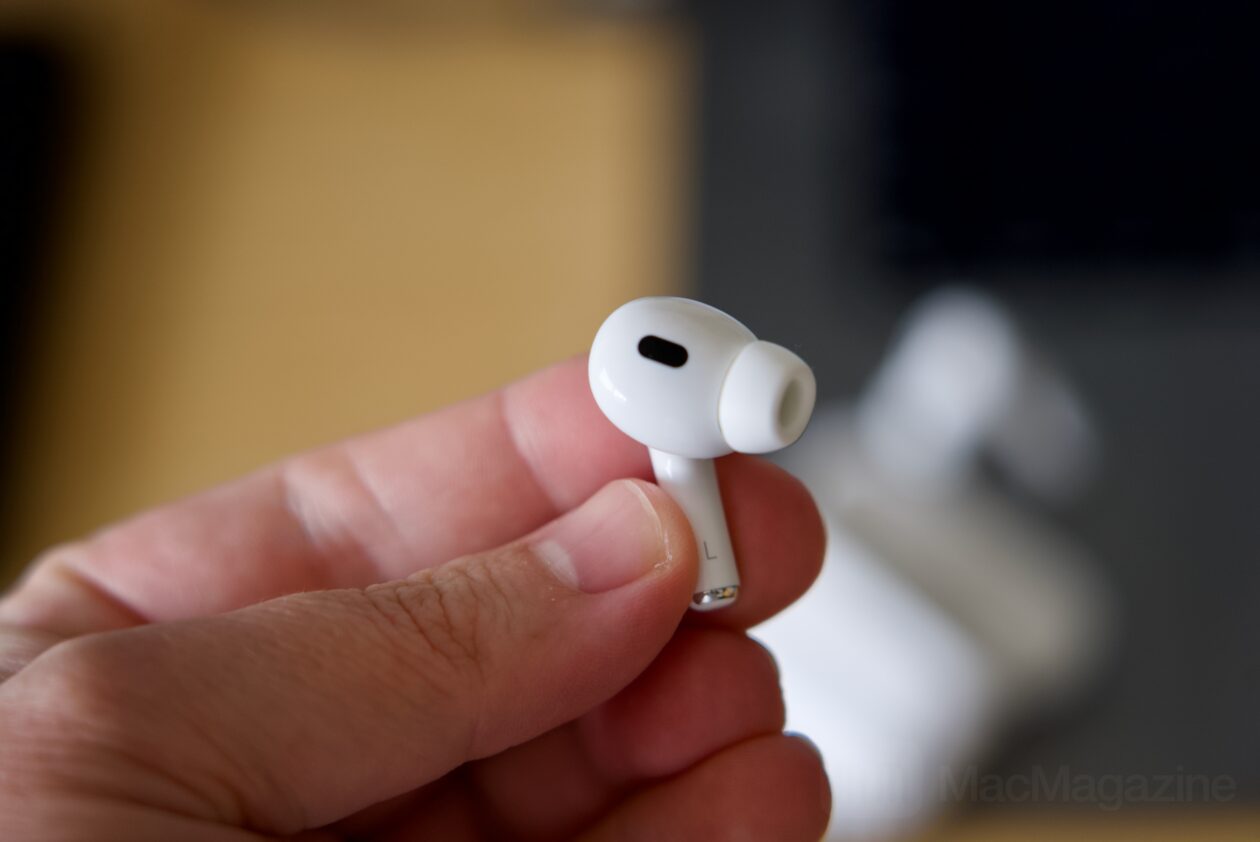 Putting aside this headphone design vs. my ear, I was also disappointed by the fact that, after these three years, Apple has changed almost nothing in the format of the AirPods Pro. There were rumors that they would no longer have the traditional "little leg" or that at least it would get a little smaller, but none of that came to fruition.
So, apart from small differences in the cutouts for microphones and air chambers in the earcups themselves, you won't be able to tell the new ones from the old ones. Already in the case, yes, we have some notable changes.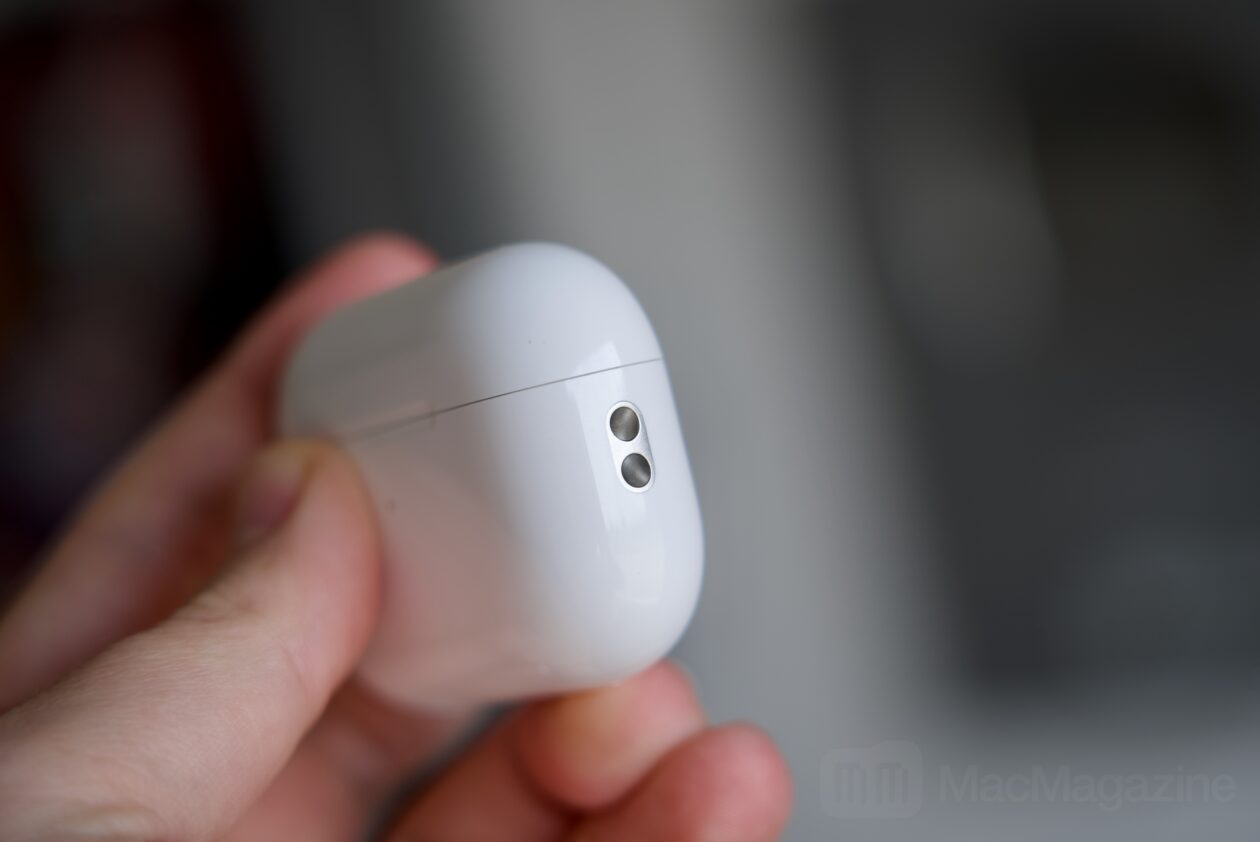 The format and dimensions of the case are the same, but it now has a small piece of metal on the right side where you can attach a cord (lanyard), as well as bottom holes for a… speaker!
Speaker in case?
Calm down, it's not like you're going to hear your songs being played by the AirPods Pro case itself.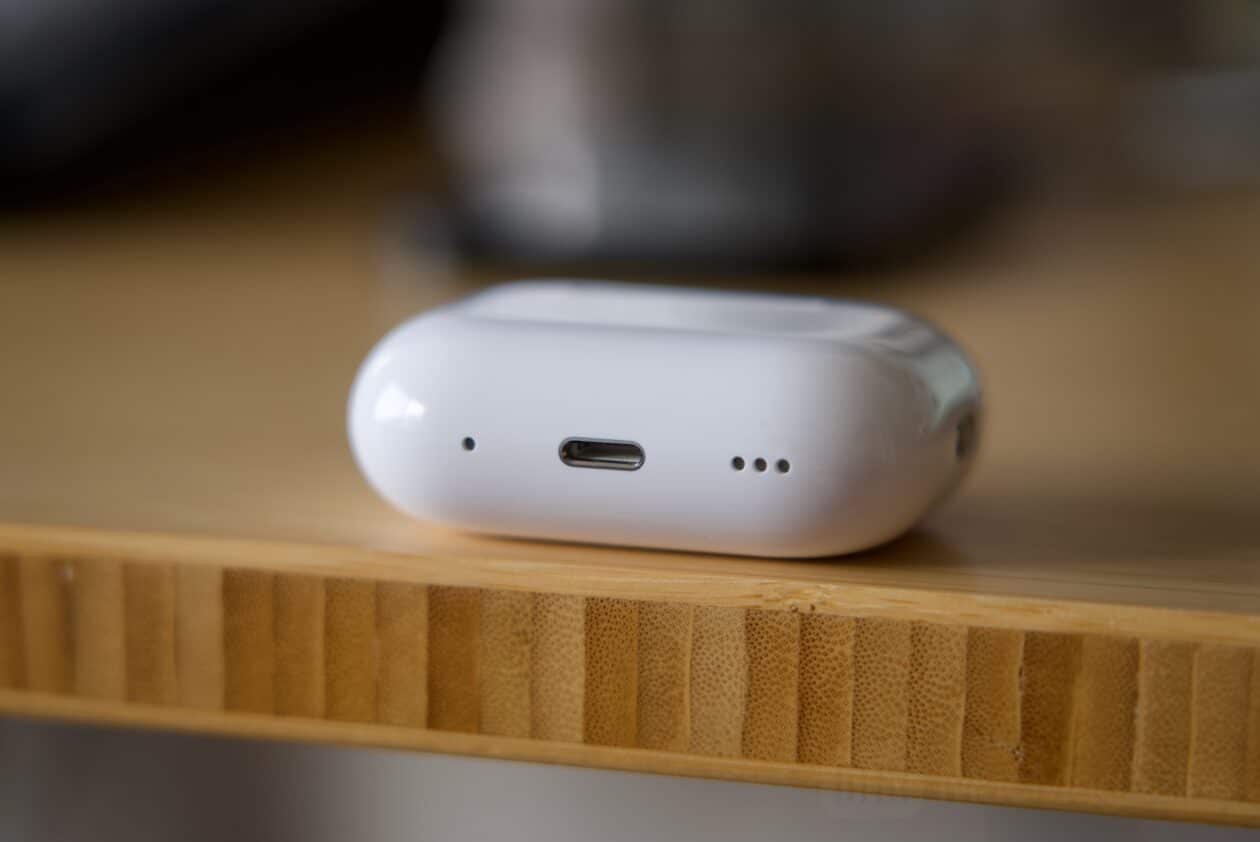 This speaker serves two purposes:
Emit different sound effects when we use the product — for example, when we charge it or perform an initial pairing.
Find it using the Find My app (Find My🇧🇷
Yep, that's a big, welcome addition to the case for the new AirPods Pro. With this speaker and the presence of the U1 chip (ultra wide band), they can now be found around your house in much the same way that we find an AirTag.
That is, you can open Search and follow the little arrow to the direction of your AirPods Pro, as well as at any time touch a button so that the case makes a sound and makes it easier for you to find them. Very cool.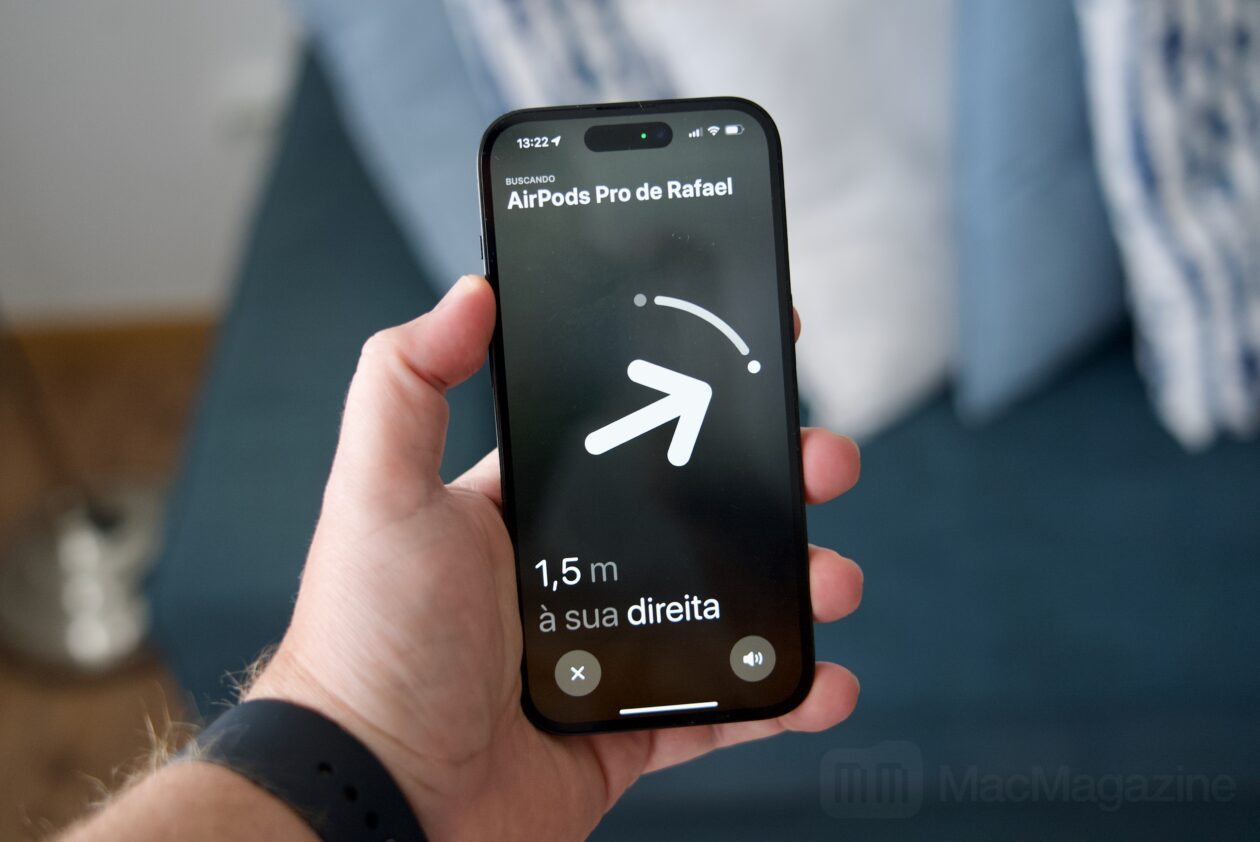 Oh, and according to Apple, both the AirPods Pro themselves and their MagSafe charging case are sweat and water resistant (IPX4 rated).
recharge and battery
Another thing that hasn't changed in the case is its Lightning port (no USB-C here) and support for conventional Qi wireless charging, but now it also has MagSafe magnets (it can even be attached to an iPhone stand, for example ) and even works with Apple Watches proprietary charger.
But if Apple hasn't changed anything in the design of the headphones and case, it has at least made up for it with longer-lasting batteries in both.
Before, with Active Noise Cancellation activated, the headphones reached 4.5 hours; now they go to 6 hours — 33% more. The extra battery provided by the case jumped from 24 to 30 hours. Not bad!
With the headphones charging just 5 minutes inside the case, you get approximately 1 hour of audio or about 1 hour of conversation.
It is also worth noting here that the new AirPods Pro are equipped with Bluetooth 5.3. It may be difficult to parse the improvements here (over 5.0), but I do feel that connectivity between them and the iPhone, as well as switching between iPhone and Mac, is faster and more seamless — plus, already lower latency was also proven in this new generation.
volume control
And we arrive, perhaps, at one of the points of greatest criticism in relation to all AirPods released to date – with the exception of the Max and, now, the new Pros.
Yes, the leg remained on the headphones, but it now has a touch-sensitive surface for volume adjustment. It's quite small, takes some getting used to, but it works better than I expected.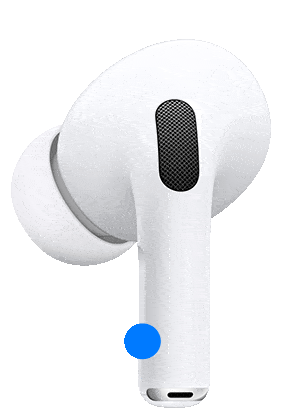 There's no mystery at all: sliding from bottom to top, you increase the volume; from top to bottom, turn down the volume. Meanwhile, you can keep pressing the little legs to switch between usage modes (Ambient and Active Noise Cancellation) and/or call Siri.
For those with an Apple Watch, I still consider the volume adjustment for Digital Crown far superior, faster and even thinner/precise. But it's a very welcome addition, there's no denying it.
It is also worth noting that the headphones now use a new skin detection sensor to identify when they are or are not positioned on the ear. That is, that traditional feature that pauses music playback when we remove one from the ear tends to work better in this new generation.
Active Noise Cancellation 2x better? nope🇧🇷
At the AirPods Pro presentation, one thing that filled my eyes was the promise of an Active Noise Cancellation up to 2x higher than the previous one. But not quite.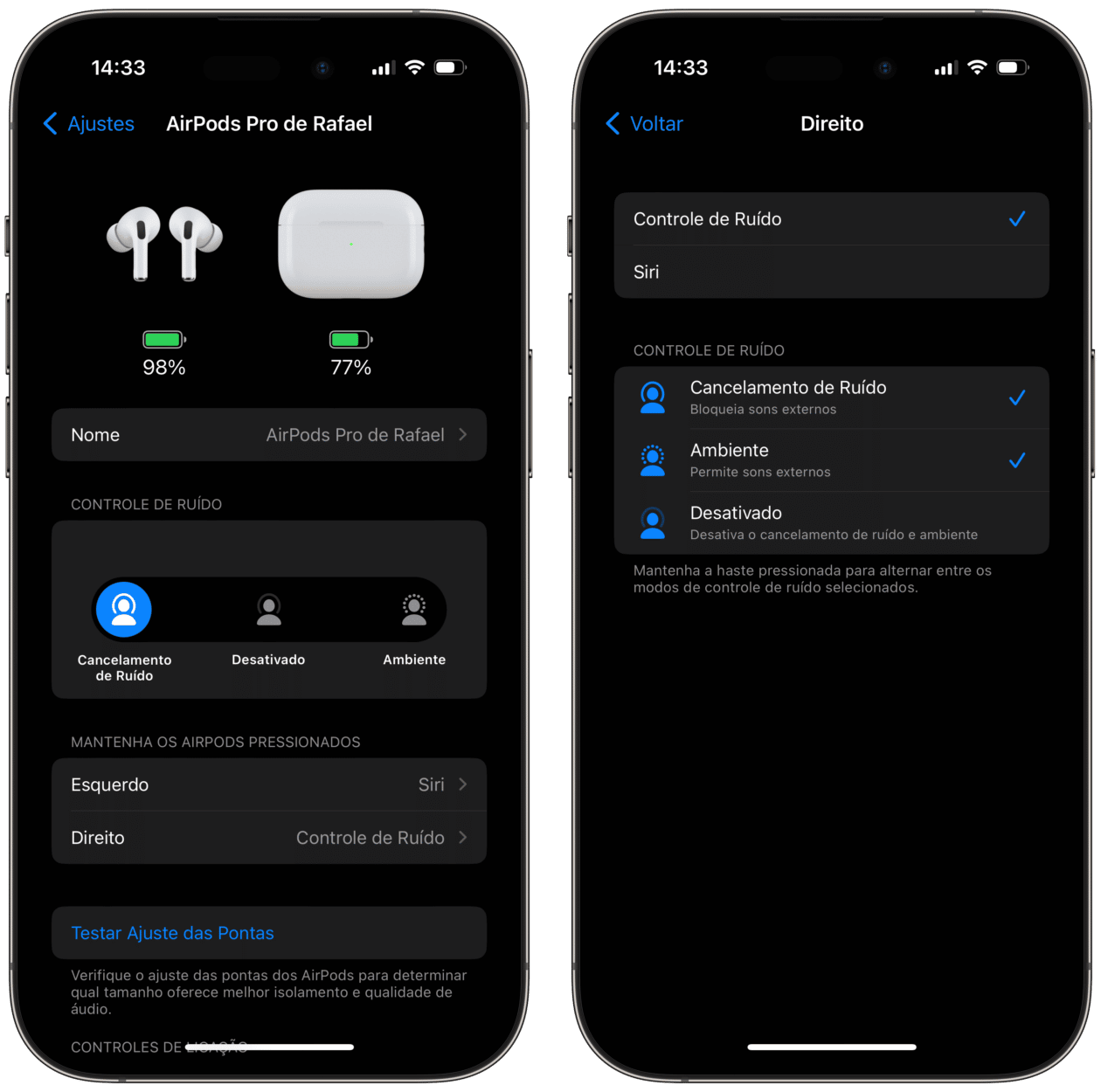 Don't get me wrong. The AirPods Pro's Active Noise Cancellation is and always has been excellent, one of the best on the market. And yes, the new ones are superior — they can cancel out more frequencies, especially from sounds without a lot of tonal variation. But I couldn't see anything even close to twice as good as before, sorry Apple.
What I did love was the new Adaptive Environment mode. Using the power of the H2 chip to filter and adjust sound 48,000 times per second, according to Apple, it further enhances the experience with Ambient mode — which is an industry leader by far.
Now, in addition to the naturalness of being able to use the headphones while talking to someone, this adaptive mode promises to reduce the intensity of loud noises, such as sirens and power tools, to further enhance this experience. That is, instead of amplifying everything, it only misses what really matters. And it works really, really well.
And the sound quality itself?
It's funny how headphone reviews nowadays cover so many aspects of headphones besides the main one, which is the sound quality itself.
Here, I would rate the advancement of the second-generation AirPods Pro on par with Active Noise Cancellation itself. It's improved, it's noticeable, but nothing close to 2x better (but no, Apple didn't promise that here).
The mids and highs, which were already well defined in the previous generation, were even sharper in these new ones. But I think the main thing here was the improvement in the bass; they are much more present, but without exaggeration. All that, plus Custom Spatial Audio with Dynamic Head Tracking, makes for some pretty cool and immersive experiences.
But no, contrary to what the analyst Ming-Chi Kuo speculated, these new AirPods Pro did not gain support for lossless audio (lossless🇧🇷 Not that I was looking forward to it or it made any difference to me, but it's worth mentioning here.
Apple also promises for these AirPods Pro a redesigned microphone, with "improved algorithms to better recognize and articulate the voice". Well, here's a quick comparison:
Again, a notable improvement but nothing revolutionary. And no, I still wouldn't recommend the AirPods Pro for recording a podcast, for example. 🇧🇷
Conclusion
If I had to respond with a "prompt hit", I don't think that those who already have the original AirPods Pro should exchange them for these new ones.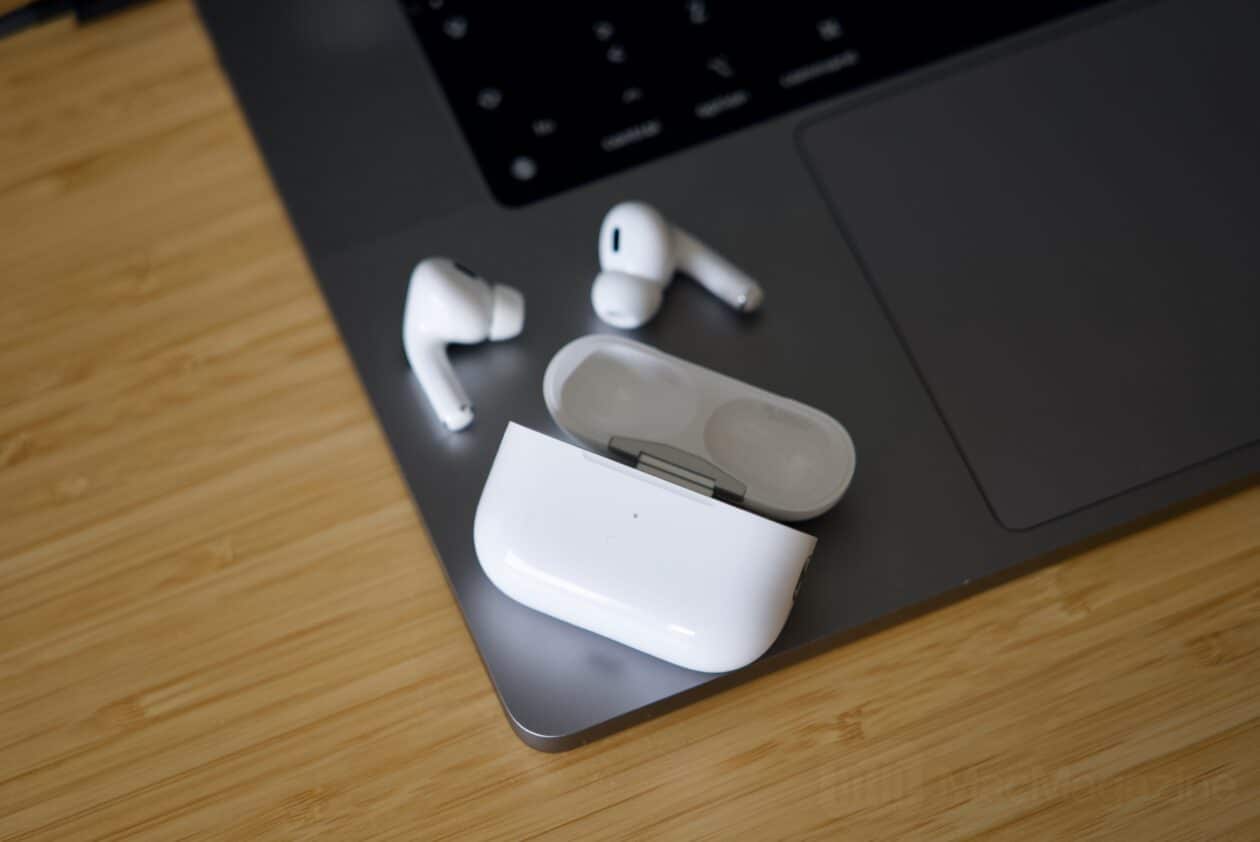 Of course, this varies from person to person. It may be that you dreamed of having a volume control on your legs, or that you lose your case a lot, or that you value the best sound and Active Noise Cancellation possible… or even that the battery of your originals, already three years old, of use, is not lasting long. All this, added, can even justify the purchase.
But, as I said at the beginning, after so much waiting, I think the product deserved more. Apple continues, you'll understand, insisting on the nonsense of only offering these AirPods in white – as if colors should be exclusive to Beats headphone lines.
For the rest, I'll keep rooting for an all-new design in the next generation. So, who knows, maybe they'll go back to being as fixed in my ear as the original (non-Pro) AirPods… meanwhile, I intend to go back to using the Beats Fit Pro as my main day-to-day headphones. If hanging over your ears isn't an issue for you, these new AirPods Pro are the best Apple has ever created.
The new AirPods Pro officially cost BRL 2,600 in Brazil, an amount that can be paid in up to 12 installments. For cash payments, Apple offers a 10% discount (starting at R$2,339.10). In the US, they cost $250 and in Portugal, €300🇧🇷
AirPods Pro
TRANSPARENCY NOTE: The MacMagazine You receive a small commission from sales completed through links in this post, but you, as a consumer, pay nothing more for products you purchase through our affiliate links.