November 30, 2022 | 10:45
Scammers take advantage of the inauguration of Assaí in Ipatinga to scam a message on WhatsApp
Steel Diary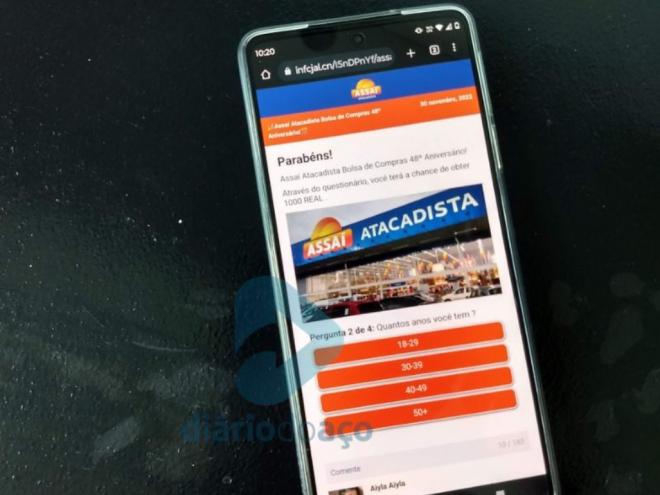 The Company discloses that it has no relationship with this site, hosted in China, and that promotions are announced exclusively on its official channels
Criminals who operate in the internet underworld took advantage of the inauguration of the wholesaler Assai, in Ipatinga, to carry out scams. This Wednesday morning (30), dozens of readers sent messages to Diário do Aço, with the information they received via WhatsApp, a message of alleged offers on behalf of the wholesale chain. Caution. It's a scam and the criminals' goal is to collect personal data from the victims and apply other scams.
The site trying to apply the scam http://basinbaffle.cn is hosted in china. Do not click on it and delete the message immediately after receiving the message.
In a note sent to the Diário do Aço newspaper, Assaí's advisor explains that the wholesaler Assaí's 48th anniversary campaign is over. Furthermore, all of the company's promotional actions are communicated only through its official channels: On the websites (www.assai.com.br and www.aniversarioassai.com.br); Facebook (@assaiatacadistaoficial); Instagram (@assaiatacadistaoficial); and Twitter (@assaioficial). Any message that is not linked to these official names is a scam. People shouldn't click.
"Any promotion communications published outside of these addresses are unrelated to the company. The Company also points out that it has expanded its anti-coup communication, with notices on all its official channels, to guide customers not to provide any type of data and/or share suspicious links and pages that circulate on social networks. Also, in case of doubt, your customers can contact us by phone: 0800 773 2322", concludes the note sent by the company.
Understand how criminals act
The blow occurs quickly. The criminals send the message: ""Assaí Atacadista Shopping Bag 48th Anniversary". The offer is a scholarship of "1,000 reais". Just like that, with an error in Portuguese. Those who fall for the scam and click on the link are directed to a form with several questions.
The victim's personal data is collected on the following pages of the questionnaire: name, age, gender and opinion on the network's services. After answering the questionnaire, the victim receives the answer: "Congratulations! Your answer has been successfully saved. You have a chance to win gifts. You must select the correct box with your prize inside. You have 3 attempts. Good luck! OK".
After the user selects again, the message congratulates and reads as follows: "Congratulations! Your prize is: 1000 REAL , Follow the instructions on the next page to claim your prize! 1. Share to 5 groups/20 friends on WHATSAPP (click 'WhatsApp' icon below) 2. Click 'Continue' and claim your prize. WhatsApp Share until the blue bar is full!".
The alert is that the gang's intention is to obtain personal data and WhatsApp contacts, to use in the most diverse ways, including other blows and implanting malicious applications on devices, cell phones and computers. With malicious applications installed, it is possible to control everything that exists on the cell phone or notebook, have access to email accounts and even bank accounts of the victims.
Already posted about scams:
– Man from Ipatinga loses more than R$ 9 thousand in car sales scam
-Man is deceived by scammer who claimed to be a resident of Ipatinga and has stolen a Toyota Corolla
-Criminals scam more than R$ 151 thousand reais in mother and son in Ipatinga
-In one week, the nudes coup gang claims five more victims
-A resident of Ipatinga receives a call from an alleged doctor and falls for the 'hospital scam'
-A resident of Timóteo falls for the loan scam and loses more than R$ 8 thousand
-Swindler applies a blow to a resident of Santana do Paraíso and tells him to conform
-Young man loses BRL 10,000 in a scam applied via cloned Instagram
-New investment scam
-Elderly man is victim of fake kidnapping scam in Ipaba
-Man loses more than R$ 8 thousand in false expense scam
-Young man negotiates motorcycle over the internet and takes a scam of R$ 13 thousand
Found an error, or want to suggest a news? Talk to the editor: [email protected]