the brazilian youtuber Casimiro Miguel has been broadcasting the World Cup for free on the internet since the beginning of the competition. During the game between Poland and Argentina, however, an extra detail also caught the public's attention: the production team let slip how much the CazéTV channel raised in the first month of the competition from Qatar via YouTube.
According to the leaked image, the Casimiro's main YouTube channel earned US$ 160,000 in the last 28 daysequivalent to approximately R$ 832 thousand in direct conversion. According to the same leaked image, the team managed to reach 210 million views on the channel in Novemberthe month in which the World Cup began.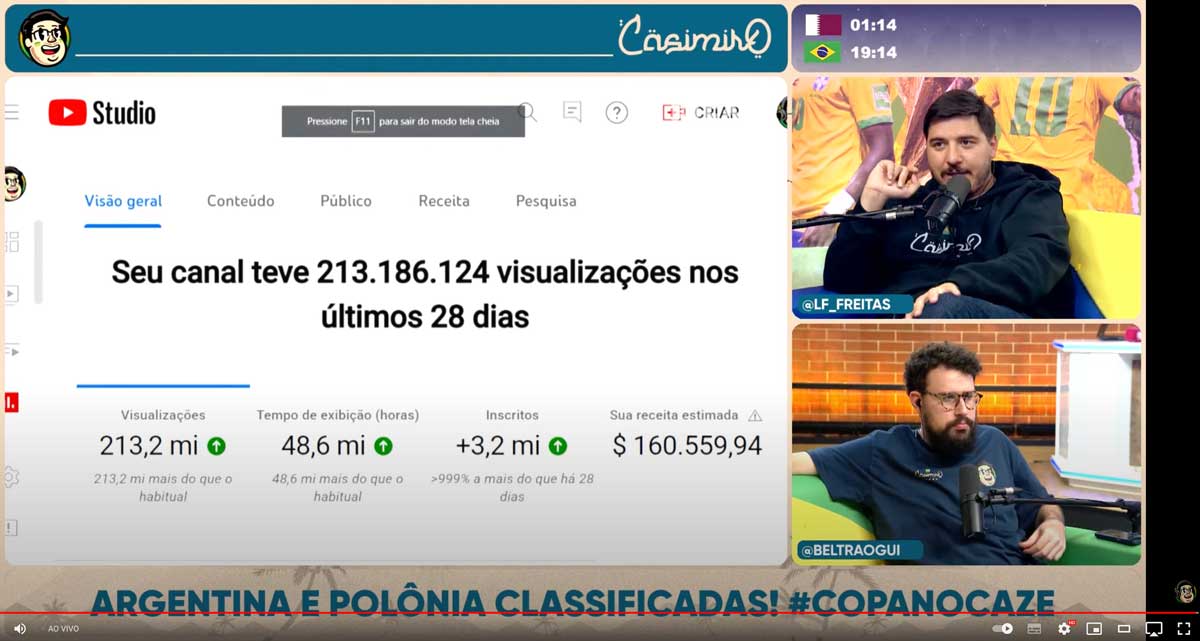 It is important to note that the amount does not include tax charges or fees charged by YouTube. Furthermore, the amount is only part of the money earned by Casimiro's team. The World Cup games are broadcast by the youtuber and his team also on Twitch and FIFA+, the free streaming of the competition, while some excerpts are sent to the content creator's cuts channel.
In addition to the amount from views, Casimiro also has other partnerships during the coverage of the World Cup. Some of the companies that sponsor Cazé and his team in the World Cup broadcasts are Nubank, McDonalds and Coca-Cola.
record of views
While the value obtained by Casimiro only with views on YouTube is impressive, some internet users were surprised by the amount of money coming from Google's ad system. After all, Casimiro is one of the most popular video content creators in Brazil today.
During the transmission between Brazil and Switzerland, Casimiro broke records on Youtube, surpassing live events from giants like SpaceX and Apple. According to platform data PlayBoardthe live of the Brazilian team is the second largest in the history of the platform.