Check out another sequence of interesting photos and their stories.
Episode 251.
This is Liu Bolin, better known as The Invisible Man. He created an amazing camouflage painting technique that allows him to practically disappear in photographs.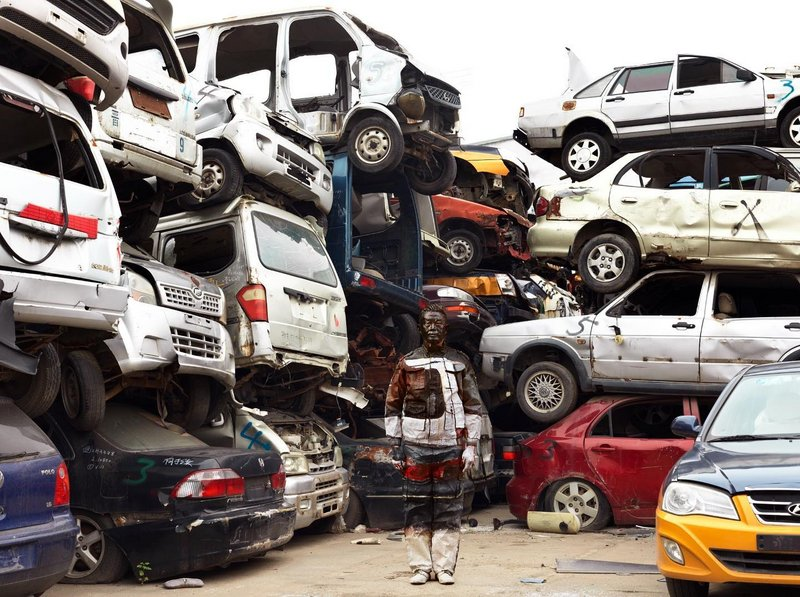 See too:
This is a list showing how much money each Woodstock artist received in 1969.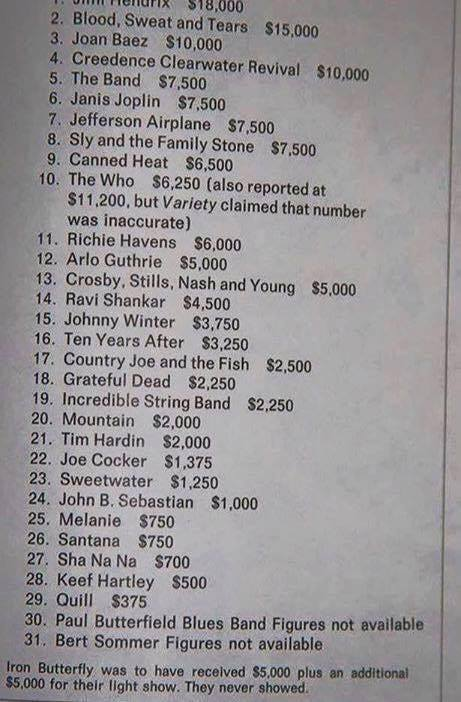 Chair built for morbidly obese man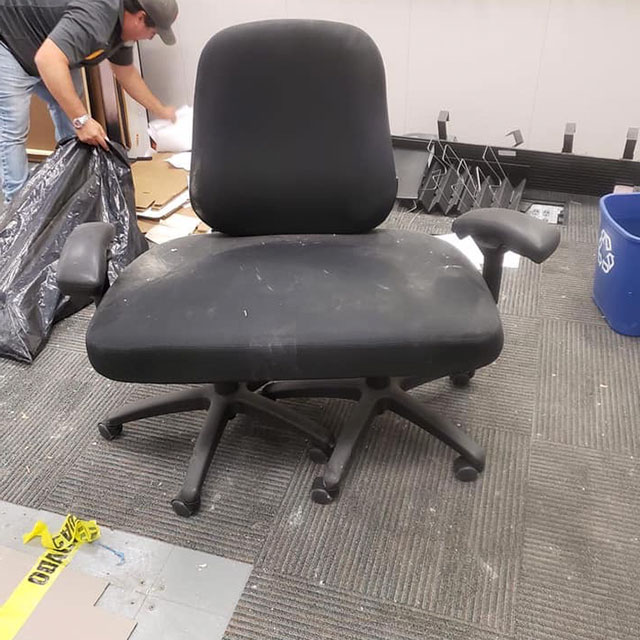 The Iranian women's basketball team decided to remove the mandatory hijab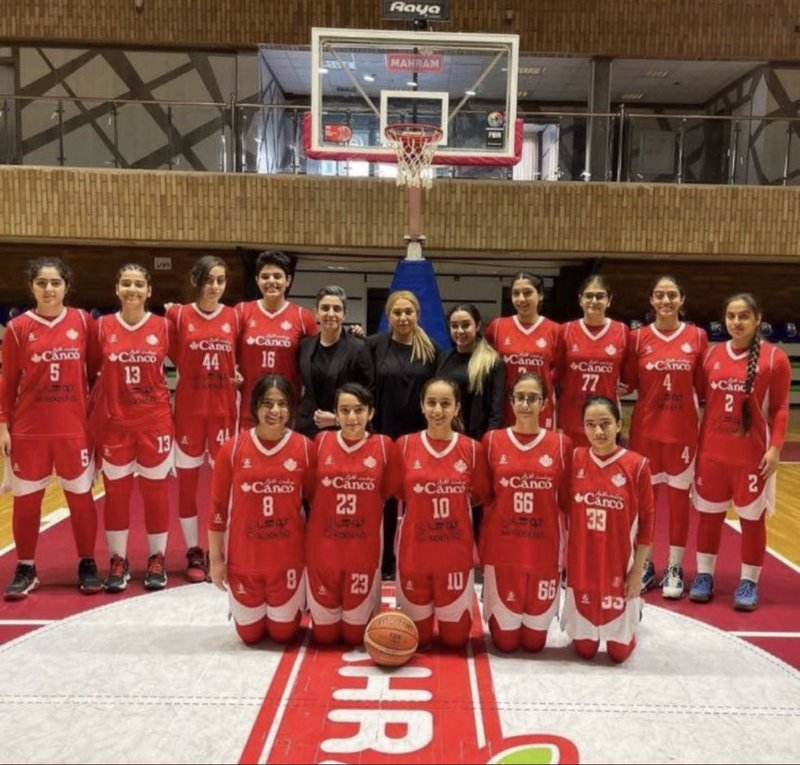 Viktor Bout the "merchant of death", a Russian arms dealer convicted of killing Americans, is quoted for a prisoner exchange between the US and Russia. Jailed since 2012 in the United States, Bout could be sent back to his country in exchange for the release of basketball star Brittney Griner and former Marine Paul Whelan.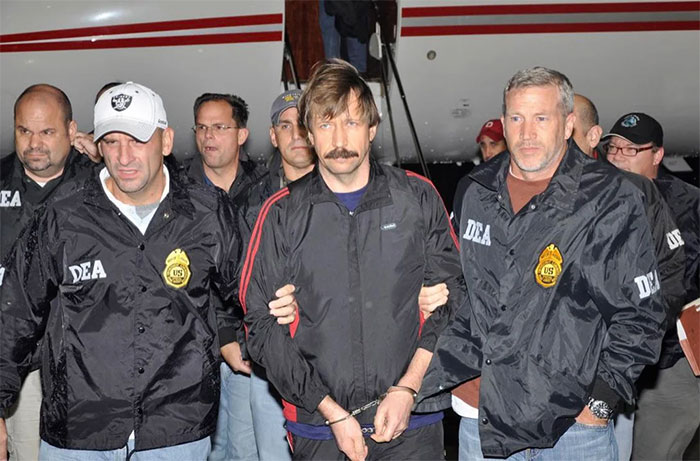 Fake head used by John Anglin to fool prison guards during his Alcatraz prison break. The whereabouts of him and his 2 companions are still unknown. The head was made of cloth, soap, toothpaste, concrete dust and human hair.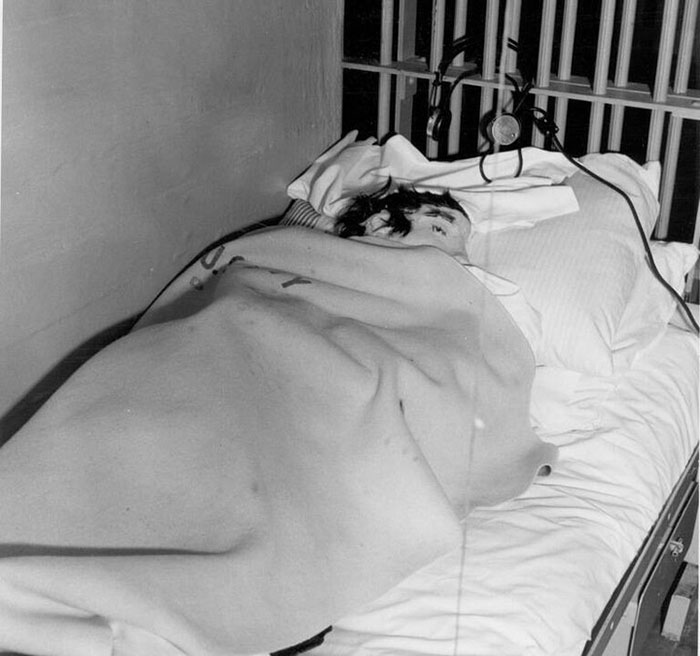 Marathon runner who chain-smoked his way through a 3.5-hour marathon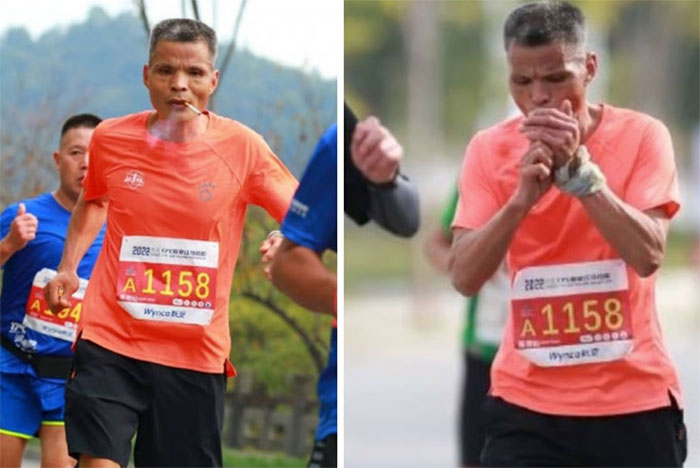 "Giraffe women" gaze in awe at a guard posted at the 16th-century main gate of the Palace of St. James, during a visit to London, 1935. In this tribe, the tradition of trying to lengthen the necks is centuries old. The meaning is not known for sure: among the various theories formulated by anthropologists, there are those that claim that it was to protect them from tiger attacks, prevent them from becoming slaves or even make them more like a dragon, an important figure for the local folklore.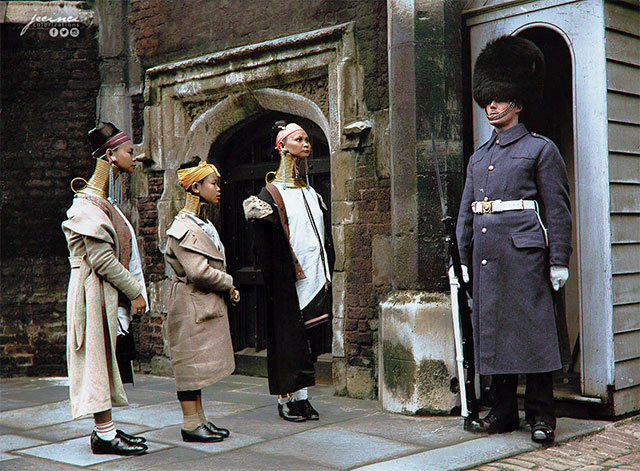 Prisoners celebrating the arrival of US Army troops, Dachau Concentration Camp, Germany, April 29, 1945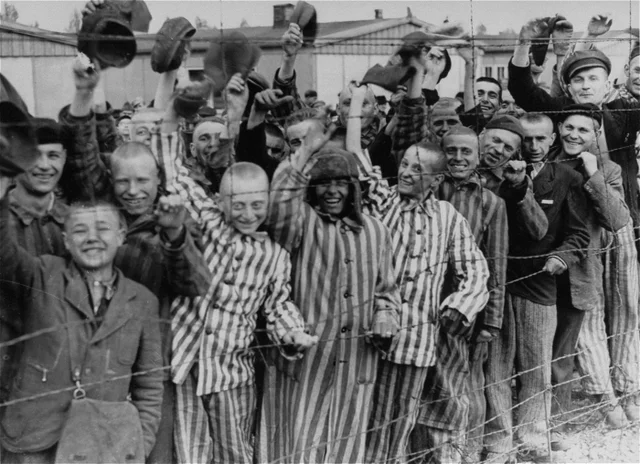 Wehrmacht General Anton Dostler is tied to a post moments before his execution by firing squad for war crimes. Dostler was convicted of the summary execution of 15 POWs, Italy, 1945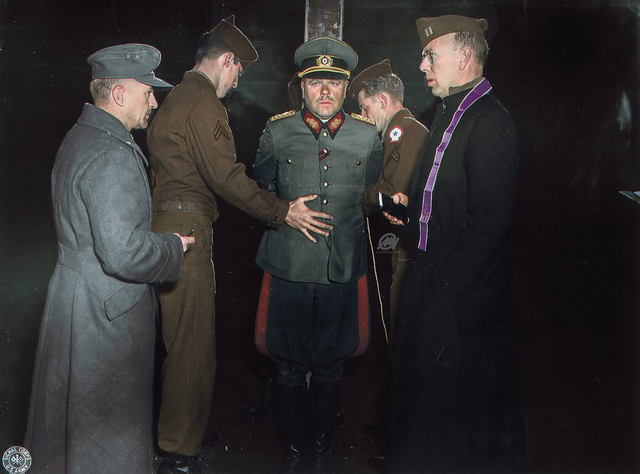 A group of Filipino men point to a well into which women and children were thrown and then crushed with stones, during a massacre committed by Japanese occupying forces. Between October 1944 and May 1945, the Japanese massacred an estimated 25,000 civilians in Batangas Province.
Titanic crew, nine days before the start of the voyage. Of the nine men in this photo, only four survived. April 1, 1912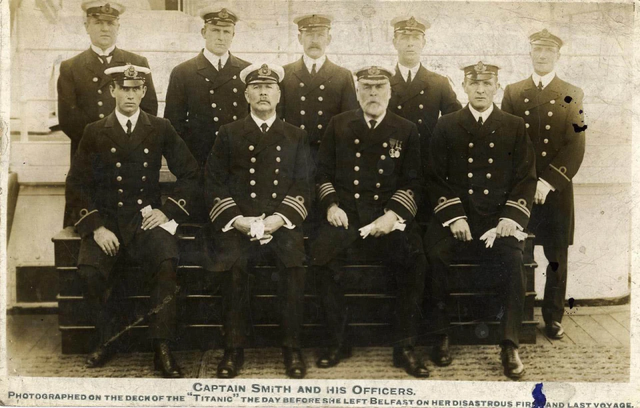 "Don't shop where you won't get hired." – protest against racism – North Carolina, 1960
Girl refuses to shake hands with military man and former president of Brazil, João Figueiredo. This photo was taken in 1979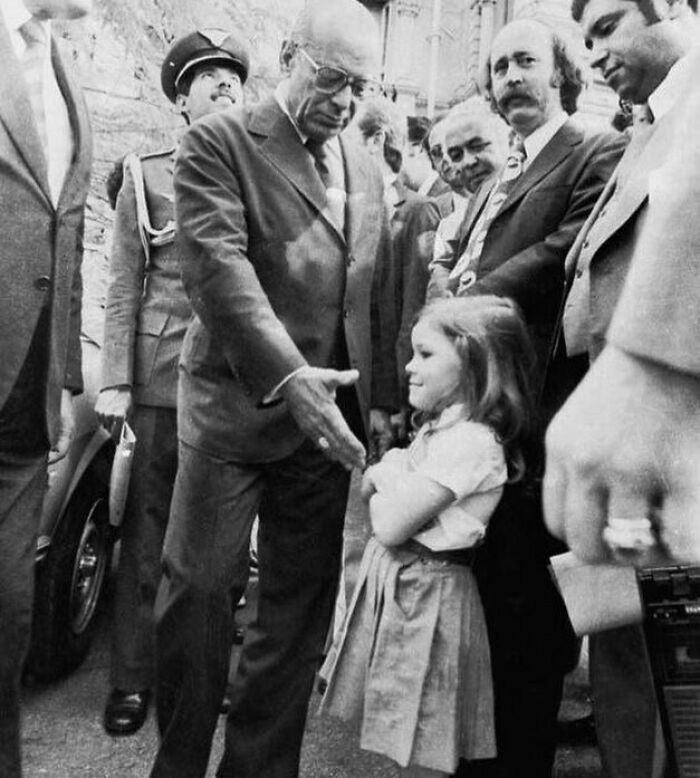 In the 1960s, bars in Istanbul hired people to carry other drunks back home in baskets.
Pelé visits the White House, June 28, 1975
Wounded Australian soldiers on the Menin Road, waiting to be taken to dressing stations during the Battle of Passchendaele (Third Battle of Ypres). September 20, 1917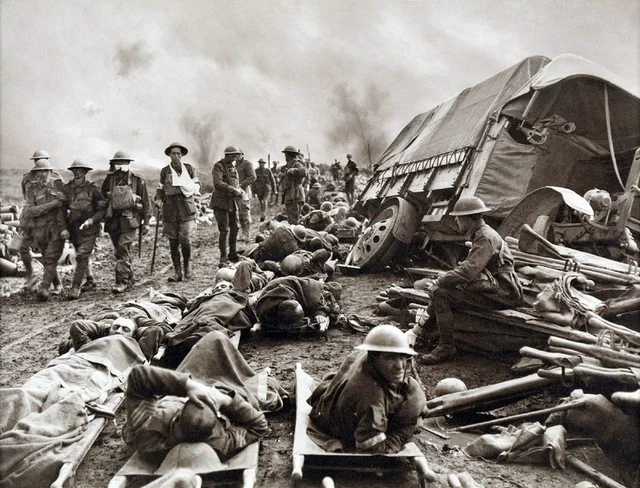 Astronauts Story Musgrave, left, and Don Peterson float in the cargo bay of the space shuttle Challenger, in Earth orbit, during their April 7, 1983 spacewalk on the STS-6 mission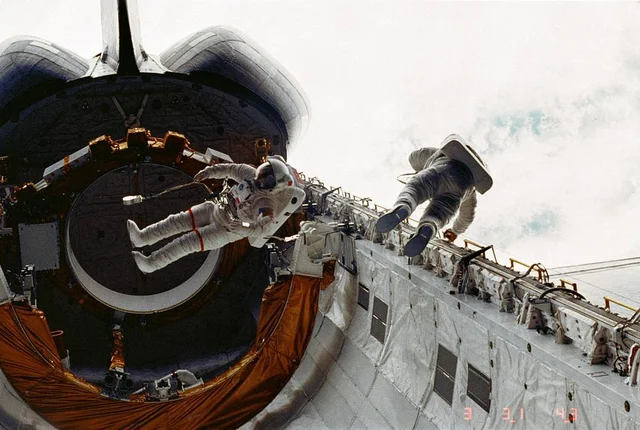 Condoleezza Rice, age 10, in front of the White House. Rice would later serve as Secretary of State for George W. Bush, the first African-American woman to hold the position, 1964
Austro-Hungarian army field "dental office", World War I era (between 1914 and 1918)
Fascist demonstration, at the Palestra Itália stadium (former name of Palmeiras), in São Paulo, Brazil, late 1930s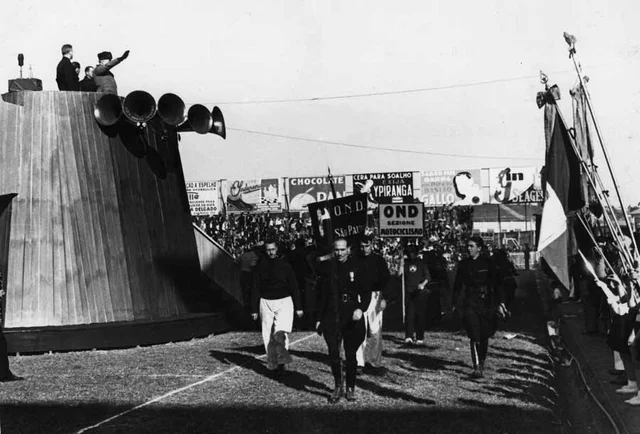 A man rides a bus for white passengers only, against apartheid policies, Durban, South Africa, 1986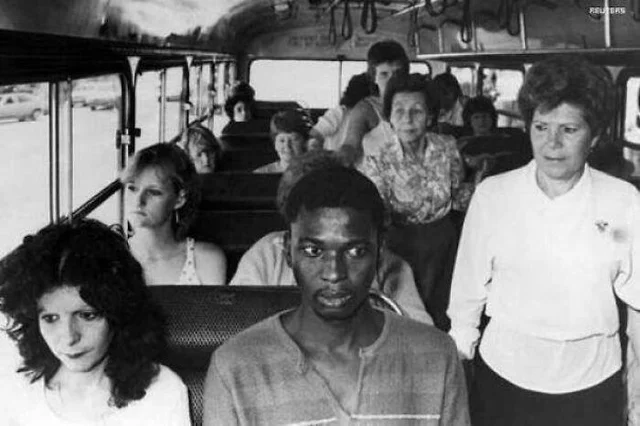 A portrait of Queen Elizabeth II is removed from British Forces HQ in Hong Kong in preparation for the handover of the territory to China – 1997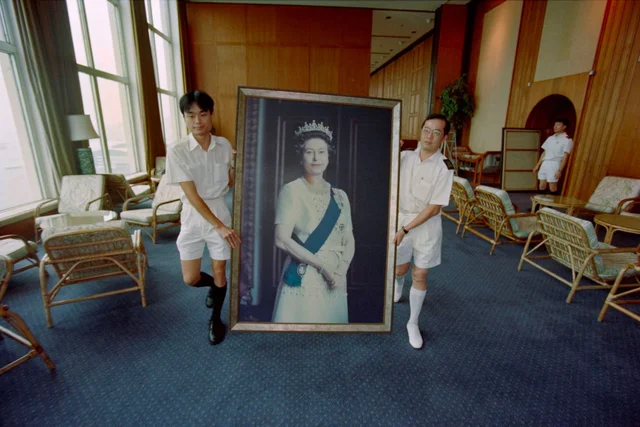 Joshua Okpik competing in the ear weight contest at the World Eskimo Indian Olympics, Fairbanks, Alaska, 1984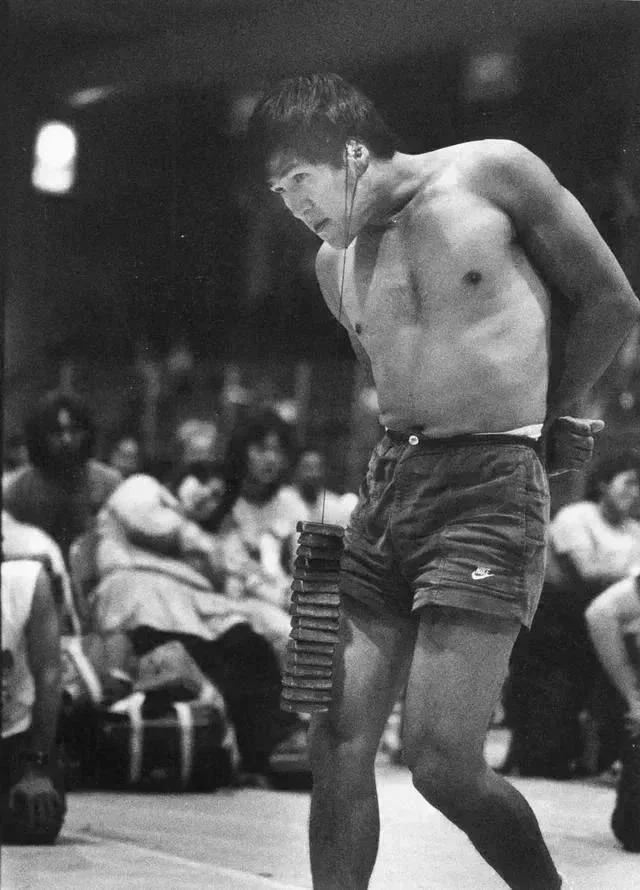 Filipino students walk past one of the war-damaged buildings on the campus of the University of the Philippines, Manila, late 1940s. The campus and city would see heavy fighting during World War II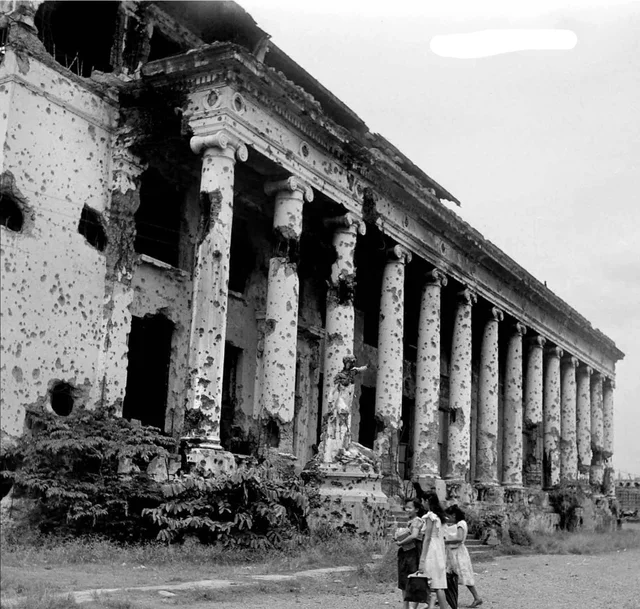 Law student parades with the Brazilian flag in an anti-fascist demonstration by the National Union of Students, Rio de Janeiro 1942. The float has a "V" for victory, crushing a Nazi swastika.
Restoration of the oldest Quran in the world (Cairo, Egypt 1993)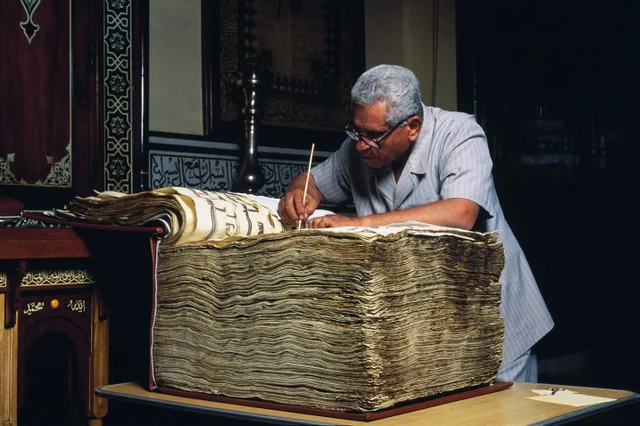 Charles Thompson being greeted by his new classmates, just 4 months before the Supreme Court ruled that racial segregation was unconstitutional. He was the only black child in the school. September 1954
Members of the Dutch Resistance celebrate the news of the death of Adolf Hitler, April 1945
Leader of LGBT organization is spotted being assaulted in Ukraine. Svyatoslav Sheremet was attacked after he met with journalists to inform them that the gay parade due to take place in Kiev had been cancelled. The attackers fled when they realized that there were media photographers recording the attack. – 2012.