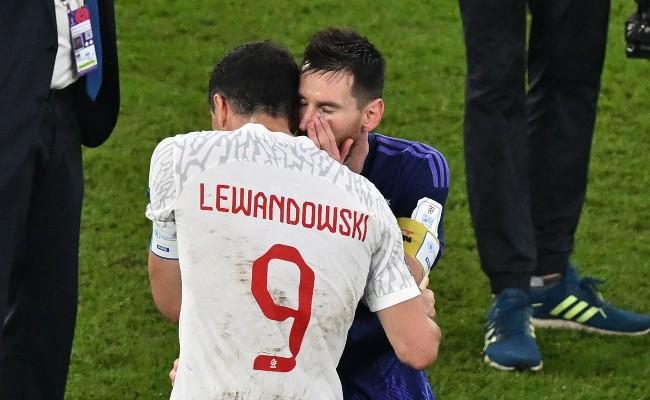 Lewandowski revealed what he said to Lionel Messi while still on the pitch at Estadio 974, on Wednesday (30), when Argentina beat Poland 2-0 in the last round of the group stage of the 2022 World Cup.
In an interview with "Bild", the Barcelona striker said he joked with the Argentine star because he plays well back. "We talked a little, we joked a little. I told Messi that I played more defensively than usual. That kind of thing is sometimes necessary for the team," said Lewandowski.
Because of the defensive posture of the Poles, Lewa had to mark the South American number 10 a few times. "That's very rare [ficar prximo ao setor em que Messi joga], yea. Me in the defensive midfield. But I knew I had to help the team", continued the player, who has already been named the best player in the world by FIFA twice.
The meeting between Messi and Lewandowski was one of the attractions of the match between Argentina and Poland and reserved a moment of "climate" between them.
In the added time of the match, Lewandowski fouled Messi in the central midfield circle. The Poles tried to continue with the play, but, when he saw that the foul was called, he tried to apologize to the Argentine, who did not even look at the number 9 shirt.
The two have publicly exchanged barbs over Messi's 2021 Ballon d'Or award, when Lewa came second.
On Wednesday, Poland's Twitter profile joked about Messi's ignoring Lewandowski for the foul in the final stretch of the match and recalled the penalty missed by the number 10: "Don't get angry. Wojtek [Szczeny] made it up [deixar Messi bravo pelo pnalti perdido]", wrote the European team.
---