Thomas Mackintosh
BBC News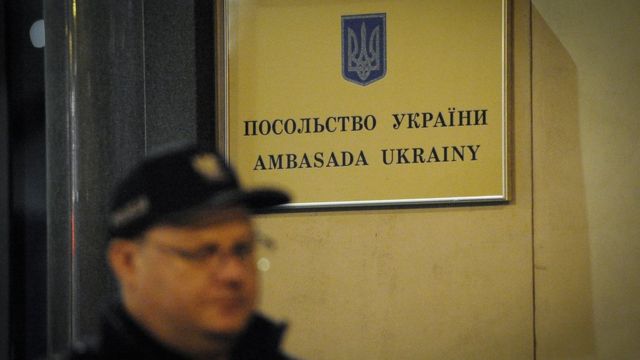 Packages containing animal eyes were sent to eight Ukrainian embassies and consulates in Europe, Ukraine's Ministry of Foreign Affairs said.
The "blood-soaked" packages were found in Hungary, Italy, the Netherlands, Poland, Croatia, Austria and Spain, the Ukrainian government said. Czech police said packages were also found at the Ukrainian embassy in the country.
It is unclear who sent the packages.
Ukraine's Foreign Minister Dmytro Kuleba believes a "well-planned campaign of terror and intimidation" is underway.
Two days ago, a staff member was injured after a letter bomb exploded at the Ukrainian embassy in Madrid, Spain – one of a series of alleged incidents.
Ukrainian Foreign Ministry spokesman Oleg Nikolenko referred to several other incidents in a statement posted on Facebook, including that the entrance to the Ukrainian ambassador's Vatican premises was also vandalized.
In addition, he added, the embassy in Kazakhstan received a false bomb threat, while the embassy in the United States received a letter containing a copy of a text critical of Ukraine.
"The letter was sent at the same time as others from the territory of a European country," said Nikolenko. "Ukraine is working with foreign authorities to investigate all threats, identify those involved and hold them accountable."
Packages delivered to embassies and consulates, he added, "were impregnated with a liquid of a characteristic color and with the corresponding smell".
In a later update on Friday (2/12), Nikolenko said Spanish police cordoned off an area around the Ukrainian embassy in Madrid after receiving a similar bloody package, while Czech police said packages containing organic material from animal were sent to the Ukrainian embassy in Prague and to the consulate in the city of Bruno.
Earlier, Nikolenko said that Ukrainian consulates and embassies have stepped up security measures, following Dmytro Kuleba's instructions after the explosion in Madrid on Wednesday (11/30).
Spanish police confirmed they had received a report about the explosion. So far, no one has claimed responsibility for the attack, and it is unclear if any of the incidents are related.
Later on Wednesday night, a second "suspicious postal shipment" was intercepted at the headquarters of the military equipment company Instalaza in Zaragoza, the Spanish interior ministry said.
Then, on Thursday morning (1/12), letter bombs arrived at the Ministry of Defense and at an air base in Torrejon de Ardoz, on the outskirts of Madrid.
Another device was also shipped to the US embassy.
"The characteristics of the envelopes, as well as their contents, are similar in the five cases," Spanish Deputy Interior Minister Rafael Perez told reporters.
"There are signs that indicate that the letters came from Spanish territory, but I insist that we must be cautious … we are at the beginning of the investigation."