The Edge 30 Ultra is undoubtedly the best cell phone from Motorola, there are several indications that prove this, but is it worth paying much more for this cell phone? I analyzed it for the last few weeks, I was even at the device's launch event in Argentina, at the invitation of the company and I was able to follow the evolution of this smartphone, a product that Motorola has bet a lot. Will it work?
Launched on September 8, it arrived costing BRL 6999, in its technical sheet it includes Qualcomm's Snapdragon 8 Plus Gen 1, 12GB of RAM memory and 256GB of internal storage, UFS 3.1. It features a 6.67-inch FHD curved pOLED screen with 144Hz refresh rate.
In the cameras we have an incredible 200MP as a main sensor, 50MP as a secondary sensor and ultrawide lens and finally a 12MP mini sensor with telephoto lens with 2x optical zoom of 1. On the front we have 60MP.
Its battery has 4610mAh and in the box comes a 125W super fast charger. Highlight for stereo sound with Dolby Atmos.
Operational system: android 12
Processor: Qualcomm Snapdragon 8 Plus Gen 1 (4nm) SM8450
RAM memory: 8 GB and 12 GB
Internal Storage: 128GB, 256GB and UFS 3.1
Screen – Type: poLED
Screen – Size: 6.67
Screen – Resolution: Aspect ratio 20:9 and 2400 x 1080
Screen – Frequency: 144Hz
main camera: 200 MP, f/2.0, (wide), 1/1.22, Dual Pixel PDAF and OIS
2nd camera: 50 MP, f/2.2, 114˚ (ultrawide), 1/2.76
3rd camera: 12 MP, f/1.6, (telephoto), 1/2.93
Frontal camera: 60 MP, f/2.2, (wide), 1/2.8
Drums: 4610 mAh
Charger: 10W Reverse, 50W Wireless and 125W
5G: Yea
Motorola Edge 30 Ultra – See the full technical sheet here
Screen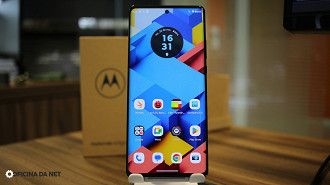 The screen is a strong point of the product. In addition to being beautiful, it has very vibrant colors and great sharpness. Pointing it out in front of you is something you look at and say, that's a good canvas. The pOLED panels are not the best that exist, Motorola uses them in practically all products that use the technology, despite the kind of prejudice with the P of OLED, I believe they are getting better, and in cases of rounded screens the use Polymer works well.
Motorola has prepared in this curved screen a personalization system for notifications to emit lights in the corners and see when a notification is activated.
cameras
Is 200MP stabilized main sensor enough to make good photos and videos? To compose the entire set, we also have a 50MP sensor for ultrawide and macro, in addition to a 2x telephoto lens with a 12MP sensor. On the front, Motorola placed a 60MP sensor for selfies. I already say that Megapixels are far from the most important thing in modern cameras.
The main camera has evolved a lot compared to the Edge 30 Pro. Motorola this time has not saturated the colors so much, they are well balanced. We also have sharpness right, without exaggeration.
Now go through some night shots from the main lens. This is the traditional photo I take in front of the house, we can see a significant improvement in the last tested Edge. Much less noise in the photo, the night mode now activates automatically, helping a lot for those who don't have much knowledge of photos. The photo of the building you can see there, the colors changed a little, that blue next to the building was not how I was seeing it. The same ultrawide shot had the same result. Now, there is no denying that they are very sharp, with little noise.
The portrait mode has worked well and makes a beautiful result, whether in the rear or front.
Selfies have shown some inconsistency. Some photos come out well, others the saturation is too low, this has happened with more Motorola smartphones. Sharpness is good in favorable light conditions. Now the light decreases and also the sharpness, this Motorola needs to improve.
videos
The main lens makes videos with the same configuration as the photos, we have very good stability, it's not the best I've tested, but it's with great results. The colors are balanced, the sharpness is just right and the movement is very fluid.
The ultrawide lens only makes videos in FULLHD at 30fps, unable to compare with the main lens that records 8K at 24fps. What's the point of having so much difference, ultrawide lens should at least do 4K 30fps.
Performance
What to expect from a Snapdragon 8 Plus Gen 1? If the processor is not enough, imagine combining 12GB of DDR5 RAM with 256GB of storage, UFS3.1. They make this smartphone a real machine.
In our benchmark and gaming tests it performed very well. It will run any game with maximum graphics and excellent fluidity. To give you an idea, we have Apex Legends, COD Mobile, Free Fire Max running at 60 frames and 100% stability.
In the benchmark tests, the Edge 30 Ultra scored the highest on AnTuTu, in three consecutive tests it managed to maintain an average of 1,020,033 points.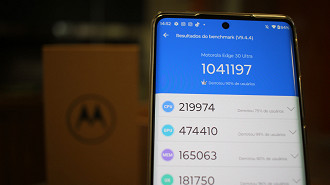 Drums
The Edge 30 Ultra's battery was the best in autonomy when compared to other high-end smartphones we reviewed in 2022. With its 4610mAh, it was able to withstand our entire battery test, which consists of leaving the smartphone with the screen turned on for a period of 7h45min in various activities that demand a lot from the smartphone. In this test, we tried our best to simulate anyone's constant use. At the end of the test the Edge 30 Ultra still had 16%.
Drums: 4610mAh;
Charger: 125W;
Final result: +7h45min of screen. Completed the cycle;
Consumption: 84% battery;
Loading: 32 minutes.
An incredible result, the Edge 30 Ultra became the best high-end smartphone in our battery test. This all means you can rest assured that the battery won't let you down.
With regard to charging, Motorola sends a 125W charger in the box. The promise is to last 1 day of battery with only 9 minutes of charge. In our test, the charger took 32 minutes to complete from 0 to 100%. An excellent result, but I've seen 65W chargers do the same thing.
Sound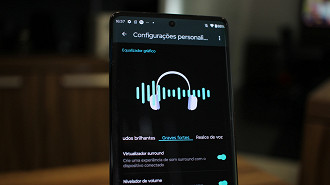 The sound of this smartphone is great. It has Dolby Atmos, two stereo audio outputs. The sound quality is something that I've seen appear more in the products, they are already playing almost the same as the JBL boxes, you know? Of course with much less intensity. But it's already impressive for a smartphone.
Design
The Edge 30 Ultra's design is a strong point. This smartphone is very beautiful, the feeling of having it in your hands is also great. The rounded screen corners give the product a good sophistication. Motorola already applies a film on the screen to prevent it from breaking easily and so you don't have to run after one that shouldn't be so easy to find.
I also liked the rear part, the set of cameras in a single block, with its own style, brings a unique feature to the product.
What the Edge 30 Ultra lacked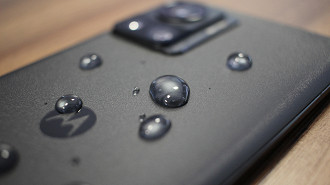 THE biggest absence in the project was the IP68 protection🇧🇷 For a cell phone worth 7000 reais, top of the line, it is essential to have protection. All the competition brings this feature to their most powerful smartphones, it's time for Motorola to provide it too.
price evaluation
As I already mentioned, the Edge 30 Ultra arrived costing BRL 6999, two months after its launch it dropped by BRL 1600, 23% of the value. Still, a price I consider high. The Edge 30 Ultra has its benefits, but the value that I think is a great deal is when it drops from R$ 3800🇧🇷 You must be wondering, why did I choose this price, right? The Edge 30 Pro, 9 months old since launch, already costs half the original price. The Edge 30 Ultra should reach this value of R$ 3800 in about 5 months.
Where to buy?
Conclusion
Motorola Edge 30 Ultra
pros
Performance
Drums
cameras
Design
cons
Missing IP68
Ultrawide camera takes videos only in FHD 30fps
Motorola offers a 2-year factory warranty for the Edge 30 Ultra, in addition, there are three Android updates guaranteed, that is, we will have Android 15. The Edge 30 Ultra is Motorola's best smartphone, that's a fact. It has the best features, it has the longest software lifespan, it was also the device that Motorola best worked on overall. In fact it is a product of great quality, powerful, beautiful, with the best battery among the top of the line.
My notes for the Edge 30 Ultra are:
Cameras: 9.0
Drums: 9.2
Performance: 10
Design and construction: 9.5
Screen: 9.5
GENERAL RESULT: 9.4
On that note the Edge 30 Ultra takes on the second place in our ranking of smartphones analyzed in 2022🇧🇷 Next year Motorola puts an IP68 and works more in the post processing of photos and videos to fight for the TOP 1 again.
| 🇧🇷 | Cell phones | Cam. | bat. | Perf. | Design | Screen | Note | Price |
| --- | --- | --- | --- | --- | --- | --- | --- | --- |
| 1st | Samsung Galaxy S22 Ultra | 9.8 | 7.5 | 10 | 10 | 10 | 9.5 | R$&nbsp5,999.00 |
| 2nd | Motorola Edge 30 Ultra | 9.0 | 9.2 | 10 | 9.5 | 9.5 | 9.4 | R$&nbsp5,399.10 |
| 3rd | Samsung Galaxy Z Fold 4 | 9.5 | 7.5 | 10 | 9.8 | 10 | 9.4 | R$&nbsp9,059.72 |
| 4th | ASUS Zenfone 9 | 9.0 | 8.3 | 10 | 9.5 | 9.5 | 9.3 | R$&nbsp4,439.00 |
| 5th | Samsung Galaxy S22 Plus | 9.5 | 7.5 | 10 | 9.5 | 9.5 | 9.2 | R$&nbsp4,399.00 |