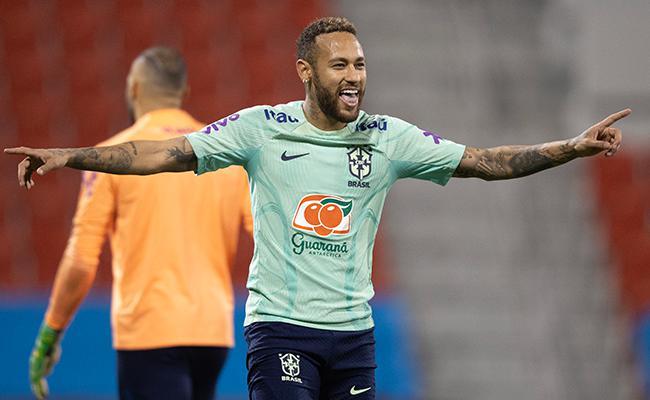 Neymar took another step towards complete recovery from the ankle injury still in this 2022 World Cup. last day 24, which marked the debut of Brazil in Qatar.
At the Grand Hamad stadium, CT of the Seleção, the number 10 began the so-called transition phase of work, which comes after physical therapy motivated by the problem in the collateral ligament of the right ankle. Thus, Neymar keeps alive the hope of still playing in the World Cup.
In the video published by the CBF, it was possible to see Neymar wearing cleats, participating in a silly circle and even smiling for the entity's communication department camera. He also did some finishing work and left smiling after the attempts on goal. The injured place has deflated in the last few days.
Neymar progressed from work in the pool, on Wednesday (30), to the field this Saturday, having activities in the gym – with a ball and some equipment to work on his balance – between the two processes.
The start of the transition process on the field had already been announced by the team's doctor, Rodrigo Lasmar. But the definition of when he can be selected for a Brazilian match in the Cup depends on how the star will react. "You have to see the new stimulus," said the doctor.
Time thinking about the next match is short because the Brazilian team is already playing against South Korea, for the round of 16, on Monday (5). After training this Saturday, which was closed to the press, Tite will only have work tomorrow (4th) to smooth out the rough spots in the starting lineup.
Danilo recovered
The scenario involving right-back Danilo seems clearer. He has already trained with the group normally, as predicted by the Selecao's medical department and has shown to be recovered after hurting his left ankle suffered on his debut.
Left-back Alex Sandro suffered a muscle injury in his left hip during the game against Switzerland.
Brazil has already lost two players in this World Cup due to injury. Striker Gabriel Jesus and left-back Alex Telles suffered knee injuries and the CBF has already announced that they are out of the competition.
---