James Waterhouse
BBC Correspondent in Ukraine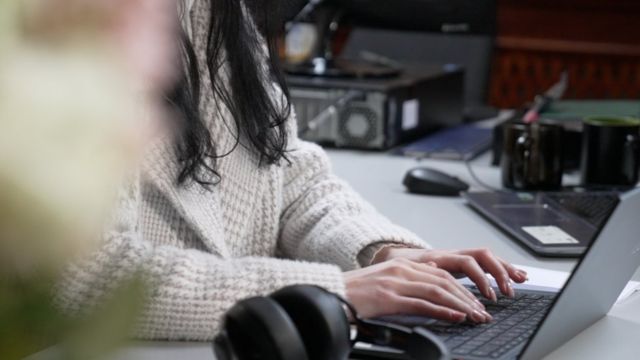 A new system created to help Russian soldiers who want to surrender is receiving up to 100 requests a day, according to the Ukrainian government.
The project "I Want To Live" ("Eu Quero Viver", in free translation into Portuguese) was launched in September.
By calling a hotline or sending the data through messaging apps, Russian servicemen are advised on how they can find the best way to surrender to Ukrainian forces.
Officials in Kiev say they have received more than 3,500 contacts from the invaders, as well as their families.
Demand for the service has surged in recent months as Russian President Vladimir Putin mobilized hundreds of thousands of Russian men to war and since the city of Kherson was freed from Moscow control.
The BBC received recordings of some of the phone calls.
As the dark corridors already indicate, the headquarters of the Service for the Treatment of Prisoners of War in Ukraine is not immune to the power blackouts that plague the country.
In a small office, we meet Svitlana (not her real name), a Ukrainian clerk who speaks daily with Russian soldiers.
They can reach out via phone or via most messaging apps like Telegram and WhatsApp.
She explains that nights are busier, as that's when soldiers have more free time, can escape the supervision of superiors and make a call.
"Usually, we hear a male voice," she explains. "A lot of times it's kind of desperate, kind of frustrated, because they don't fully understand how the hotline works or if it's just a setup."
"There is also curiosity, because many call not to surrender, but to find out how they could if necessary. It's different every time."
Svitlana is not allowed to tell us how many Russians she has helped, or exactly how it happened. The military is only instructed to share the location before being given further instructions.
Some Russian soldiers also get in touch to make provocations, Svitlana reports, although she doesn't think everyone buys the Kremlin's unsubstantiated claims that Ukraine is ruled by Nazis.
"We cannot judge an entire country," he says. "Most of them are worried about their lives."
Svitlana also remembers a call from a man who lived in occupied Crimea and was mobilized to fight against his own family and country.
It appears that Moscow has now blocked Ukrainian service phone numbers within Russia. Chip calls from the UK or Russia started hearing an error message.
"Ask yourself the following question: what are you fighting for?" asks the dramatic voiceover in the propaganda video for the "I Want to Live" project aimed at Russian soldiers.
Explosions appear in sync with evocative music. There is footage of Russian soldiers apparently surrendering before two phone numbers are shown at the end.
They are even instructed to wave a white flag if they are too close to the front line.
This, of course, is part of information warfare and shows the anatomy of Ukraine's attempts to undermine Russian morale.
On the walls of Svitlana's office are pictures of Ukrainian prisoners of war. All are believed to be still alive, and this hotline is critical to Kiev's efforts to bring them home.
Once they surrender, Russian POWs can be used as currency in future exchanges.
According to the US Institute for the Study of War, the Kremlin is also conducting more prisoner-of-war exchanges as it tries to appease critics inside Russia.
Both sides are believed to have thousands of POWs, but the exact numbers are unclear.
"We especially want to target the partially mobilized, who not only cannot fight but are used as cannon fodder," says Vitalii Matviyenko, who leads the Ukrainian service.
"This project was created so that their lives are guaranteed if these individuals voluntarily surrender."
For Ukraine, which is outnumbered in the clash, the effort is also expected to demobilize the invader's forces.
Additional reporting by Daria Sipigina, Hanna Choronous and Moose Campbell.