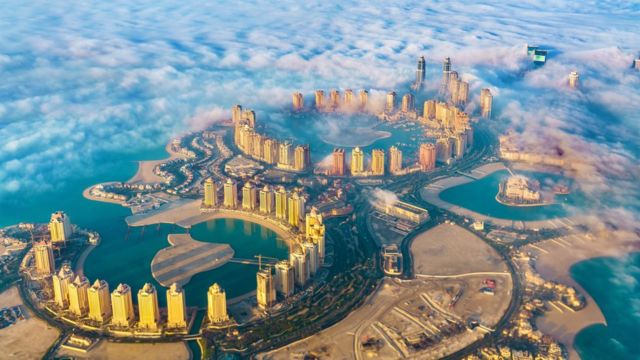 "If Qatar is a bubble within the world, The Pearl is a kind of bubble within Qatar."
The phrase is from the British Siobhan Tulley, resident of the ostentatious artificial island that Qatar built for wealthy immigrants.
The streets of A Pérola do not seem to be on the Persian Gulf: its constructions imitate the buildings of Mediterranean Europe. But they're all brand new, as the island was built in 2006, and they mix styles from different countries, almost like a theme park.
There are Spanish-style squares and canals and Venetian buildings. The roundabouts, adorned by fountains, are walkways where sports cars worth hundreds of thousands of dollars parade by. The island's bays are circled by huge buildings with more than 20 floors, with swimming pools and even private beaches. In the Porto Arabia marina, there are buildings that imitate the Arab construction style.
Various nationalities, much more Western in appearance than the rest of the country, revel in sidewalk cafes and bistros at night.
Here are scenes not so common in other neighborhoods of Doha, such as the group of Saudi girls who enter a Lebanese restaurant covered and after a few minutes discover their entire hair. At the marina, women walk around with low necklines, uncovered shoulders and short skirts. The island also has the country's highest concentration of hotels and bars serving alcohol.
4 million m² recovered from the sea
The Pearl is the flagship project of the United Development Company, Qatar's leading public builder. The island was made artificially and about 4 million m² were "taken" from the sea.
It was the first urban project that allowed immigrants to buy real estate in Qatar. Currently, the island has 25,000 residential units and 33,000 inhabitants.
A one-room "studio" style apartment can cost US$ 300,000 (R$ 1.6 million) and a five-room house with an ocean view exceeds US$ 12 million.
Fifteen million tourists annually visit this space that houses restaurants, luxury hotels — one of which hosts the United States selection — malls, bars, cinemas and other leisure establishments.
Oasis for wealthy migrants
Siobhan and Ian Tulley are a British couple who have lived in Qatar for seven years, six and a half years in The Pearl. She is English, he is Scottish.
Both work for the health sector and live in a building at Viva Bahriya, a cluster of 30 tall towers arranged in a semicircle around the beach.
"When we arrived here, there were almost no services nearby, but in a short time it is already full of restaurants, cafes and shops. It's very nice to walk and not have to drive so much", says Siobhan.
Doha is a modern city crossed by giant avenues with several lanes. Except for a few streets, squares and several shopping centers, it is not designed for pedestrians and it is difficult to find shade and parks. High temperatures for most of the year don't make walking easy either.
The Pérola, 'inspired' by Mediterranean cities, is much more walkable.
"We were going to stay here for three years, but now we've been here for seven. We're very happy and I feel very safe," says Siobhan.
Qatar is a very safe country in general. But residents of the country tell BBC Mundo that some Western behaviors, such as the way they dress, have caused some problems with conservative Qataris. Something that is more difficult to happen on the island.
The Tulleys enjoy the benefits of the Qatari public sector, which covers part of the couple's rent costs. Also, Ian takes about 90 days of paid vacation a year.
Initially, La Pérola was primarily home to a wealthy immigrant community, many from western countries. "But more and more Qataris are arriving. There are properties here that belong to the royal family," says Ian, showing a giant photo of Emir Tamim bin Hamad al Thani on a skyscraper.
Venetian streets, private islets…
"It's like Venice without gondolas", describes the Venezuelan Gustavo Jaramillo in the Qanat Quartier, a neighborhood that imitates the famous Italian city.
The engineer lives in A Pérola with his Venezuelan partner Sabrina Masciovecchio in a high tower with a swimming pool and direct access to the beach.
"With the current situation in Venezuela, almost any place is better, but living in Doha and Pérola is another level", says Masciovecchio to BBC Mundo.
The couple shows the island to BBC Mundo during a car ride.
"Be careful when filming here because it's restricted," warns Jaramillo as he passes by Isola Dana, one of the latest real estate projects where buyers can buy private islets and build their mansions.
Jaramillo works in the energy sector and has benefits to pay rent, transport and telephone. He spends around 25% of his monthly salary. What is left over, almost tax-free, he saves.
As he continues to talk about the advantages of living in this country and on this island, we pass in front of a large square building that resembles a Renaissance palace.
"It's a kind of super central air conditioning unit. Here, the cold water that circulates through pipes throughout A Pérola is processed, and each building has its own distribution system for this cold water", says Jaramillo.
"The service is paid separately to Qatar Cool, the company that administers it. It does not include electricity costs", he explains.
In addition to Isola Dana and the Venetian Quarter, the island also includes high-rise office districts, sports marinas, residential towers and landscaped neighborhoods with mansions.
"The Bubble Within the Bubble"
When Siobhan Tulley says that The Pearl "is a bubble within a bubble", she talks about problems that plague the world – like the pandemic and the war in Ukraine – and how little they hit the island.
References to these bubbles in Qatar, where Western women can wear bikinis on the beach, frequently come up in conversations with locals and journalists.
For poor migrants, however, the situation is different. On the outskirts of Doha, Labor City welcomes migrant workers from Southeast Asia and East Africa. Access to the site is restricted and monitored by the government, and the existing reports do not paint a pleasant situation.
Critics say this is one of the authorities keeping workers excluded and hidden, something Qatar denies, saying it is to ensure their safety.
"In our case, despite getting along well with everyone, our environment is Latin and Spanish. We don't spend much time with local Qataris or Arabs," explains Jaramillo.
Jaramillo and Masciovecchio also mention the lack of hospitals and schools, which is complicated considering that the island has only one access and traffic is often congested.
At the moment there is a large hospital under construction – as well as a number of other developments.
"The worst thing here is the constant drilling. There's construction going on all the time. You see that building almost done? They started in late September," says Siobhan.
🇧🇷 ÇWith information from José Carlos Cueto, sent by BBC News Mundo to Qatar