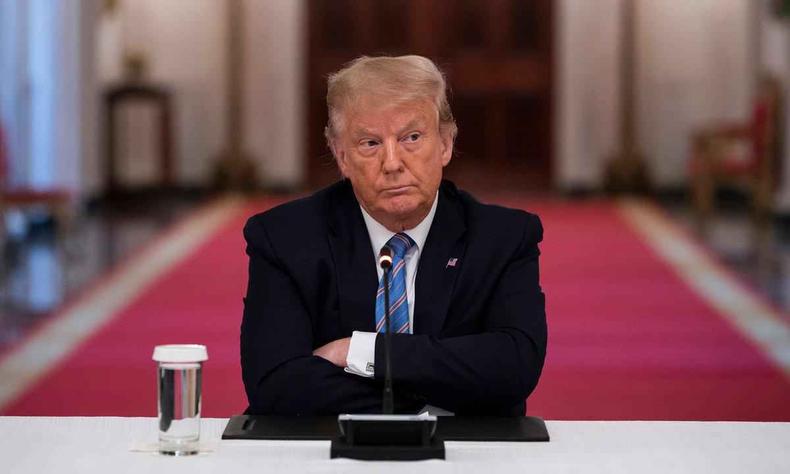 SO PAULO, SP (FOLHAPRESS) – Democrats and Republicans rejected this Sunday (4) a message released by former President Donald Trump with requests to annul sections of the Constitution under the false thesis that there was fraud in the 2020 elections.
Trump, who last month announced his intention to run again for the Presidency, has again disseminated, without evidence, that the election won by Joe Biden was not legitimate.
"Massive fraud of this type and magnitude allows for the revocation of all rules, regulations and articles, even those found in the Constitution," he wrote on his Truth Social platform. "Our great 'founders' did not want and would not tolerate false and fraudulent elections!"
In response, Hakeem Jeffries, newly elected leader of House Democrats, branded the message extremist. He also took the opportunity to sting the Republican Party by questioning whether the party intends to continue putting up with the former president's anti-democratic positions.
"Republicans will have to sort out their issues with the former president and decide whether to break with him and return to some semblance of reason or whether to continue to lean towards extremism, not just from Trump, but from Trumpism," Jeffries said.
Trump was even criticized by colleagues in his own party. Representative Mike Turner of Ohio, the top Republican on the House Intelligence Committee, said he "vehemently" disagreed with the content of the message, and that the publication should be taken into account in internal party disputes.
Trump investigated for involvement in the events leading up to the January 6 attack on the Capitol. At the time, a mob of supporters inflated by the politician invaded the Congressional building seeking to interrupt Biden's victory certification session in the elections. The republican claimed –and continues to do so today– that the election would have been rigged; the American Justice never found any evidence that this could have happened.