THE pichau hardware storeone of the largest in the segment in Brazil, had one of your Instagram accounts hacked on Sunday night (4). The case was revealed by the e-commerce itself, which published an alert on all its social networks about the situation.
In the warning post, Pichau tells consumers that the "@pichaugaming" account has been hacked and could be used for scams. "Don't buy from any link and any Pix reported there", she points out.
🇧🇷 Important warning! 🇧🇷 pic.twitter.com/KCKTyLkE7y

— pigeon (@pichauinfo) December 5, 2022
The store also pointed out that the only official sales channel for the brand's hardware is the official website, pichau.com.br. That is, the platform does not make direct sales through platforms such as Instagram stories.
What happened?
This Monday morning (5), the Pichau Gaming profile was inactive on Instagram. It is worth noting that only the arroba mentioned is affectedwith other channels, including the store's official profile, continuing to operate without interruptions or violations.
In a note sent to TechWorld, Pichau provided more details on the matter. According to the company, in no time the store was affected and the account that was scammed only has a connection to alternative domains, brands and blogs of the group.
🇧🇷The action consisted only of redirecting the domains http://pichauarena.com.br and http://pichaugaming.com.br to a third-party page, both of which are already functioning normally. It is worth mentioning that there was no access to the hosting of the sites or data", informs the store.
"Instagram @PichauOficial, which is our main one, was not affected, only Instagram
@PichauGaming which belongs to our brand. We are already investigating what happened and arranging for the return of the account", explains the company, emphasizing that the official sales channel is the official website pichau.com.br and that the store does not request payments via social networks.
scams on instagram
One of Pichau's followers on Twitter managed to capture one of the images used after the attack to try to scam consumers. The hackers used fake hardware deals to draw attention of the public that follows e-commerce.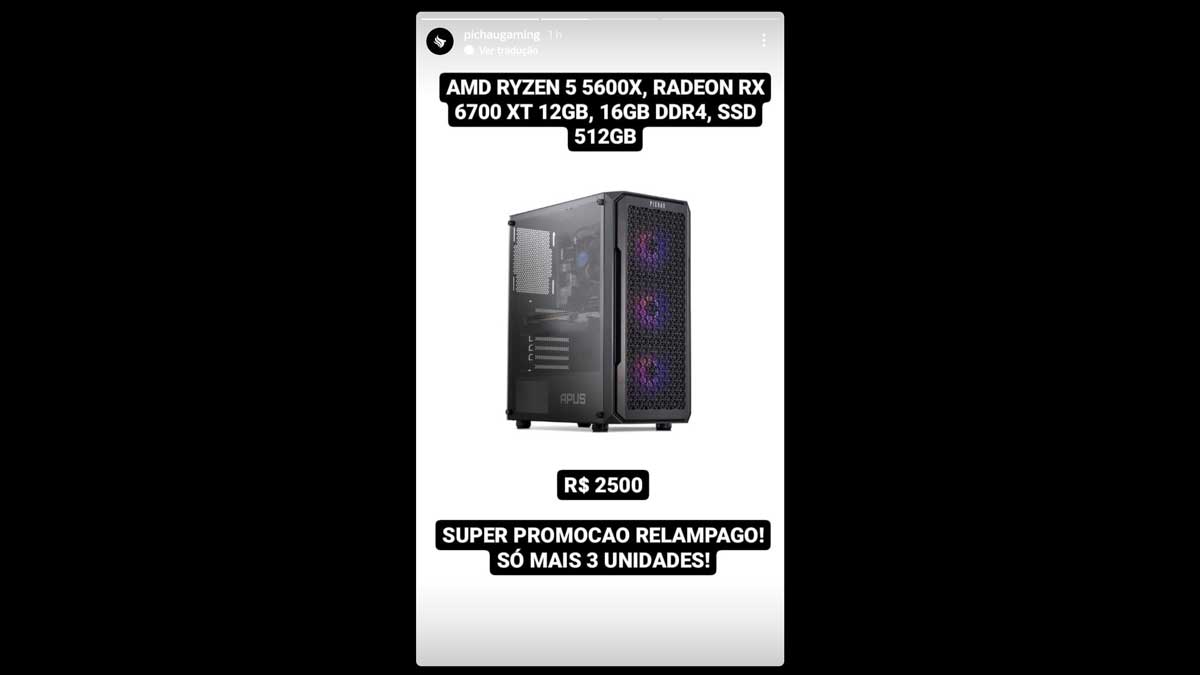 Source: Twitter/@nechen
This type of scam is becoming more and more common on Instagram and doesn't just affect business accounts, offering dangers to anyone on the social network. After the account is hacked, scammers share fake promotions in storiesas if the owner was getting rid of items he owns at home, for example, requesting payments via Pix.
In addition to the sale of fake items, another very common scam that occurs on Instagram is the "Urubu do Pix". After invading the profile, the cybercriminal publishes images in stories promising to multiply the earnings of those who send transfers via Pix, which does not happen, as tested by TecMundo.