Former UFC lightweight champion Rafael dos Anjos gave a show to fans at UFC Orlando, held this Saturday (3), in the United States. At the height of his 38 years, the Brazilian, who made his return to the welterweight division, had a dominant performance against Bryan Barberena and managed to overcome the American by submission (rear naked choke) in the second round.
The fight
Making the co-main event of UFC Orlando, Rafael dos Anjos started the duel against Bryan Barberena looking for the grappling fight. After pressing his opponent against the fence, the Brazilian managed the takedown without major difficulties. On top, the former lightweight champion looked for the kata-gatame and tried to fit the blow for a few moments, but was unable to finish at first. In the sequence, Dos Anjos still managed to transition to the back and ended the partial on top, in clear advantage.
In the second round, Rafael dos Anjos kept looking for the ground fight and, as in the previous round, managed to knock down Bryan Barberena. With a very sharp Jiu-Jitsu, the fighter from Niterói (RJ) once again managed a quick transition to the back and, lavishing technique, managed to fit the rear naked choke, forcing the American's three pats. With the result, Dos Anjos recovers from the defeat suffered by Rafael Fiziev and wins again in the Ultimate.
See how Rafael dos Anjos won:
RDA 🙌🏼♥️ pic.twitter.com/o5QoThAFB8

— MS (@UFC_Obsessed) December 4, 2022
Rafael dos Anjos RNCs Bryan Barberena pic.twitter.com/pUPgXACdqc

— Takedown Defense (@ChillemThreebo) December 4, 2022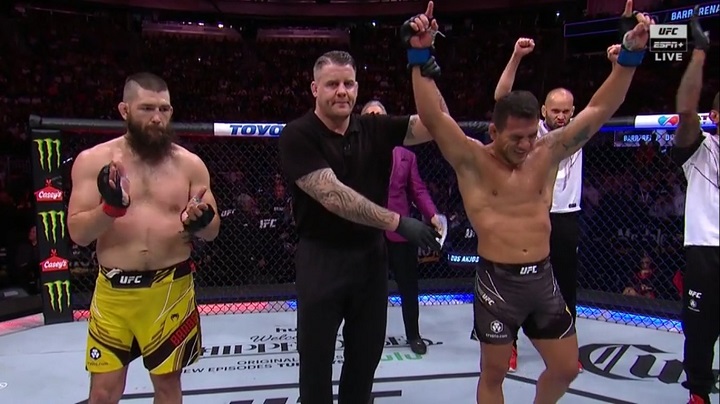 For more UFC Orlando news, click here