Ricardo Senra
BBC World Service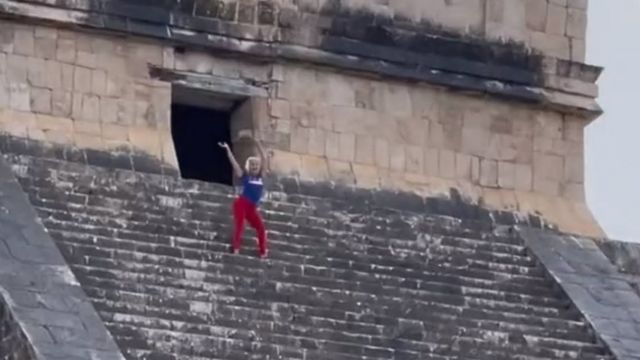 They are a minority — but they are loud, offensive and occasionally dangerous and harmful too.
As tourism booms after many of the Covid-19 restrictions are lifted, incidents of tourists from around the world misbehaving have been frequent news.
In a recent case, a woman ignored a ban and climbed to the top of a nearly 1,000-year-old Mayan pyramid in Mexico.
An angry crowd protested, and she ended up escorted by security – video of the episode instantly went viral on TikTok.
But visitors must "behave as if they were at home", says Marcelo Risi, director of communication at the United Nations World Tourism Organization (UNWTO).
In 2022, some have not, in cases ranging from drones and scooters to graffiti and nude selfies, and damage to the cultural and historical heritage of several countries.
1. Dancing on top of a Mayan pyramid in Mexico
Climbing the 91 steps of the Mayan pyramid of Kukulcán, in Chichén Itzá, has been prohibited since 2008.
It is a sacred site and was named as one of the New Seven Wonders of the World by the United Nations Educational, Scientific and Cultural Organization (Unesco) in 2007.
But on November 20, a tourist not only ignored the rule, but started dancing and entered the temple room at the top of the pyramid, built between the 8th and 12th centuries AD.
As the unidentified woman was escorted from the venue, onlookers yelled at her, pulled her hair and doused her with water, and her behavior was widely criticized on the internet.
According to local media, the woman was released from prison after paying a fine, and the Mexican National Institute of Anthropology and History said in a statement that the pyramid was undamaged after the incident.
2. Scooters, drones and theft of gondolas in Italy
Italy is one of the top destinations for international travelers — and one where tourists often misbehave.
In June, two American tourists rode scooters over the historic Spanish Steps in Rome, damaging a four-inch piece of marble. In a statement, the capital's cultural heritage office said restoring the 18th-century site would cost US$27,000 (R$141,000).
In April, an Argentinian visitor was arrested after losing control of his drone, which crashed into the ceiling of the 15th-century Palazzo Venezia (also in Rome). And a few days earlier, two Mexican tourists hit the Leaning Tower of Pisa with a similar device.
In October, two Frenchmen were arrested, accused of stealing a gondola and throwing its decorations into a canal in Venice.
In 2022 alone, 43 tourists were spotted swimming in the city's canals, which is prohibited – an increase from 2021, when 24 were spotted, according to local authorities.
3. Dancing naked on a holy mountain in Indonesia
In April, a Canadian man was deported and banned from visiting Bali, Indonesia, after posting videos on social media of him dancing naked on top of Mount Batur, an active volcano considered one of the island's four sacred mountains.
The foreigner, who later deleted the videos and apologized for his behavior, went viral on social media, where he was accused of disrespecting the hakaan important ceremonial of Maori culture.
"To all foreigners visiting Bali, please act accordingly, respecting our law and Balinese cultural values," said the director of the Bali Immigration Department after the episode.
4. Nude selfie in front of the Sphinx in Egypt
On November 7, security officials at the Pyramids of Giza in Egypt asked a woman to put on the clothes as she tried to take nude selfies in front of the iconic Great Sphinx, believed to have been built between 2600 and 2500 BC.
The Ministry of Tourism and Antiquities posted an official statement about the episode on Facebook, in which it said: "Taking clothes off constitutes a violation of Egyptian laws, customs and traditions."
After dressing, "the tourist was allowed to complete her visit to the archeological area," Egyptian officials said.
5. 'Irreparable damage' to petroglyphs in the United States
Petroglyphs are rare images carved or painted on stone surfaces by ancient civilizations. But that didn't stop visitors from crossing out with their own names some of the most important ones in Big Bend National Park, in Texas, in the United States.
In a statement released in January, the park said "the panel of ancient cave paintings was irreparably damaged when vandals scratched their names and date into the prehistoric art."
"Big Bend National Park belongs to all of us. Damage to natural features and rock art destroys the beauty and history the American people want to protect in our parks," Big Bend Superintendent Bob Krumenaker said in a statement. .
"With every case of vandalism, part of our nation's heritage is lost forever."
6. Arrest after Nazi salute in concentration camp in Poland
A 29-year-old Dutch tourist was arrested in January after giving a Nazi salute at the entrance to the former death camp at Auschwitz-Birkenau in Poland.
The unidentified woman was later accused of engaging in Nazi propaganda after posing for a photo taken by her husband. Prosecutors issued a fine, which she agreed to pay.
She said the act was a bad joke, Poland's PAP news agency reported.
Nazi Germany built the death camp in the town of Oswiecim in southern Poland after occupying the country at the start of World War II in 1939.
In just over four and a half years, Nazi Germany systematically murdered at least 1.1 million people at Auschwitz. Nearly 1 million were Jews.
What is being done against tourist misbehavior
The United Nations (UN) estimates that 700 million tourists traveled internationally between January and September 2022 – a jump of 133% compared to the same period in 2021, but still below the flow of the first nine months of 2019 before the pandemic .
As instances of tourist misbehavior increase (as you saw in the examples above), some cities and countries are trying to fight back.
In cities like Sorrento, Italy, tourists seen in swimwear in urban spaces have been subject to fines of up to $520 (R$2,700) since July.
In Spain, the city of Vigo created a fine of US$ 670 (R$ 3,500) for anyone caught urinating on the beaches.
And the Californian authorities announced a fine of US$ 5,000 (R$ 26,000) and up to six months in prison for anyone who insists on going to see the tallest tree in the world (visits to the 115-meter high plant are prohibited, but many tourists recently damaged the tree and its surroundings on their way there.
"No one could endorse this type of behavior", says Marcelo Risi, director of the UNWTO.
"We are fully aware that the vast majority of tourists are eager for new experiences, traveling and getting to know other cultures and that, deep down, they behave appropriately", he acknowledges.
"We believe that there is a great advance in the general awareness about the footprint they leave, be it economic, social, cultural and environmental".
While noting that the examples in this story are "isolated cases and not representative of the whole", he told the BBC that his advice for tourists is simple:
"The basic recommendation is a lot of common sense: behave abroad the same way you behave at home."