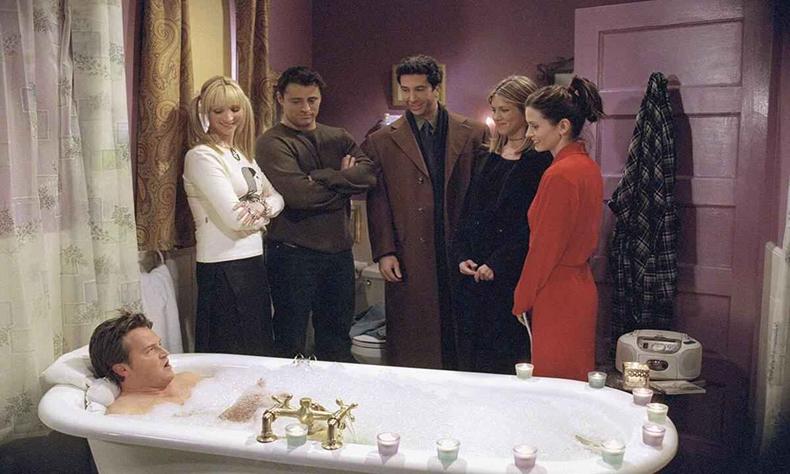 Matthew Perry, 53, said he doesn't watch "Friends" because it reminds him of the period when he was addicted to alcohol and drugs. During an interview with Tom Power, the actor confessed that he looked very different, that he was very thin in that period. "I can't watch the show because I was brutally skinny," he said in conversation.
The actor said that, when watching the scenes of the series, he can identify which substances he was using during each season of the sitcom. "Because I can tell when I've been drinking, taking opioids, snorting cocaine. I could tell season by season by how I look. I don't think anyone else can, but I certainly can. That's why I don't want to watch it, because what I see."
In the interview, Matthew pointed out that he did not use any substances while on set, but that does not mean that his work has not been affected in the same way. "I had a rule that I didn't drink or do drugs while working because I had a lot of respect for the five people I worked with. But I came to work extremely hungover," he said.
In his memoir, "Friends, Lovers, and the Big Terrible Thing", released in November, the actor wrote that in some seasons he recorded completely well. "Season 9 was the year I stayed sober the whole time. And guess what season I got nominated for best actor? I was like, 'That should tell me something,'" he said.
He even recalled the recordings of the last episode. At the time, his cast friends were moved by the farewell, but he had no reaction. "I didn't feel anything. I couldn't tell if that was because of the buprenorphine opioid I was taking or if I was just dead inside," he said.
In an interview, the actor already confessed that Jennifer Aniston has always been a good friend and helped him in the fight against drugs. "Imagine how frightening that moment was. She was the person who reached out the most. I am very grateful to her for that", he pointed out.
meetings
Recently, Matthew said he wants the cast of "Friends" to reunite more often. At Access Hollywood, the actor who played Chandler Bing in the sitcom regretted that the group does not see each other as much as before.
When praising Jennifer Aniston, the artist also spoke about the other colleagues. "She's wonderful. Fantastic. We don't see each other that much. I wish the group could see each other more often, but she's the best."
The eternal Chandler Bing had a scare at the age of 49, when his drug abuse almost took him to death, after the explosion of his colon. He was in the hospital for five months, having to wear a colostomy bag and receiving only a "2% chance of living" from the doctors.