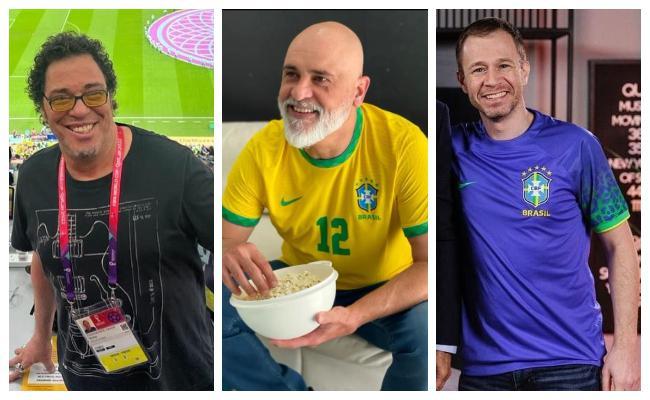 Commentator Walter Casagrande countered the criticism of the five-time champions in a column on UOL this Wednesday (12/7), after making a statement about the attitude of historic Brazilian players in Qatar, among them the five-time champions of 2002.
In most games, Kaka, Rivaldo, Roberto Carlos, Cafu and Ronaldo occupy the tribune of honor at the invitation of FIFA and the organization of the World Cup.
"Brazilians don't mix, while Argentines have never stopped being fans. There are videos and images floating around the internet with former Argentine players that are really emotional. And there are also videos and images of former Brazilian players that shock with their arrogance and distance they place themselves from our people," wrote Casagrande on his blog at UOL Esporte.
In response, Kak posted a montage on his Instagram, in which Casagrande appears behind the five-time champions in the prime area of ​​a stadium in Qatar. Even Ronaldo, the Phenomenon, reposted the image that mocked the columnist.
Casagrande said that he would not hit all the five-time champions who mocked him.
"Well, I'm not going to talk about all the "musketeers" of the penta because it's not worth it. Especially because Rivaldo, Marcos and Kak support a coup because they also didn't accept the democratic defeat of the "minto" at the polls", he said.
"This is a clarification that I don't stay quiet when cowards unite against me, but I was very happy to see journalists like Menon, André Rocha and Marlia Ruiz, for example, side with me. And also the support of people on social networks who took a stand in agreement with me," he added.
Regarding the statements regarding the identification between Brazilian and Argentine idols, the commentator reiterated that he maintains the same opinion.
"I'm strengthened, because I don't change a comma of what I wrote about that gold-plated barbecue and the difference between Argentine and Brazilian former idols", he concluded.
goalkeeper Marcos
The five-time champion goalkeeper with Brazil in 2002 criticized Casagrande after the commentator said that the Selection did not need Neymar to win the sixth.
On Instagram, after Brazil's 4-1 victory over South Korea, Marcos posted a photo of the number 10 shirt and said: "We don't need him (Neymar) no, we need Walter Casagrande for the sixth (laughs)", he wrote.
In the Uol column, Casagrande began the text by stating that he is criticized because he is independent. In addition, the commentator questioned the role of former players in society.
"I'm totally independent, I don't owe favors to anyone, especially in the field of football. I'm direct in my opinions and the vast majority of former players are spoiled and used to being pampered, and that's not the case with me", he wrote.
"On the one hand, I am even amused by the ignorance of people who think that union is for this. All these players, without exception, who "united" to attack me did not unite to charge for vaccines, to encourage vaccination, nor against deforestation. Much less joined together in anti-racist movements, against homophobia, against the violence suffered by women," he added.
Casagrande also confronted Marcos about the Robinho case and recalled the goalkeeper's support for Jair Bolsonaro during the elections.
"I would like to know from former goalkeeper and five-time world champion Marcos what he thinks about Robinho, sentenced in Italy to 9 years in prison for rape of a vulnerable person, walking freely on the beaches of São Paulo. Doesn't that bother you, Marcos? Good , it shouldn't really bother, because he was a ′′ court jester " of the ′′ reign " of the perverse Bolsonaro. And today, with the fall of his ′′ king ", all that's left is a ′′ blunt jester " ", he said.
Rebutted Tiago Leifert
Journalist Tiago Leifert supported Marcos in the Instagram post, referring to Neymar. In the comments, the narrator and presenter said: "I love you Marco! Idol of all fans!"
In the text published on UOL, Casagrande said that Leifert represents the sports journalism bourgeoisie and said that the narrator and presenter had already tried to harm him in the profession.
"I find it interesting when they are joined by a sports journalist who represents the reactionary bourgeoisie that imposes itself through wallets. I'm talking about Tiago Leifert, who tried to harm me, and there is evidence of this, even in video on the internet", he wrote.
The commentator also recalled statements that the two wrote to GQ magazine with opposing opinions.
"He tried to ridicule me a few times live, on TV Globo, to favor fellow commentators. He disrespected superiors in front of everyone for being the son of a director. Not to mention that, when he wrote a text for GQ magazine saying that football and politics are not could get mixed up, I wrote another text completely backwards (we were two columnists in the same vehicle). He didn't like it, he asked the director to fire me. It wasn't "I" or "he", it was Tiago who left", completed.
---