The operation has the support of BOPE (Special Police Operations Battalion)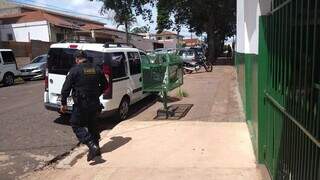 Operation target of Gaeco (Special Action Group to Combat Organized Crime), this Wednesday (7), businessman Darlan Briato, owner of the medical trade Briato, located on Rua Rui Barbosa, in Campo Grande, had his cell phone seized . Gaeco did not pass on details of the operation.
With the support of Bope (Special Police Operations Battalion), Gaeco agents have been out on the street since early morning to carry out search and seizure warrants. Earlier, they were at a property, where apparently a real estate company operates, and also at Darlan Briato's house, located in Jardim Itatiaia.
During the execution of a search and seizure warrant in the medical trade, where agents analyze documents and computers, Darlan spoke to the press and said he was calm. "I have nothing to hide. They came to my house, they searched, and then we accompanied them here," he explained.
He believes that the investigation is related to the fact that the company – which sells medical products – serves public bodies. "In the beginning, we only worked with the technical part, but over time we set up the store, then the distributor that works for various public bodies. Maybe that's why I'm being investigated," he said.
The lawyer for the medical trade, João Ancelmo, said he is not yet aware of the content of the investigation. "We still don't know what the investigation is, what they are looking for, but as there is nothing to hide, access to all documents and computers has been released", he said, adding that the company has been operating for 20 years.
Simultaneously, another Gaeco team visited a property on Rua Raposo Tavares, Jardim Paulista, where apparently a real estate company operates.