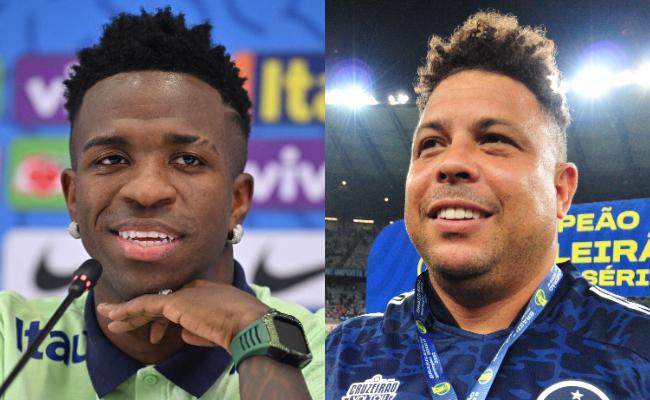 Striker Vincius Jnior spoke very fondly of coach Carlo Ancelotti, who manages him at Real Madrid. Between one compliment and another, he revealed that former player Ronaldo, majority partner of SAF do Cruzeiro, considers the Italian as the best coach he had throughout his victorious career.
"I always meet Ronaldo, who always says that Ancelotti was his best coach. I believe that not only for the technical and tactical part, but also for the part of knowing how to live with the athlete and knowing how to deal with great players. I believe that he knows how to do this very well. I want to send him a big hug (Ancelotti). He always sends me many messages and I am happy for his affection", said Vini, this Wednesday (7).
Ronaldo worked with Ancelotti towards the end of his career, at Milan, between 2007 and 2008. The former striker suffered from repeated injuries, but had good numbers when he managed to enter the field. There were nine goals scored in 20 matches (16 as a starter). Afterwards, he went to Corinthians, the club for which he retired from the lawns.
In 2020, Carlo Ancelotti made reference to Ronaldo to defend James Rodrguez. The Italian coached Everton, from England, and said that the Colombian midfielder, criticized for his physical form, reminded him of the former number 9 of the Brazilian national team in his Milan days.
"When he arrived (at Milan), he weighed 100kg. Before the first game, I told him: 'You know I can't play you. You have to lose weight'. He replied: 'What do you Do you want me to do it on the field? Goal or run? If you're going to run, put me on the bench. If you're going to score, put me to play'. I put him to play. He didn't run, but he scored two goals. With James, the same thing".
Vini Gratitude
More than 15 years have passed, and Ancelotti is now loved by a new star in the Brazilian national team. Highlight of Brazil in the campaign in search of the sixth championship in the World Cup in Qatar, Vini Jnior was full of praise for the Italian.
"He always gave me the confidence I needed, he gave me the spur I needed at the right times, when I needed it. As if he were a father to me, he always gives me the necessary affection and gives me responsibility too. He does everything not just for me. me, but for all the young people and all the players he worked with," he said.
Together, Vini and Ancelotti won the Spanish Championship, the Champions League, the European Super Cup and the Spanish Super Cup.
---