posted on 12/08/2022 5:25 PM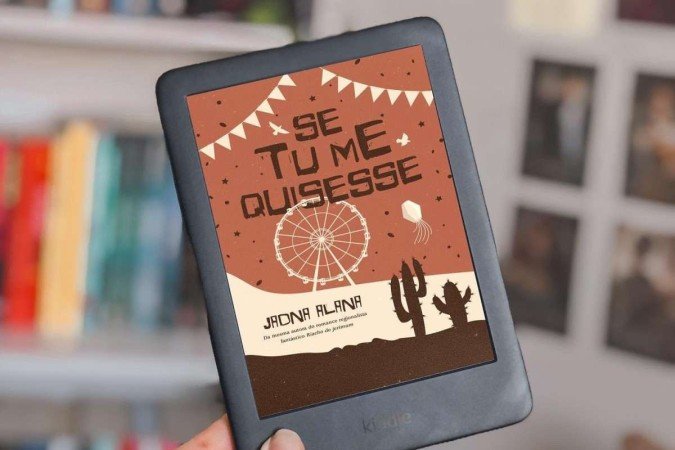 (credit: Reproduction Twitter)
The finalists for the 7th edition of the Kindle Literature Awards were announced on Monday (5/12). Five works were selected, among them if you wanted me, by digital influencer Jadna Alana. Conceived by Amazon in partnership with Grupo Editorial Record, the Kindle prize offers the winner R$50,000 and a print publication contract through the José Olympio label.
The five finalists were chosen from thousands of registered candidates and will receive an audiobook version available on Audible. Are they: Ebony over the cane fieldsby Adriana Vieira Lomar; My hinterlands of youby Alice Betânia Miranda; Where do vultures landby André L. Braga; if you wanted me, by Jadna Alana; and The pilot, by Walther Moreira Santos. They have in common northeastern or dystopian scenarios.
With more than 29,000 followers on Instagram, Jadna Alana, from Paraíba, is a digital influencer in the field of literature. The book if you wanted mewritten by her, takes place in the northeastern backlands and follows the story of Dino, an apprentice magician who falls in love with the outsider Lila in a show on the eve of São João.
Following the northeastern setting, Ebony over the cane fields recounts the journeys of José, a young Portuguese man who flees to Brazil; the manumitted Ébano, with whom he falls in love, in Recife in the 19th century; and of Marie Antoinette, in the 21st century, who traces a path of self-knowledge by not knowing her true ancestors. Already in My hinterlands of youlace maker Isabel searches for origin and identity after her mother's death.
As for dystopias, Where do vultures land narrates the presidential dispute in a fictional nation in the middle of the Amazon; and The pilot brings to light the character that gives the title its name while commanding a helicopter that carries personalities, such as the governor, mayor and a military man, from a city that has completely flooded.
So that they could compete, the books were published on Amazon independently by the Kindle Direct Publishing tool. For the selection of finalists, creativity, originality, writing quality and commercial viability were evaluated, among other criteria. From now on, a special jury composed of writers and scholars, such as Jeferson Tenório, author of the hit the reverse of the skinand the activist and philosopher Sueli Carneiro.
The winner of the 7th Kindle Literature Prize receives R$40,000 in cash and R$10,000 in advance royalties for the publication of the printed version of the book, which will be carried out by Grupo Editorial Record through the José Olympio seal.
Do you want to stay on top of the main news from Brazil and the world? follow him Brazilian mail on the social networks. we are in twitter, on Facebook, Instagram, TikTok and YouTube. Follow!
newsletter
Subscribe to the newsletter Brazilian mail🇧🇷 And stay well-informed about the main news of the day, early in the morning. Click here.