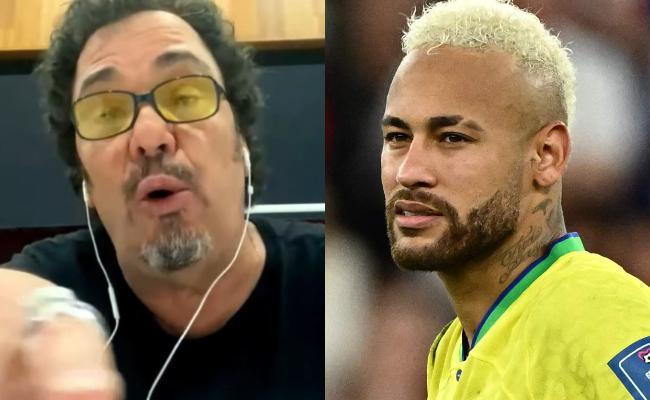 Former player Walter Casagrande Jnior criticized striker Neymar after Brazil's elimination to Croatia this Friday (9th) in the quarterfinals of the World Cup in Qatar. The UOL columnist made observations about the number 10 of Brazil, especially in terms of leadership and compared him with Luka Modric, the Croatian captain.
"The best number 10 went to the semifinals of the World Cup, the guy who plays for his team and not for himself. ? Well, the other one left", wrote Casagrande in a column in UOLpublished this Friday.
"In my view, a super positive leadership by Modric. And a selfish and, at least, dubious leadership by Neymar. Two guys with opposite interests: one super focused, and the other super mocking", also stated Casagrande.
Brazil drew 0-0 with Croatia in normal time, in a game played at Estádio Cidade da Educao, in Al Rayyan. In overtime, Neymar opened the scoring in the 16th minute of the first half, after a good match with striker Rodrygo and midfielder Lucas Paquet.
In the second period of extra time, at 12 minutes, Croatia tied with striker Bruno Petkovic, after an assist from also attacking player Mislav Orsic. On penalties, the Brazilian team lost 4-2.
Casagrande also addressed the fact that Modric took a penalty for Croatia, while Neymar did not take a penalty. "Modric took his penalty and scored, while Neymar was waiting for his turn, which never came".
In the semi-final of the World Cup, Croatia will face Argentina. The game takes place at 4 pm on Tuesday (13), at the Icnico de Lusail Stadium, in Lusail.
Casagrande in the Cup
Casagrande has become a typical part of this World Cup. In addition to the usual criticism of Neymar, the commentator was also involved in controversy with former striker Ronaldo and other players who were world champions with Brazil in 2002, in the World Cup played in South Korea and Japan.
Because of these disagreements, Casagrande was criticized by several other public figures. One of them was the journalist Tiago Leifert, for whom he wrote an exclusive text in his column.
---