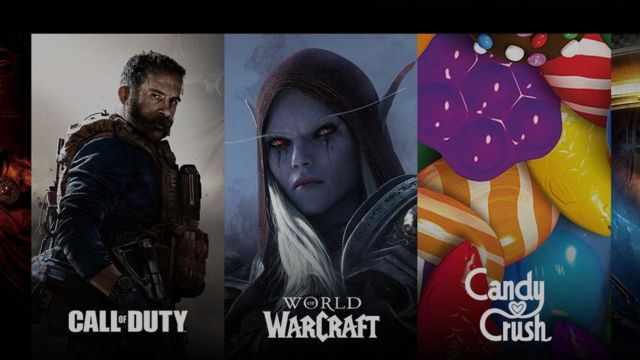 The US is entering a legal battle with Microsoft, maker of the Xbox, to stop its plan to buy Activision Blizzard, the games company behind hit titles such as Call of Duty.
Regulators cited competition concerns, saying they feared that if the deal goes through, Activision Blizzard's games would stop being offered on non-Microsoft video game consoles.
The acquisition of Activision has been described as the biggest in Microsoft's history.
The company said it will fight to complete the $69 billion deal.
"(Microsoft) has complete confidence in this case and welcomes the opportunity to present the case in court," said Microsoft President Brad Smith.
The lawsuit against Microsoft is among the most high-profile legal battles to emerge from President Joe Biden's pledge to take a tougher line against monopolies.
The planned deal had already raised concerns in other countries, including the UK.
Activision Blizzard owns some of the most popular games in the world, including the series call of duty🇧🇷 World of Warcraft🇧🇷 Overwatch and candy Crush🇧🇷
The Federal Trade Commission (FTC), the US consumer protection agency that filed the lawsuit, said Activision was one of a small number of major video game developers making high-quality games for multiple devices.
The deal would give Microsoft "both the means and the motive to undermine competition"—either by manipulating prices, making games worse on competitors' video game consoles, "or withholding competitors' content entirely, resulting in harm to consumers," the company said. agency in a press release.
The FTC also cited the acquisition of ZeniMax by Microsoft, owner of video game studio Bethesda Softworks. Microsoft has said that several of the studio's future games will be exclusive to Microsoft's consoles.
Microsoft announced earlier this week that it had agreed to make the Call of Duty game available for Nintendo for 10 years if the purchase goes through.
"That sounds alarming, so I want to reinforce my confidence that this deal will close," Activision Blizzard CEO Bobby Kotick wrote in a letter to employees that was shared on the company's website.
"The allegation that this agreement is anti-competitive is inconsistent with the facts, and we believe we will meet this challenge."
When it announced the deal, Microsoft said it intended to expand the games available on GamePass, its Netflix-style subscription gaming service, to the growing number of people who use their cellphones to play games.
The acquisition was designed to make the company the world's third-largest games company by revenue, behind China's Tencent and Japan's Sony, which owns the Playstation and has been critical of the deal.