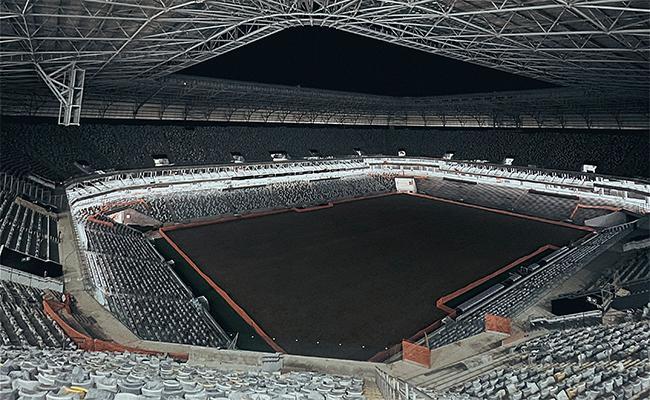 The MRV Arena is in the final stretch of works. The Galo stadium will be ready soon and it is expected that it will host the team's official matches at the end of the first half of this year.
MRV Arena Photos Updated (1/12)
One of the curiosities of the Atltico fans is the distance between the stands and the pitch. The stadium will be a melting pot and the Atlético Massa expects to put a lot of pressure on the opponents.
In a live broadcast by Galo TV at the MRV Arena, Deyvison Gomes, a civil engineer who works on the stadium's construction work, gave details on how close the Atletico team will be to the players on the field.
"From the edge of the stands to the field line (sideline), we have 8.25m. And, on the bottom line, we have 10.5m. These are very close measurements for fans to participate effectively in the game", he said, completing.
"We have glass over there, a guardrail, 1.10 m high (in the stands). The idea is to bring the fan closer to the player."
MRV Arena Calendar
The 25th of March will mark the 115th anniversary of Atltico and also the "first act" at the MRV Arena. The stadium will see the marking of the lines on the field of play, in addition to the installation of the goalposts and the first kick on goal. There will also be a performance by the Minas Gerais Symphony Orchestra.
On April 15, the venue will be the stage for the "Arrepia BH" event, with the inauguration of the lighting system with scenic effects. On the 6th of May, the MRV Arena will host the friendly match "Lendas do Galo", with the participation of historical figures from the Minas Gerais club.
On May 27th, the MRV Arena will host the show "BH Festival". Artists such as Ivete Sangalo, César Menotti and Fabiano and the Jota Quest group are confirmed for the event.
The expectation is that the first official match of Atltico at Arena MRV will be played in early June. At that point, the Copa Libertadores will be in the 5th round of the group stage (a stage that Galo is trying to reach) and the Brazilian Championship is still in the first round.
---