#OGrêmioTeConvoca
The goal is to reach the milestone of 100,000 members
25 JAN 2023 17:13 | Updated 25 JAN 2023 18:43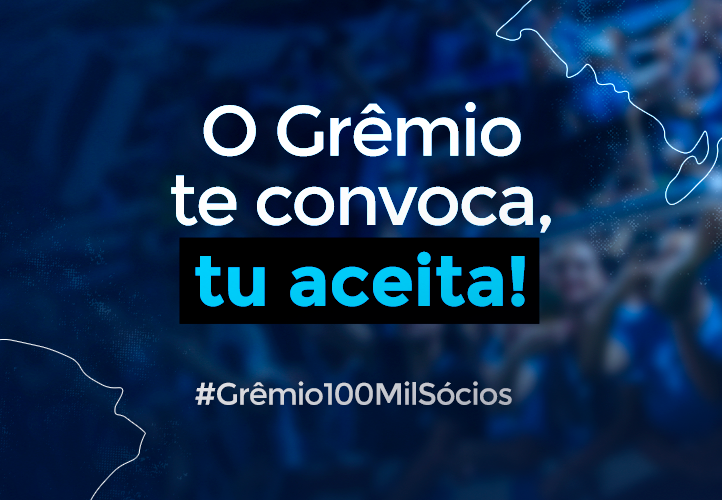 Grêmio launches a new association campaign, at the start of the season, aiming to reach the mark of 100 thousand members. The institutional action, called Convocation Imortal, started last Friday, 20th, with six teasers of athletes from the current squad, led by coach Renato Portaluppi, and published in the Club's official media, its main objective is to take advantage of the good moment experienced by the institution, after changes made in just over two months of management, and which have profound impacts on the reformulation of the men's soccer team, after the return to Serie A, in addition to the arrival of one of the greatest players of our time, Luis Suárez. The initiative seeks to expand the number of associations, making Grêmio fans opt for one of the plans offered by Tricolor, and which will help the Club to meet its goals for the season, inside and outside the four lines. Currently, Grêmio has 73,328 active members and 11,670 new members since the announcement of the Uruguayan striker.
Check out the complete material that "summons" fans to join Grêmio, at the link https://www.ogremioteconvoca.net
READ OUR MANIFESTO
Rescuing the fans' pride was our obligation. In addition to the results on the field, we had the mission to make the Grêmio supporter believe again in 2023. The scenario was complex, filled with challenges of all kinds. But the will to do it was always greater than anything. And we know very well that when we talk about Grêmio, nothing is impossible. The first days of the year proved that.
Now, we need to unite the forces of those who have always been here, those who have been and returned, the newcomers and those who are yet to come, to continue achieving unforgettable feats. This is not a simple request. It's a summons! You, a gremista, who are not yet, have the mission not only to become a member of Grêmio, but also to be an ambassador of this campaign. It's your voice, your gesture, your message on social media or on your cell phone that will help create that wave of passion towards 100,000 members.
Being a Grêmio member is now a mission. It is to participate in history. It's believing!
And you, are you going to deny a Grêmio call-up?