---
Oppenheimer has been heavily criticized for its portrayal of female characters. The truth is that Christopher Nolan was never good at portraying women on screen, so in this movie he seems to have insisted on fixing that. The appearances of Emily Blunt and Florence Pugh were promising, and their importance in the Oppenheimer biopic was highlighted in promotions. Both talked about one of the best roles of their careers, and there were those who, without seeing it, put them in the race for an Oscar. After seeing the film, Emily Blunt's character full of character was revealed to be the classic vase woman, and Pugh's was reduced to two sex scenes and a nude scene (free, according to some).
But beyond the good hand of Christopher Nolan, when it comes to portraying female characters on screen, the discussion is already going elsewhere. After all, it was an Oppenheimer film. Aside from the fact that the promotion promised something that wasn't actually there, what's important is that the protagonist's story works. After all, Cillian Murphy is the center of every frame in the film. The actor spoke to GQ Uk to defend the importance of these scenes and, incidentally, to say that no one takes pleasure in captioning them:
I think they are vital in this film. In addition, his relationship with Jean Tetlock is one of the most important emotional parts of the film. I really think that if they are the key to the story then they are worth it. Look, no one likes to do them (sex and nude scenes), this is the most inconvenient part of our job. But sometimes you have to move on.
Nolan, who in promoting the film had already promoted Pugh and Murphy nudes with some publicity but also to justify the film's R rating, also defended its importance on Insider:
When you look at Oppenheimer's life and history, that aspect of his life, that aspect of his sexuality, the way he treated women, the charm that he exuded, is an integral part of his story. I felt it was very important to understand their relationship, to really look into it and understand what makes them move, without being shy or hinting at it, but trying to be intimate, trying to be close to him and fully understand the relationship that was so are important. for him.
Nolan continues to be an exciting director, able to give everything an almost flying pace, to make everything feel wonderful and unique. However, he needs to work more on "trying to be intimate". It is not yet known when Nolan will accurately portray romantic or sexual relationships.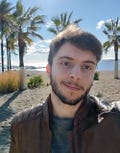 Raphael is an expert on films, TV series and video games. It's a classic and auteur movie, though it doesn't miss any of the Marvel movies or Netflix moment success due to professional strain. He also has his geek side, as evidenced by his specialization in anime, k-pop, and all of Asian culture.
A generation later, sometimes it's his turn to write hits at the moment, from Bizarrap to Blackpink. He even has his own erotic side, but unfortunately limited to a selection of the best erotic series and films. But he doesn't stop there, as he also enjoys writing about gastronomy, travel, humor, and memes.
After 5 years of writing for Fotogramas and Esquire, the truth is that he has already done a little bit of everything, from interviews with international stars to mobile phone launches or tastings of oils, insects and, yes, with luck, wine.
He studied audiovisual communication at the University of Murcia. He later continued his studies at the Carlos III University of Madrid, earning a master's degree in Communication Studies in Media. In addition to earning a doctorate in sexual performance in auteur cinema (which he never completed), he also received a master's degree in film criticism from both ECAM and Escuela de Escritores. He used to write diligently on the Cinealacarbonara blog, continued to work for media such as Amanecemetropolis, Culturamas or Revista Magnolia and devoted all his efforts to Revista Mutaciones since its inception.
He joined Hearst in 2018 and managed to gain a foothold in the editorial offices of Fotogramas and Esquire, with whom he continues to write about everything he likes and travels to (often overlaps). His good or bad taste (depending on how you look at it) also led him into the world of gastronomy and video games. Come on, he likes to have fun.