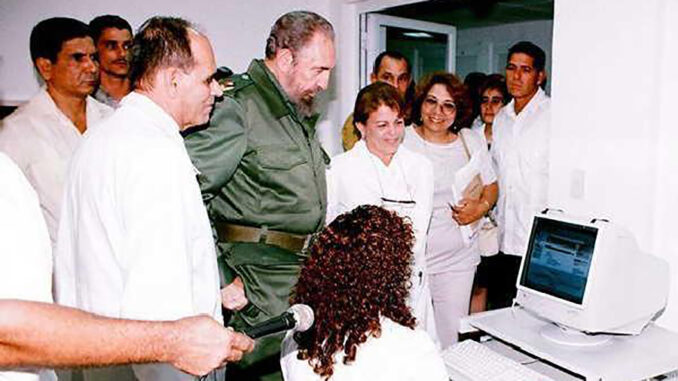 Havana-. Like no statesman or political figure even in the whole world, Fidel Castro contributed to the development of science, research and technology for the benefit of his country and humanity with projects that were almost impossible in underdeveloped countries.
As early as January 15, 1960, he expressed his far-sighted words that "the future of our country must necessarily be the future of people of science, it must be the future of people of thought …", and today Cuban science is the fruit of this expected view.
From that moment on, the Cubans understood and became part of the revolutionary government's efforts, which demanded from scientists, researchers and all reason to build the present and future well-being and prosperity for all.
Thus began a comprehensive development of education with universal and free access for all Cubans, the starting point of which was a massive campaign to eradicate illiteracy, the establishment of schools and universities in all provinces, and the publication of scientific and technical books.
Resources were also allocated to train thousands of scientists in Cuba and abroad, building an institutional framework for science, building research centers throughout the country and in almost all sectors that had momentum, strategic design and the foundational presence of a historical leader.
From all his legacy stands out the constitution of the Biotechnology Sector of 1981, which has accumulated exceptional experience and results, such as the production of interferons, which put Cuba in one of the first places in the world in this type of production.
To underline the concern and satisfaction with this result, Dr. Manuel Limonta, who led the team that created this medicine, in his book "Fidel, Interferon and Cuban Biotechnology", recalled the emotions of the Cuban leader when the first bulbs appeared in his hands. hands when he said:
"… this is something worthwhile, something very important, this is a real and objective transformation, great for our country, for science and for future development."
Other initiatives and projects followed, with no lack of guidance and timely guidance, such as the meningococcal meningitis vaccine, the development of ultramicroassay systems (SUMA), the production of hepatitis B immunogen from policosanol (PPG), and recombinant streptokinase.
These achievements were supplemented by the production of a diverse range of monoclonal antibodies, radioactive preparations for medical diagnostics and research, although the country has always been blocked and busy with considerable economic and social emergencies, as it was in the so-called. .
Just at a time when no one had foreseen the actual role of industrial development in the biotech and pharmaceutical sectors, Fidel pointed to giving more scope and hierarchy to the development of science, advanced technologies, research and the development of new drugs, vaccines and products.
Its main goal was to establish a technological and production base with improved quality and control systems, integration between institutions, a closed-loop system, impact on health and food production in Cuba, and direct export management as a source of financial income to contribute to the national economy.
Undoubtedly, his great contribution was to develop a policy for the development of science and technology, imbued with ethical, humanistic values ​​and teamwork, international solidarity and the promotion of various fields of scientific research.
For this reason, his footprint in science has culminated in the research and materialization of five fully Cuban vaccine candidates, two of which are already vaccines, as a clinical solution to the Covid-19 pandemic with a proven and effective impact on its containment. in Cuba and in other countries, which indicates its international recognition.