She is a versatile young woman who has excelled as a composer, performer and music producer,
On Sunday, April 7, 1991, in Guayaquil, Ecuador, María Gabriela Franco Carrera, better known in the artistic world as Gabriela Franco, was born. At the age of 6, she discovered her passion for music. Since then, she has not stopped sharing her talent on different stages. from different cities both in Ecuador, and in Argentina, Uruguay and Spain in person and virtually.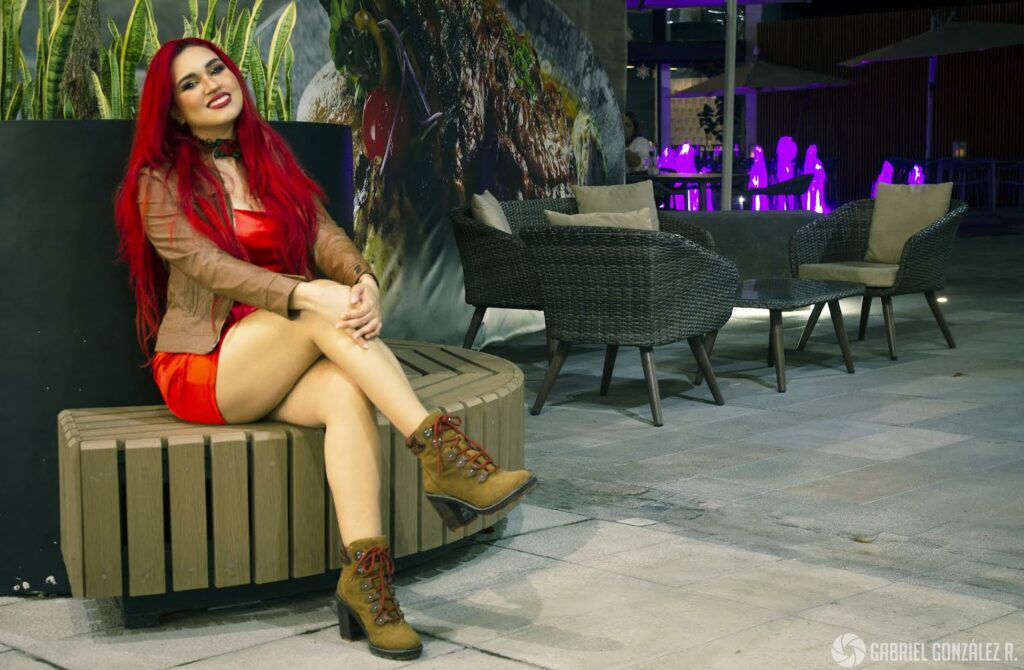 From 2011 to mid-2012, he worked for a year and a half on the daily program QPasa TV on a television channel in Ecuador, as part of the staff and official singer.
With her exquisite and singular voice, Gaby, as her closest friends call her, has captivated her followers and every day more people from different parts of the Spanish-speaking world know about her stupendous and contagious artistic work.
This artist from Guayaquil has a height of 1.68. Apart from having an exceptional body figure, she also has an extraordinary inner beauty of which many who know her closely will not let me lie. She is a true example and encouragement for many women of his generation. In the middle of 2020 she became the mother of a beautiful boy who named him Chris Alexander who has become her loyal and perpetual inspiration for both her and her family.
Gabriela is a versatile young woman who has stood out as a composer, performer and music producer. Her professional career as a performer began in 2007. She has studies in singing, dancing and acting, acoustic guitar by ear at the Espiritu Santo University of Specialties in Ecuador. . Her voice type is Light Soprano. The record labels he has worked for are: Borkis Entertainment (Ecuador), Bermon Studio (USA), Andrés Mayo Mastering (Argentina), Yaguarlocro Lab (Ecuador), E Music Productions (Ecuador) and he currently works with his own record label, Gabriela Franco. productions.
From 2012 to today, she has been appointed from Spain, as Ambassador for Latin America, with her song "Atrévete A Soñar" from the "El Valor de Emprender" project. It has continued, along with the release of its popular songs, with others of solidarity, human rights and empathy, such as "Together in Solidarity", "Camino con tus Zapatos", "It's called Coco Coronavirus", as well as didactic ones such as the album " Road Safety for Children" and "La Escuela Canta Con Gabriela", forming part of the work team of its official Spanish composer, Dr. Cesar Garcia-Rincon De Castro.
His more recent music releasehim:
Within the framework of "International Women's Day", this past March 8, the renowned Ecuadorian singer Gabriela Franco made the international launch of her most recent musical theme entitled;MY REFLECTIONtheme originally performed by the talented and famous singer Christina Aguilera For the movie MULAN I from Disney. This version of Gabriela is available on all digital platforms such as Spotify, Google Play, Deezar, and more, as well as her video on her official YouTube channel: https://youtu.be/Ml1mchMNVjA
His representative, Dr. Pilar Career who remains in constant contact with me, gives us interesting details about this song 'Mi Reflejo':"This topic refers to the look with which the world analyzes women in society and he tries to awaken in her that she does not feel intimidated or ashamed if she cannot be who others expect her to be. In the Disney film, we know a reflection of the father of Mulan, the protagonist, who says: 'That flower that grows in adversity will be the most beautiful of all','.
The Interpreter emphasizes: "Every woman should feel free to be whoever she wants to be, to dream, to imagine, to break with established patterns. The woman does not necessarily have to have a man by her side, to save her in dangerous situations, or cover her requirements. It is nice when a woman finds the ideal partner, or manages to fulfill herself in what, in the eyes of all, is in harmony with the traditions of the family. but this is not an essential requirement, because we are the best warriors in life, unique and with great strengths that overcome any weakness we could have", says our artist with great optimism.
Interview:
I took the opportunity to ask our guest artist a few questions about her musical career and she has been happy to share the answers via email. Gabriela is part of the global compilation story PLANETARY SONGof which we will soon be making the planetary launch, his contribution is as an interpreter in the hymn that this innovative literary project has, for which we have had the privilege of inviting distinguished writers, poets and artists from different parts of the Planet, this It is a literary work like never seen before in the history of literature, where the central theme is about the environment, in which we promote peace, equality, brotherhood and languages ​​through the different expressions of contemporary art.
Dear Gabriella: —What is your style of music?
—My musical style or genre, as we would say in non-academic contexts, is pop and its fusions…among my more than 130 themes released, 70% would belong exclusively to that style. Pop, pop rock, ballad pop, R&B pop, tropical pop, disco pop and even urban pop in English and Spanish, I have used them in some way in all my songs, I appreciate it and I like it.
—Who are the artists that have influenced your music?
—The first artist I sang songs by was Whitney Houston, followed by Celine Dion, Britney Spears, Avril Lavigne and among the contemporaries my favorites Demi Lovato, Miley Cyrus and Adele.
—In which countries have you toured?
—I have sung in both public and private events in Spain, Uruguay and Argentina physically, but online I have done it with artists who live in the United States for example.
—What did it mean to you that in October 2022 you were a guest and jury at the prestigious tenth International Song Festival of Punta del Este, Uruguay?
—A great honor! This is the fourth time that I have the opportunity to sing at the Festival, the first in 2017 Representing Ecuador as a participant in the contest, winning the Most Popular Performer trophy. In 2018 and 2019 as a Guest Artist, and a guest in this 2022 and as a Jury as well.
—What does it mean for you that you have been invited to be part of the singers who interpret the song "Mi canto planetario", anthem from the compilation CANTO PLANETARIO?
—I cannot be otherwise if not amazed and grateful… to have been chosen among singers from various countries, very talented and with great experience, which It is a great honor for me. PLANETARY SONGit is a well-managed project, which brings together leading contemporary writers, poets and artists from more than 100 countries, in which there are guests from more than 70 languages.
I am really excited, happy to be part of the project with my voice in his anthem, waiting for the release by his mentor, the great Carlos Jarquín, better known as "El Chico Poeta", a compendium that will surely be a resounding success because not It is simple, it is as complex as the fight for rights, equality and the desire to save the planet from its imminent destruction.
—How many albums you have released? Could you mention them?
I have released:
STAY WITH ME (2010)
SKIN (2013)
FEELING THE LOVE (2015)
MY FOOTPRINTS EP (2017)
SHE AND SOMETHING ELSE (2018)
GOLDEN TIME (2018)
I AM THE SONG (2019)
SOLES AND WHEELS (ROAD SAFETY FOR KIDS) (2020)
LIKE A PRINCESS (2020)
LIKE DEMI (2022)
THE SCHOOL SINGS WITH GABRIELA (2022)
Also, 40 songs released as singles during my career.
—How many video clipyes professionals you have launched, Can you list them in chronological order?
I will refer only to the last six of my fifteen-year career in music, in which I have published many professional videos released on my Gabriela Franco Music Ecuador site, either physically at concerts or online, three of them from my first channel ( Gabriela Franco) remastered and relaunched, among which I would like to mention:
EXCITED (2016) (Pato Vargas Productions)
WONDERFUL LIFE (2016) (Pato Vargas Productions)
STAY HERE (2016) (Pato Vargas Productions)
KING OF HEARTS (2016) (Pato Vargas Productions)
FUGITIVE OF YOUR LOVE (2017) (Cabe's Productions) 1st. VIDEO AWARD (USA)
LOOKING FOR SOMEONE WHO LOVES ME (2017) (CC Records)
A DOOR ON THE BORDER (2017) (Telesucesos Records)
SABOR LATINO (2017) (Arkadia Music Recording Studio)
EVERY DAY YOU STILL TOGETHER WITH ME (2017) (Pato Vargas Productions)
EVERY DAY YOU STILL TOGETHER WITH ME (2017) (Special for Punta del Este Festival)
IMAGINING A KISS (2017) (Pato Vargas Productions)
STAY WITH ME (2017) (Pato Vargas Productions)
IF YOU DID NOT KNOW HOW TO LOVE (2011) (2017) (Topacio Records)
CIAO CIAO (2016) (2018) (Topaz Records)
INTO THE UNKNOWN (2019) (E Music Productions)
FORCE ECUADOR (2019) (CC Records)
HERE COMES THE SUN (2019) (Pato Vargas Productions)
GUIMME YOUR LOVE (2019) (Telesucesos Records)
IT'S CALLED COCO CORONAVIRUS (2020)(Musicontigo)
COLORS IN THE WIND (2020) (CC Records)
I WALK WITH YOUR SHOES (2020) (MusicontigoEspaña)
DARE TO DREAM (2018) (2020) (Infinite Producer)
RAINING FLOWERS (2020) (Telesucesos Records)
ANGELS (2020) (Telesucesos Records)
LET IT BE (2020) (Telesucesos Records)
I SCREAM THEREFORE I AM (2021) (Musicontigo Spain)
ANYONE (2021) (CC Records)
CHRISTMAS WITH NAIVE EYES (2021) (Gabriel González Productions)
MARYS BOY CHILD (2021) (Telesucesos Records)
ALL TO ME (2011) (2016) (2022) (Released Films)
NOTHING IS LOST (2022) (CC Records)
PINT ME CHRISTMAS (2022) (Gabriel González Productions)
ROCKIN AROUND THE CHRISTMAS TREE (2022) (Gabriel González Productions)
IF I DON'T HAVE YOUR LOVE (2023) (CC Records)
DREAMERS (2023) (Alejandro Olarte Productions)
MY REFLECTION (2023) (CC Records)
I also have many videos of live shows and interviews.• The author is a Nicaraguan writer, poet and international columnist based in Costa Rica.
Contact: (email protected)