Two Madrid midfield legends have made the news for their odd substitution at San Mames.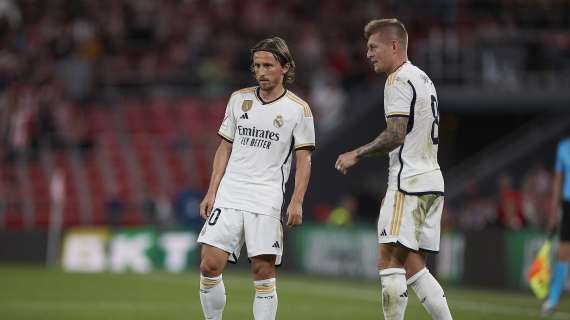 bernabeudigital.com
Modric, Kroos, Real Madrid
© photo by Federico Titone/BernabeuDigital.com
New times are coming Real Madrid Carlo Ancelotti. It seemed inevitable that he wouldn't be arriving anytime soon, but the truth is that he is still causing a stir among Real Madrid fans. Many of them asked through social networks to bring four young midfielders ahead of the real legends as they are Toni Kroos and Luka Modric. Both the German and the Croatian are accustomed to being first on the team, but it looks like they will have no choice this season but to watch many games from the bench.
IN San Mames the first earthquake occurred for both. Carlo Anchelotti bet on Chuameni, Fede Valverde, Eduardo Camavinga and Jude Bellingham ahead of the Croat and the German, which took many fans by surprise, as well as some journalists.
DAVID ALABA, BIG BENEFICIARY
In the last hours of the newspaper Brand repeated the importance of David Alaba in a team. yeah Toni Kroos and Luka Modric They are not on the field now, the Austrian seems indispensable in the game. real Madrid. In front of him Athletic Club at San Mames, the importance of a central defender in set pieces was demonstrated. He was the one who was present Jude Bellingham in the second goal of Madrid in the temple of the lions in Bilbao.
He real Madrid They are one of the European teams that have used the fewest free kicks in recent years to change the score. since the march Cristiano Ronaldo they just scored eight shotshalf as much as clubs like him FC Barcelona and Southamptonleaders in this regard.
Download the BERNABÉU DIGITAL app for free: all the latest Real Madrid news in your pocket!
Click here to follow Bernabéu Digital on Twitter
Click here to follow Bernabéu Digital on Facebook
Click here to follow Bernabéu Digital on Instagram
var banner = (); var now = Math.round(new Date().getTime() / 1000); var bannerok = new Object(); for (var zona in banner) { bannerok(zona) = new Array(); for (i=0; i < banner(zona).length; i++) { var ok = 1; if (banner(zona)(i)('scadenza')>0 && banner(zona)(i)('scadenza')<=now) ok = 0; if (banner(zona)(i)('partenza')!=0 && banner(zona)(i)('partenza')>now) ok = 0; if (typeof azione !== 'undefined' && azione !== null) { if (banner(zona)(i)('pagine') == '!index' && azione == 'index') ok = 0; else if (banner(zona)(i)('pagine') == 'index' && azione != 'index') ok = 0; }
if (ok == 1) bannerok(zona).push(banner(zona)(i)); }
bannerok(zona).sort(function() {return 0.5 - Math.random()}); } banner = bannerok; var banner_url="https://net-storage.tcccdn.com"; var banner_path="/storage/bernabeudigital.com/banner/" function asyncLoad() { if (azione == 'read') { var scripts = ( "https://connect.facebook.net/es_ES/all.js#xfbml=1", ); (function(array) { for (var i = 0, len = array.length; i < len; i++) { var elem = document.createElement('script'); elem.type="text/javascript"; elem.async = true; elem.src = array(i); var s = document.getElementsByTagName('script')(0); s.parentNode.insertBefore(elem, s); } })(scripts); } } if (window.addEventListener) window.addEventListener("load", asyncLoad, false); else if (window.attachEvent) window.attachEvent("onload", asyncLoad); else window.onload = asyncLoad; function resizeStickyContainers() { var stickyFill = document.getElementsByClassName('sticky-fill'); for (i = 0; i < stickyFill.length; ++i) stickyFill(i).style.height = null; for (i = 0; i < stickyFill.length; ++i) { var height = stickyFill(i).parentElement.offsetHeight-stickyFill(i).offsetTop; height = Math.max(height, stickyFill(i).offsetHeight); stickyFill(i).style.height = height+'px'; } } document.addEventListener('DOMContentLoaded', resizeStickyContainers, false); // layout_headjs function utf8_decode(e){for(var n="",r=0;r