ALL NOMINATIONS
Best Ibero-American Fiction Film
ALCARRÀS
Spain
Argentine, 1985
Argentina
AS BEASTS
Spain
BARDO, FALSE CHRONICLE OF A FEW TRUTHS
Mexico
Best Ibero-American Fiction Comedy
BARDO, FALSE CHRONICLE OF A FEW TRUTHS
Mexico
OFFICIAL COMPETITION
Spain, Argentina
OFFLINE
Chili
HAIL
Argentina
Best Direction
ALEJANDRO G. IÑÁRRITU
BARDO, FALSE CHRONICLE OF A FEW TRUTHS
Mexico
CARLA SIMON
ALCARRÀS
Spain
RODRIGO SOROGOYEN
AS BEASTS
Spain
SANTIAGO MITER
Argentine, 1985
Argentina
Best screenplay
ALEJANDRO G. IÑÁRRITU, NICOLÁS GIACOBONE
BARDO, FALSE CHRONICLE OF A FEW TRUTHS
Mexico
ISABEL PEÑA, RODRIGO SOROGOYEN
AS BEASTS
Spain
MANUELA MARTELLI, ALEJANDRA MOFFAT
1976
Chile, Argentina
MARIANO LLINAS, SANTIAGO MITRE
Argentine, 1985
Argentina
Best Original Music
ARANZAZU CALLEJA
FIVE WOLVES
Spain
CERGIO PRUDENCIO
UTAMA
Bolivia, Uruguay
LEONARDO HEIBLUM, ALEXIS RUIZ
THE KINGS OF THE WORLD
Colombia, Mexico
PEDRO OSUNA
Argentine, 1985
Argentina
Best Male Performance
DANIEL GIMENEZ CACHO
BARDO, FALSE CHRONICLE OF A FEW TRUTHS
Mexico
LUIS TOSAR
ON THE MARGINS
Spain
PETER LANZANI
Argentine, 1985
Argentina
RICARDO DARIN
Argentine, 1985
Argentina
Best Female Performance
ALINE KÜPPENHEIM
1976
Chile, Argentina
ANTONIA ZEGERS
THE PENALTY
Chile, Argentina
LAIA COSTA
FIVE WOLVES
Spain
LAURA GALAN
LITTLE PIG
Spain
MAGNOLIA NUNEZ
CARAJITA
Dominican Rep., Argentina
Best Supporting Male Performance
CARLOS PORTALUPPI
Argentine, 1985
Argentina
LUIS ZAHERA
AS BEASTS
Spain
NORMAN BRISKI
Argentine, 1985
Argentina
RAMON BAREA
FIVE WOLVES
Spain
Best Supporting Female Performance
ALEJANDRA FLECHNER
Argentine, 1985
Argentina
CARMEN MACHI
LITTLE PIG
Spain
PENELOPE CRUZ
ON THE MARGINS
Spain
SUSI SANCHEZ
FIVE WOLVES
Spain
Best Animated Film
EAGLE AND JAGUAR: THE LEGENDARY WARRIORS
Mexico
THE PARADISE
Argentina
TADEO JONES 3. THE EMERALD TABLET
Spain
UNICORN WARS
Spain
Best Documentary Film
FOREST
Uruguay
EAMI
Paraguay, Mexico, Argentina
THE PADILLA CASE
Cuba, Spain
THE SILENCE OF THE MOLE
Guatemala
MY IMAGINARY COUNTRY
Chili
Best First Film of Ibero-American Fiction
1976
Chile, Argentina
FIVE WOLVES
Spain
THE DAUGHTER OF ALL RAGES
Nicaragua, Mexico, Spain
THE PACK
Colombia
UTAMA
Bolivia, Uruguay
Best Editing Direction
ALBERTO DEL CAMPO
AS BEASTS
Spain
ANDRES PEPE ESTRADA
Argentine, 1985
Argentina
JOSE MG MOYANO
MODEL 77
Spain
SEBASTIAN HERNANDEZ, GUSTAVO VASCO
THE KINGS OF THE WORLD
Colombia, Mexico
Best Art Direction
EUGENIO CABALLERO
BARDO, FALSE CHRONICLE OF A FEW TRUTHS
Mexico
FRANCISCA CORREA
1976
Chile, Argentina
MICHAEL SAIEGH
Argentine, 1985
Argentina
PEPE DOMINGUEZ DEL OLMO
MODEL 77
Spain
Best Director of Photography
BARBARA ALVAREZ
UTAMA
Bolivia, Uruguay
DANIELA CAJIAS
ALCARRÀS
Spain
DAVID GALLEGO
THE KINGS OF THE WORLD
Colombia, Mexico
JAVIER JULIA
Argentine, 1985
Argentina
Best Sound Direction
AITOR BERENGUER, FABIOLA ORDOYO, YASMINA PRADERAS
AS BEASTS
Spain
CARLOS GARCIA
THE KINGS OF THE WORLD
Colombia, Mexico
FEDERICO MOREIRA
UTAMA
Bolivia, Uruguay
SANTIAGO FUMAGALLI
Argentine, 1985
Argentina
PLATINO Award for Cinema and Education in Values
Argentine, 1985
Argentina
FIVE WOLVES
Spain
ALTERNATE
Argentina, Spain, Mexico
UTAMA
Bolivia, Uruguay
SERIES
Best Ibero-American Cinematographic Miniseries or Teleseries
THE ONE IN CHARGE
Argentina
IOSI, THE REPENTANT SPY
Argentina
NEWS OF A KIDNAPPING
Colombia, Chile
SANTA EVITA
Argentina
Best Male Performance in a Miniseries or Teleseries
DANIEL GIMENEZ CACHO
A STRANGE ENEMY. T2
Mexico
WILLIAM FRANCELLA
THE ONE IN CHARGE
Argentina
JUAN DIEGO BOTTO
I DON'T LIKE TO DRIVE
Spain
JOHN PABLO RABA
NEWS OF A KIDNAPPING
Colombia, Chile
Best Female Performance in a Miniseries or Teleseries
CLAUDIA GIROLAMO
42 DAYS IN THE DARK
Chili
CRISTINA UMANA
NEWS OF A KIDNAPPING
Colombia, Chile
NATALIA OREIRO
SANTA EVITA
Argentina
PAULINA GAITAN
BELASCOARÁN
Mexico
Best Supporting Male Performance in a Miniseries or Teleseries
ALEJANDRO AWADA
IOSI, THE REPENTANT SPY
Argentina
ANDRES PARRA
BELASCOARÁN
Mexico
DAVID LORENTE
I DON'T LIKE TO DRIVE
Spain
RODRIGO CELIS
NEWS OF A KIDNAPPING
Colombia, Chile
Best Supporting Female Performance in a Miniseries or Teleseries
AMPARO NOGUERA
42 DAYS IN THE DARK
Chili
LEONOR WATLING
I DON'T LIKE TO DRIVE
Spain
MAJIDA ISSA
NEWS OF A KIDNAPPING
Colombia, Chile
VERONICA ECHEGUI
PRIVACY
Spain
Best Creator of a Cinematographic Miniseries or Teleseries
ANDRES WOOD, RODRIGO GARCIA
NEWS OF A KIDNAPPING
Colombia, Chile
DANIEL BURMAN
IOSI, THE REPENTANT SPY
Argentina
LEONARDO PADRON
HUNCH
Colombia, Mexico, Argentina
MARIANO COHN, GASTON DUPRAT
THE ONE IN CHARGE
Argentina
---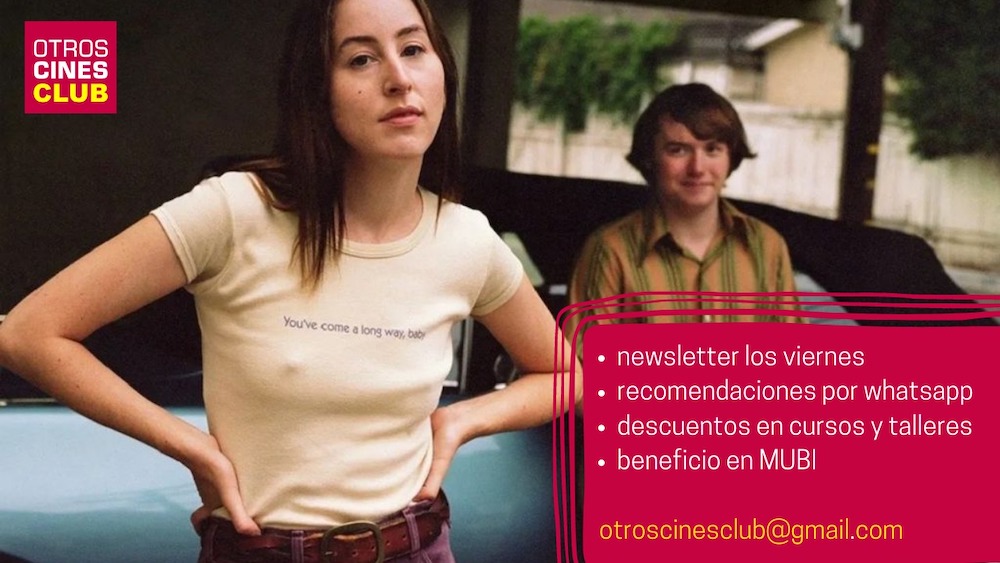 Subscriptions are the best way for readers to directly support independent journalistic ventures and help sustain a quality product that maintains access to all its content for free.
what does it offer OtherCinemas/Club to all its partners and partners?
-Every Friday first thing they receive in their e-mail box a careful and cured newsletter with analysis of audiovisual trends, festivals and news in the universe of cinemas and streaming.
-Access free of charge to the last 20 exclusive newsletters.
-Before each weekend they reach their cell phones recommendations in audio and text of movies and series through our whatsapp channel.
-They can access three months free of charge on the prestigious streaming platform MUBIspecialized in auteur and quality cinema.
–ticket raffles for any movie, any day and time, in any of the complexes of the Multiplex chain.
-Discounts throughout the year our courses and workshopsin addition to other benefits that we communicate every month.
What types of subscriptions to OtherCinemas/Club Are they available via Mercado Pago?
STANDARD SUBSCRIPTION: 400 pesos per month.
subscribe me
SUBSCRIPTION MAX: 700 pesos per month.
(Video and text content will be sent in advance and/or exclusively, there will be additional discounts on our courses and workshops, and priority access to our activities).
subscribe me

MORE INFORMATION:
For any questions you can write to our email: OtherCinesClub@gmail.com