Mayor of Punta Umbria, Jose Carlos Hernandez Cansinoand deputy for sports, John Daniel Romero, presented this Monday at a press conference the sporting events that will take place in the coastal municipality in August, which stand out "for their focus on solidarity, since most of the tests useful end. Also because of its connection with the patron saint's holidays, with tournaments that are restored after years without being held.
Thus, together with several campuses, sports schools and summer leagues, the city of Punta Umbria will host seven sports events in different disciplines in August: paddle tennis, football, athletics, swimming or kitesurfing.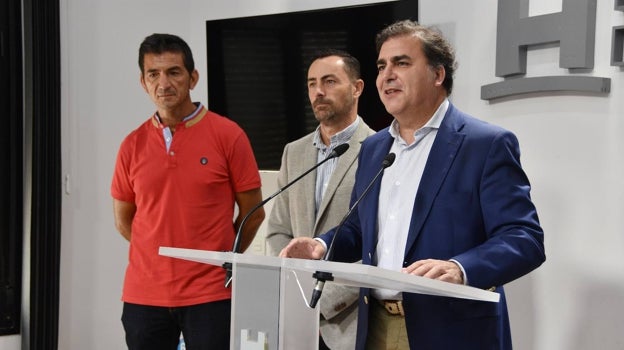 According to the mayor, "The program responds both to the sports fans in our municipality and to the large influx of visitors that come to us in the summer. However, Punta Umbria pays great attention to the segment sports tourism, appreciating our environment and the full range of opportunities it offers for outdoor sports and our magnificent facilities."
For the deputy for sports, "Punta Umbria is a benchmark in the field of sports and in summer the synergy is multiplied by accommodating a large number of people, as it practically becomes the provincial capital during the summer season."
Events will start from XIV Virgen del Carmen Padel Tournament, which will be held from 2 to 12 August. For Hernandez Cansino, "it's a classic of our programming that has a lot of fans."
will follow him XXXVII Manuel González Rodriguez Memorial August 9, which will meet with Recreativo de Huelva against Sevilla Atlético at 20:00 at the Municipal Sports Center Antonio Gil Hernandez.
For athletics lovers 31st city mile It will take place on August 12th. It is a popular race that has been celebrated for over 30 years.
The Trofeo del Carmen will take place on August 14: solidarity football match in favor of the Punta Umbria association. "Fixed Rate" who returns to the calendar to meet veteransl CD Punta Umbria with the choice of solidarity led by the cantaor Archangel. Tickets cost 2 euros, and there is also a zero queue.
Special memory of Emilio Marin
Except Solidarity race Beaches of Punta Umbria On August 17, athletes will test themselves on the beach in favor of Ademo. It will take place again at night "quite attractive" according to the president of the Multiple Sclerosis Association of Huelva, Enrique Andivia, who had in this call words of encouragement for one of its ordinary members, Emilio Martin, "That this year he will not be able to be with us and to whom we send all the energy and a lot of strength so that he will return soon."
Testing will continue from XX Travel Punta Umbria beach for a swim August 19: "Another event that shows that sport and solidarity go hand in hand," emphasized José Carlos Hernandez Cansino, as it is held in the interests of the Vicente Ferrer Foundation. Charo Garcia, a spokesman for the association, called on all swimmers to register in either of the two existing forms.
Finally, XVIII Virgen del Carmen Kitesurf Regatta will take place on 19 August. "This is one of the classic programs of La Canaleta, programmed as part of our holidays del Carmen, which over the years has added other successful disciplines to kitesurfing, such as paddle surfing, wind and foil," said the mayor.
Councilor for Sports of the City Council of Punta Umbria, Sebastian Pomaresalso attended this presentation.