Copa Libertadores
Runny Fernandez was Bolívar's great figure in the Copa Libertadores, for which he received astounding praise in the international press.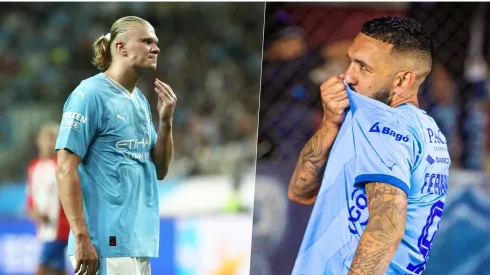 Runny Fernandez had a magical night Copa Libertadoresbeing a great figure Bolivar vs Atlético Paranaense scoring two goals in Altiplano's 3-1 win in the first leg of the round of 16.
The match took place at the Hernando Siles de la Paz stadium, where the local team feels very comfortable. And that led to praise for the former Universidad de Chile striker, with whom they also drew a curious comparison.
And not even from Bolivia, where they know the striker's potential. It was the famous Ecuadorian journalist Carlos Xavier Argüello who dared to take Erling Haaland's dance to understand Runni's performance in the Bolivian capital.
"Ronnie Fernandez is working hard to join this Libertadores' perfect team," the communicator said, unscrupulously stating that "Haaland thinks he's in La Paz."
Diez newspaper, for its part, said that Fernandez's second goal was the jewel that ended the game. "It was a great goal because the ball hit the top left corner of Bento, who, despite stretching, saw his goal fall for the third time in this match," the striker's header was applauded.
do not trust the scorer
In his networks, the striker spoke out after the dream day, assuring that although he took a good advantage, the revenge in Brazil next week will be very difficult.
"Heavenly night! We have taken an important step, but so far we have achieved nothing. Thank you for your support and we continue to move forward together," admitted the Bolivar star.