Mobility seminars organized by Elanco Animal HealthOsteoarthritis Expert Company, was held in Madrid one Friday of every month from February to June 2023. total duration five months.
During these specialized practice days, more than 120 veterinarians from Spain and Portugal gained knowledge and put into practice recommendations and advice on eliminate mobility impairmentsincluding osteoarthritis, from a 360° perspective, to assist in early diagnosis and develop skills for its advanced multimodal treatment, including corrective and rehabilitation surgeries.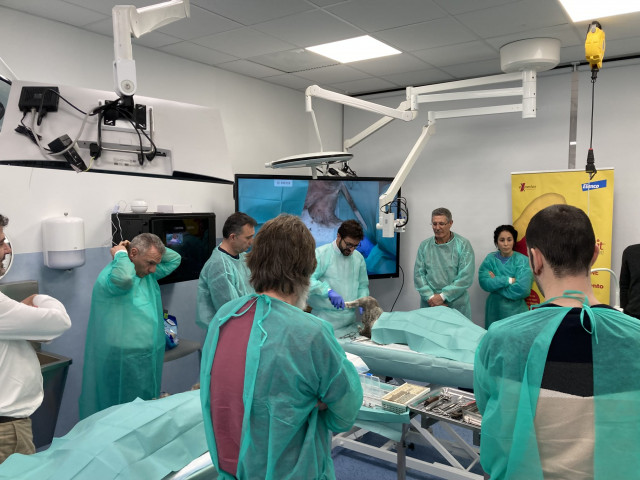 The trainings were conducted in small groups under the guidance of recognized experts in the field of traumatology and orthopedics. Margo RuizHead of Traumatology Service, Evidensia Mediterranean Veterinary Hospital (Madrid); Diego NovoaHead of the Department of Traumatology at the Veterinary Hospital of Montjuïc (Barcelona); Peter GodinhoTraumatology and Orthopedics Service of the Pujol Veterinary Hospital (Madrid); Jose Luis Martinez Moran, DVM. Professor of Surgery at Alfonso X El Sabio University (UAX) in Madrid. Responsible for the service of arthroscopy, traumatology and orthopedics in various clinics and hospitals in Spain; Sanchez Valley, DVM. Director and founder of Recuperavet; And Pilar Lafuenteprofessor and researcher at the International University of La Rioja (UNIR), VET-CT consultant, traumatologist and rehabilitation therapist (Valencia).
The training was organized in 5 seminars in increasing specialization. EnCORE workshop (Elanco orthopedic examination) with radiographic positioning; Rehabilitation shop; Fracture Resolution Seminar; Seminar TPLO and master class on arthroscopy.
These workshops are part of VETNIA training activitiesan initiative created by Elanco to improve social acceptance of the veterinary profession, promote professional development and well-being, and stimulate the business of the veterinary practice.