Eva Yerbabuena arrives with his show Good herb to the Teatro del Soho CaixaBank in Malaga this March 8. In addition, it is part of the different musical events that the well-known theater space hosts, where names such as Manuel Liñán, Antonio Reyes, José del Tomate, Dorantes, "Farru", Martirio and Chano Domínguez Trío will also be present. This show coincides with Women's Day, being a celebration of female empowerment. Thanks to that, Spectators will be able to enjoy the great bailaora, who has achieved not only success at a national level, but also internationally.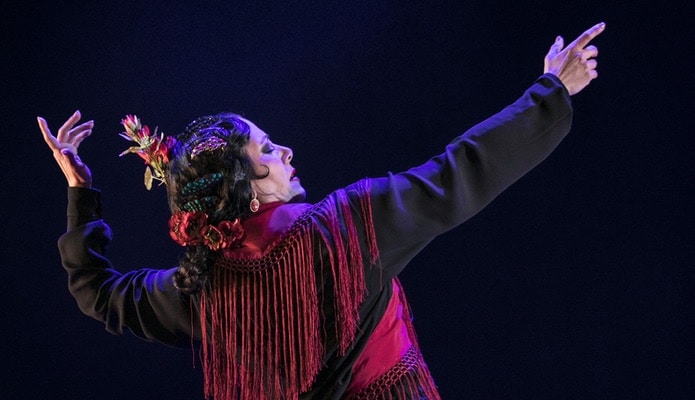 'Yerbabuena' at Teatro del Soho CaixaBank
The next March 8, Women's Day, the Teatro del Soho CaixaBank in Málaga will dress up as flamenco in a female key, to receive the great bailaora Eva Yerbabuena. A great international reference in flamenco, critics have even said of her that "she is a visionary and masterful bailaora" (The Guardian) or that she is "touched by greatness" (The Times).
Honorary Academician of the Academy of Performing Arts of Spain, Gold Medal for Merit in Fine Arts, National Dance Award, winner of 10 Max Awards and Andalusia Medal, among many other distinctions, such as the Festival de Jerez or the Seville Flamenco Biennial, the artist will arrive at Flamenco in Soho with Good herb. A production to which she gives a name with her own artistic surname, Yerbabuena, where we find, according to her own account, "a unique show and, at the same time, a thousand shows".
talent and experience
Eva's mastery, talent and experience are precisely the characteristics that allow the choreographeralways accompanied by music created and performed by Paco Jarana, filter in this show, Good herball his feelings and wisdom and adapt them to each space, each moment, each scenario. In Yerbabuena we find ourselves before the bailaora in her most sincere essence, in a perfect mix of her tradition with the most singular of her timeless, versatile and eternal art. Flamenco in Soho, a masterful and avant-garde event organized by Teatro del Soho CaixaBank and Green Cow Music.
Now, Eva Yerbabuena will be followed, throughout this first semester of 2023, and in chronological order, by performances by iconic national flamenco artists, such as Manuel Liñán, Antonio Reyes, José del Tomate, Dorantes, Antonio Fernández Montoya "Farru", Martirio and Chano Domínguez Trio.
Do not miss Good herb in it Soho CaixaBank Theater in Malaga this March 8.
SOURCE DEPT. OF COMMUNICATION OF THE SOHO CAIXABANK THEATER
join our TELEGRAM CHANNEL